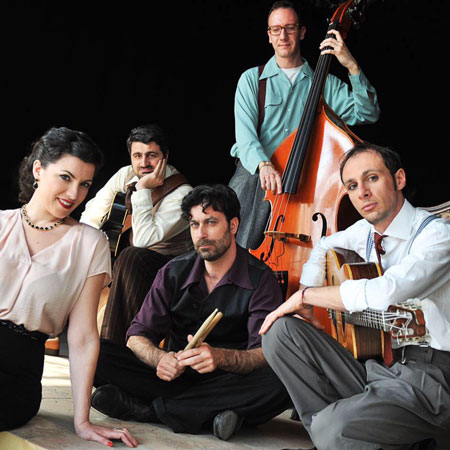 Gipsy Swing Band Italy
Our talented group of musicians have collaborated with some of the world's greats
This band's diverse style enables them to combined a mix of swing, blues, soul, pop and close vocal harmonies
Have toured their music to hundreds of venues around Italy and across Europe
A talented female vocalist fronts the quintet and together the band have released over three albums and are signed to record label
You can hire this European jazz band in Italy, Switzerland, France and across the world
Gipsy Swing Band Italy PHOTOS
Our Gipsy Swing Band Italy is a group exceptionally well-talented musicians who perform gipsy swing and blues, they have a also collaborated with the likes of Renzo Arbore. Our gipsy jazz touring band has even played the Christmas Concert in the Vatican City which aired on Italian national TV. 
The band features a stunning female vocalist and group members who have a vast amount of experience in the music industry. Their previous experience enabled the group to create many successful albums. Members of our European jazz band play a variety of instruments at their gigs including gipsy guitar electric guitar, banjo, drums, double bass.  
This band can play anything from gipsy jazz, jazz classics to rock and roll to original compositions and rock standards. Although they are an Italian band, they have an American style when they sing.
Our versatile gipsy jazz musicians perform their crowd-pleasing anthems in both English and Italian. The band's music has grown extensively throughout their career and they have also toured parts of the USA. There are not many European jazz bands out there that have a profile like Gipsy Swing Band Italy. Not only do they travel around the globe and write their music, our Italian band also provides first-class entertainment at famous festivals all over Europe. 
This excellent European jazz band is renowned for its latest album release which is a swing tribute to Jazz and blues specialist the Beatles. Gipsy Swing Band Italy also perform a whole range of rock n roll, swing, blues, pop and fantastic close harmonies. Our band will work with you to ensure they achieve what you want at your event. 
Scarlett Entertainment has a whole range of gipsy jazz and live music entertainment options for you to choose from. 
You can hire our Gipsy Swing Band Italy by giving one of our Entertainment Coordinators a call who will happily help you with your booking.  
Borgo Sonoro Festival (Longiano (FC) – Itay 2014)
Caval'air Jazz Festival (Cavalaire – France 2016)
Expo 2015 (Milan – Italy 2015)
Festival Suoni Etno Jazz (Castrovillari (CS) – Italy 2013)
Free Blues Club (Szczecin – Poland 2012 2013 2015 and 2017)
Irish House (New Orleans – USA 2012)
Jazz Au Dehore (St. Germain-en-Laye – France 2016)
Jazz Club Le Meridien Etoile (Paris – France 2015)
Jazz à la Soute Festival (La Souterraine - France 2015)
Private Event for Swiss Ambassadors (Berlin Reichstag– Germany 2012)
Sabanci Offtown Festival (Istanbul – Turkey 2014)
Sounds Of Sunset (Hotel Hilton Venezia - Italy 2016)
Steam Fest (Rome – Italy 2015)
Suisse Pavillon Milano Expo (Milan – Italy 2014)
Swingtime Special (Stuttgart – Germany 2014)
Umbria Jazz Winter (Orvieto – Italy 2015)
Veneto Jazz Festival (Pordenone – Italy 2016)
Webnotte ( Stazione Leopolda Pisa – Italy 2015)
Bayerischer Hof Night Club (Munich – Germany 2012)
Casa del Jazz with Renzo Arbore (Roma – Italy 2017)
Christmas Concert at the Vatican (Rome – Italy 2014)
Festival Piano & Jazz (Ischia - Italy 2015)
Festival del Cinema di Locarno (Locarno and Lugano – Switzerland 2012 and 2014)
International Boogie Woogie Night (Kaiserslautern – Germany 2016)
Jazz Ascona Festival (Ascona – Switzerland 2011/2012/2013/2014/2016 Audience Award winners in 2011)
Jazz Aux Sources (Chatel-Guyon France 2015)
Jazz Festival Sargans (Sargans – Switzerland 2016)
Madrid Jazz Festival (Madrid – Spain 2011)
Radio2 Social Club RadioRAI2 (Rome – Italy 2015)
Sankt Gallen Meets New Orleans (Sankt Gallen – Switzerland 2013)
Stampen (Stockholm – Sweden 2012)
Street Jazz Festival (Estavayer-le-Lac – Switzerland 2013)
Summer Jamboree Festival (Senigallia (AN) – Italy 2012)
Umbria Jazz (Perugia - Italy 2015 and 2017)
Valtidone Jazz Festival (Piacenza – Italy 2012 and 2013)
Vias en Jazz (Vias – France 2014)
Bergmanstrasse Festival (Berlin – Germany 2012 2013 2015 and 2017)
IDEA ARTICLES RELATED TO Gipsy Swing Band Italy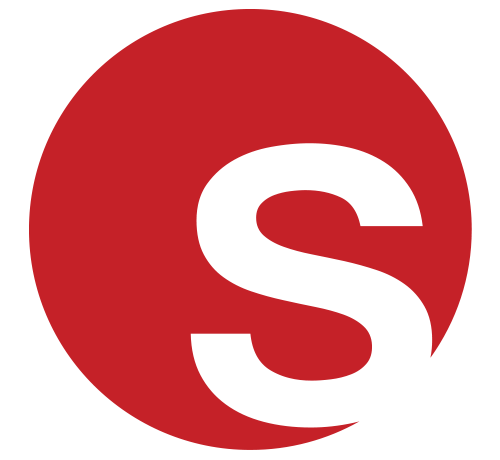 Top UK Bands & Live Music To Book This Summer
Top UK Bands & Live Music Ideas for Summer Events
Grace Henley
|
11/05/2021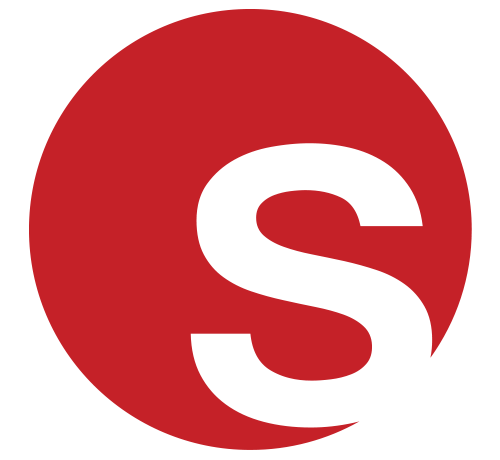 How to Surprise Millennials and Draw Social Influencers to Your Event Using Experiences
How to Surprise Millennials and Draw Social Influencers to Your Event Using Experiences
Grace Henley
|
12/10/2018