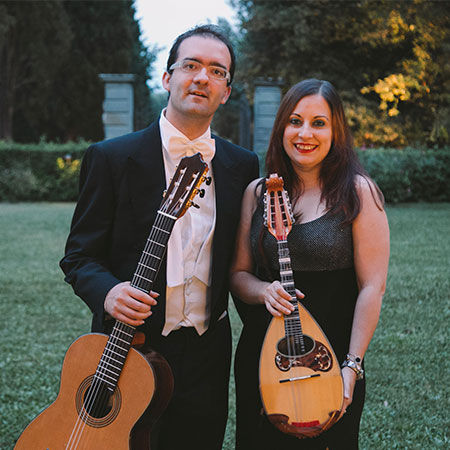 Guitar & Mandolin Duo
A guitarist and a female mandolin player delight listeners with the soft melodies of their string instruments
Repertoire ranges from 18th century compositions to film soundtracks, original compositions and popular Neapolitan songs
Available as a trio, a mandola player can join our Italian string musicians on stage if the occasion requires it
Ideal live music entertainment for drinks receptions, ceremonies, corporate events, cultural celebrations, etc.
This classical string duo is from Italy is available for international bookings
Guitar & Mandolin Duo PHOTOS
If you're looking for a classical string duo to provide the music at your upcoming special occasion, then look no further. This Guitar and Mandolin Duo is guaranteed to create a pleasant atmosphere at your event and make your guests enjoy a nice meal, afternoon or evening of strings background music.
Formed by an acoustic guitarist and a female mandolin player, this classical string duo has captivated listeners with the soft melodies of their instruments at numerous celebrations. Their repertoire ranges from classical music from the 18th century to opera fragments by Calace and Munjer and also famous film soundtracks. Our musicians are also talented composers who will be more than happy to perform their original compositions for your guests.
Our guitarist and mandolin player also pay tribute to the Neapolitan tradition by including some popular Italian songs. Academically trained, our experienced instrumentalists have delighted all sorts of listeners with smoothing strings background music in both Italy and overseas. They're committed to keep tradition alive but they also love exploring new styles always providing them with their own unique sound.
On top of that, these talented artists enjoy making new generations discover classical sounds and adapting originally written compositions to the pinched sounds of mandolins and guitar.
String background music is the ideal live music entertainment option for a wide range of celebrations including drinks receptions, cocktail lounges, ceremonies, weddings, corporate and cultural events, and many more! Whatever the occasion, our Italian string musicians will adapt their style and set list to your needs and preferences.
Top Tip:
This classical string duo is also available as a trio. Our guitarist and mandolin player can ask a mandola player to join them for some performances.
Scarlett Entertainment offers a variety of live music entertainment for a variety of occasions in Italy and all over the world.
If you're interested in booking this Guitar and Mandolin Duo, then don't hesitate to get in touch with us today and make an enquiry. Our in-house team of Entertainment Specialists will be more than happy to provide further details on these Italian string musicians and assist you in the booking process.