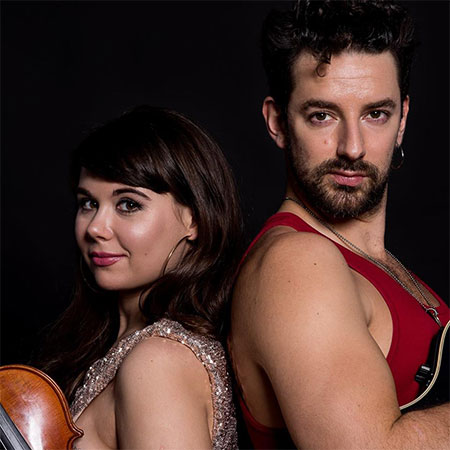 Guitar & Violin Duo
Male-female pop duo can perform in both Italian and English and also some songs in Polish and Spanish
Repertoire ranges from rock anthems and pop classics to catchy world famous Italian and Spanish songs
Male performer sings and plays the guitar and our female artist is a vocalist and a violinist
Live music entertainment option perfect for restaurants, pubs, resorts, drinks receptions, etc.
This Guitar and Violin Duo is based in Warsaw and available for bookings worldwide
Guitar & Violin Duo PHOTOS
This Guitar and Violin Duo is guaranteed to be a sensation at your restaurant, hotel, pub or reception. Consisting of a male guitarist/singer and a female violinist/vocalist, this male-female pop duo is the perfect live music entertainment option for a wide range of occasions.
This live acoustic duo's repertoire covers both songs in Italian and English and they can even perform some tunes in Polish, as our female violinist and singer is originally from Poland. Some of the songs they can play and sing include Beatles' hits such as 'Help' or 'She Loves You'; rock anthems like 'November Rain' by Guns 'N' Roses; pop tunes by Katy Perry, Kylie Minogue or Madonna; and even some catchy songs in Spanish like 'Bailamos' by Enrique Iglesias or the world famous 'La Macarena' by Los Del Rio.
Passionate about film soundtracks in general and Disney songs in particular, our live acoustic duo can also perform some unforgettable songs from Beauty and the Beast, the Lion King or The Jungle Book, to name a few. You can check their full set list by clicking the tab above.
Italian music lovers will also be captivated this violin and guitar duo starts playing the first chords of the romantic 'Ti Amo' by Umberto Tozzi or the well-known 'Felicita' by Albano and Romina. Whatever the occasion, this male-female pop duo will play a variety of styles and genres to satisfy the different music tastes of all your guests.
Our live acoustic duo regularly performs at restaurants, resorts and cruise ships. They are also suitable for other events such as cocktail lounges, drinks receptions and pubs. They have entertained audiences at the Hard Roc Café Warsaw on several occasions, to put an example.
Enquire about this Guitar and Violin Duo by getting in touch with us today and making an enquiry. Our in-house team of Entertainment Experts will be more than happy to provide further details on this male-female pop duo and assist you in the booking process.
4 Non Blondes - What's up
A-ha – Take on me
Abba – Dancing Queen
Abba – Mamma Mia
Adele - Set fire to the rain
Adele – Hello
Adele – Rolling in the deep
Adele – Rumour has it
Adele – Skyfall
Aerosmith – I don't wanna miss a thing
Alicia Keys – Empire state of mind
Alicia Keys – Fallin
Alicia Keys – If I ain't Got you
Amy Winehouse - Back to black
Amy Winehouse – I'm no good
Anastacia – I'm outta love
Aretha Franklin – Freedom
Aretha Franklin – Natural woman
Aretha Franklin – Think
Backstreet Boys – Everybody
Barbara Streisand – Woman in love
Ben E. King – Stand by me
Beyonce – Crazy in love
Beyonce – Halo
Beyonce – If I were a boy
Bill Haley - Rock around the clock
Black Eyed Pease – I Gotta feeling
Black – Wonderful life
Bob Dylan – Knocking on heaven's door
Bob Marley – No woman no cry
Bon Jovi – Always
Bon Jovi – It's my life
Bon Jovi – Livin' on a prayer
Boney M – Daddy Cool
Bonnie Tyler – Holding out for a Hero
Bonnie Tyler – Total eclipse of the heart
Brian Adams – Everything I do
Brian Adams – Summer of 69
Britney Spears – Baby one more time
Britney Spears – Oops! I did it again
Carlos Santana – Oye como va
Celine Dion – Drove All night
Celine Dion – I'm alive
Celine Dion – The Power of love
Chris Isaak – Wicked game
Chris de Burgh – Lady in red
Christina Aguilera – Gene in the Bottle
Christina Aguilera – Lady Marmalade
Cindy Lauper – Time after time
Clean Bandit - Rather be
Coldplay – Clocks
Coldplay – Sky full of stars
Coolio – Gangsta's paradise
Cose della vita
Craig David – 7 days
Cream – Cocaine
Culture Club – Do you really want to hurt me
Daft Punk - Get lucky
David Bowie – Heroes
Dead Or Alive – You spin me round
Depeche Mode - Personal Jesus
Depeche Mode - Useless
Dirty Dancing – Time of my life
Dolly Parton – Jolene
Donna Summer – Hot stuff
Donna Summer – I love you baby
Duffy - Mercy
Duran Duran – Ordinary Word
Eagle eye cherry – Save tonight
Earth Wind and Fire – September
Elton John – I'm still standing
Elton John – Sorry seems to be the hardest word
Elvis Presley – Blue suede shoes
Enrique Iglesias – Bailamos
Enrique Iglesias – Bailando
Etta James – I'd Rather go blind
Europe – The final countdown
Eurythmics – Sweet Dreas
Eurythmics – There must be an Angel
Faith no more - Easy like Sunday Morning
Foo Fighters - Everlong
Foreigner – I Want to know what love is
Frank Sinatra - Girl from Ipanema
George Benson – Give me the night
George Michael - Careless whisper
Gloria Estefan - Conga
Gloria Gaynor – I will survive
Grease – You're the one that I want
Green Day - Time of your life
Guns'n'roses – Don't cry
Guns'n'roses – November rain
Hall and Oates – Maneater
Jackson's Five – Don't blame it on sunshine
James Brown – I feel good
James Brown – Living in America
Jefferson Airplane – White Rabbit
Jennifer Lopez – Let's Get loud
Jennifer Lopez – Waiting for tonight
Jet - Are you gonna be my girl
Joe Cocker – Unchain my heart
John Lennon – Imagine
Judy Garland – Somwhere over the rainbow
Justin Timberlake – Can't stop the feeling
Katy Perry – Fireworks
Katy Perry – Hot and cold
Katy Perry – I Kissed a girl
Kings of Leon – Use somebody
Kiss – I was made for lovin' you
Kool and The Gang – Celebration
Kylie Minouge - I just can't get you out of my head
Kylie Minouge and Nick Cave – Where the wild roses grow
La Bouche – Be my lover
Lady Gaga – Alejandro
Lady Gaga – Bad romance
Lady Gaga – Just Dance
Lady Gaga – Pokerface
Lana del Rey - Summertime sadness
Lana del Rey - Videogames
Las Ketchup – The Ketchup Song
Led Zeppelin - Stariway to Heaven
Led Zeppelin – Whola lotta love
Lenny Kravitz – American woman
Lenny Kravitz – I belong to you
Leonard Cohen - Hallelujah
Lionel Richie – All night long
Lionel Richie – Hello
Liquido – Narcotics
Los del Rio –La Macarena
Lykke Li - I follow rivers
Madonna – Holiday
Madonna – La isla Bonita
Madonna – Like a prayer
Madonna – Ray of light
Mariah Carey – Without you
Maroon 5 – Moves like Jagger
Maroon 5 – Sugar
Maroon 5 – This love
Michael Jackson – Billie Jean
Michael Jackson – Black Or white
Michael Jackson – Heal the world
Michael Jackson – Human nature
Michael Jackson – Rock with you
Michael Jackson – Smooth criminal
Michael Sembello - Maniac
Michale Buble – Home
Mike Oldfield – Moonlight shadow
Moby - What is love
Moloko - Sing it back
Mr. President - Cocojambo
International Hits
Natalie Imbruglia – Shiver
Natalie Imbruglia – Torn
Nelly Furtado – I'm like a Bird
Nick Kershaw – The Riddle
Nick Kershaw – Wouldn't it be good
Nickleback - How you remind me
Oasis – Don't look back in anger
Oasis – Stand by me
Patrick Swayze – She's like a wind
Pharrell Williams – Happy
Phil Collins - Another day in paradise
Phil Collins – In the air tonight
Phill Collins – Against All odds
Pink Floyd - Another Brick in the wall
Prince – Kiss
Prince – Purple Rain
Queen – Another one bite the dust
Queen – I want it All
R.E.M. - Loosing my religion
R.E.M. – Man on the moon
Ray Charles - Hit the road Jack
Red Hot Chilli Peppers – Other side
Robbie Williams – Angel
Robbie Williams – Feel
Robbie Williams – Rock DJ
Rod Steward – Do ya think I'm sexy
Rolling Stones – Anybody seen my baby
Rolling Stones – Satisfaction
Roxette – It must have been love
Roxette – Listen to your heart
Roy Orbison – Pretty woman
Sade – Smooth operator
Seal – Kiss from a rose
Shakira – Hips don't lie
Shakira – Waka waka
Shakira – Whenever wherever
Shania Twain – Man! I feel like a woman
Shania Twain – That don't impress me much
Shocking Blue - Venus
Sinead O'Connor – Nothing compares to you
Smash Mouth - I'm a believer
Snap! - Rythm is a dancer
Soft Cell – Tainted love
Spandau Ballet – Trough the barricades
Stevie Wonder – I Just call to say I love you
Stevie Wonder – Isn't she lovely
Stevie Wonder – Part time lover
Sting - Englishman in New York
Sting – Desert rose
Sting – Fields of gold
Sting – If I ever loose my faith in you
Sting – Shape of my heart
Survivor – Eye of the tiger
Tears for Fears – Shout
Tears for fears - Mad world
Thank you - Dido
The Animals - House of the Rising Sun
The B-52's – Love shack
The Bangles – Manic Monday
The Beatles – All you need is love
The Beatles – Hard day's Wight
The Beatles – Help
The Beatles – Let's come together
The Beatles – She loves
The Beatles – She loves you
The Beatles – Yellow submarine
The Clash - Should I stay Or should I go
The Corrs - Breathless
The Cranberries – Zombie
The Cranberries –Just my imagination
The Cure - Boys don't cry
The Doors – Break on trough
The Doors – Light my fire
The Eagles – Hotel California
The Pointer Sisters - I'm so excited
The Police – Every breath you take
The Police – Message in a bottle
The Police – Roxanne
The Scorpions – Wind of change
The Supremes – Baby love
The Verve - Bittersweet symphony
Tina Turner - Proud Mary
Tina Turner – Simply the Best
Tina Turner – What's love Got to to with it
Tracy Chapman – Fast car
Tracy Chapman – Talkin about a revolution
U2 – In the name of love
U2 – One
U2- With Or without you
Van Halen – Jump
Vance Joy- Riptide
Wham! – Club Tropicana
Wham! – Wake me up before you go
Whitney Houston – Dance with somebody
Whitney Houston – The greatest love of all
Disney Songs
Alladin – A friend like me
Alladin – A whole new world
Alladin – Arabian nights
Beauty and the Beast – Be our guest
Beauty and the Beast – Beauty and the beast
Cinderella – Bibbidi-Bobbidi-Boo
Frozen – For the first time in forever
Frozen – Let it go
Frozen – Love is an open door
Hercules – Go to the distance
Hercules – Zero to hero
International hits/ It
Lion King – Can you feel the love tonight
Lion King – Hakuna Matata
Lion King – I just can't wait to be king
Lion King – The circle of life
Little Mermaid – Kiss the girl
Little Mermaid – Part of that world
Little Mermaid – Poor unfortunate souls
Little Mermaid – Under the sea
Moana – An Innocent warrior
Moana – How far I'll go
Moana – We know the way
Moana – Where you are
Moana – You're welcome
Mulan – I'll make a man out of you
Mulan – Reflection
Olivier and the Company – Why should I worry
Pinocchio – When you wish upon the star
Pocahontas – Colors of the wind
Pocahontas – Just around the riverband
Sing – Bad romance
Sing – Call me maybe
Sing – Crazy in love
Sing – I'm still standing
Sing – Shake it off
Sleeping Beauty – Once upon a dream
Snow White – Someday my prince will come
Tangled – I see the light
Tangled – When will my life begin
Tarzan – You'll be in my heart
The Jungle Book – I wanna be like you
The Princess and the frog – Down in New Orleans
Tinkerbell – Fly to your heart
Tinkerbell – I'll try
Tinkerbell – The gift of a friend
Toy Story – You've got a friend in me
Trolls – Can't stop the feeling
Trolls – Get up back again
Trolls – Hair up
Trolls – True colors
Nancy Sinatra - These boots are made for walkin'