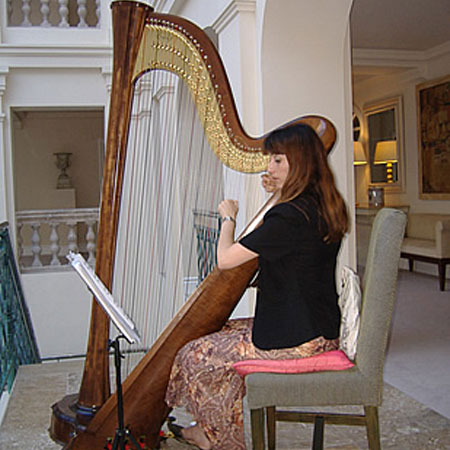 Harpist Spain
Talented harpist performing classical and contemporary music
Popular with Wedding ceremonies and drinks receptions
Can perform solo or with additional musicians inc guitar, piano & flute
Previously performed with the Malaga Symphony Orchestra
Based in Seville and Malaga, and available to perform worldwide
Born in Malaga, this talented harpist has performed as a concerts harpist, playing classical and contemporary famous songs. She is a specialist for music from the romantic age, passing magnificently all the complicated and subtle feelings from this music with her harp.
She performed several times with Melilla's Symphony Orchestra and Conservatoire from Malaga's Symphony Orchestra. She did it as part from the orchestra but as soloist as well.
Besides this, she is very active with the different duos she created: harp and guitar, harp and piano and harp and flute duos. This high quality artist performs frequently in concert hall but she is also used to private and corporate events. The lovely harpist is ideal for all the events you want a romantic touch for.
Besame Mucho
Volver
Lucia
Robin Hood
El Guadaespaldas
New York
Memory
La vie en Rose
El dia que me quieras
Smile
Solamente una vez
Que sera sera
A media luz
El Reloj
Titanic
Moon River
La mision
Memorias de Africa
Greenleeves
Braveheart
Forest Gump
Shindler's list
Hijo de la Luna
Il postino
Stranger in Night
Watermark
El Señor de los Anillos
Melodia el Nuevo Mundo
Angelitos negros
Gymnopedie
La caja de MusicaClassic Music
J.S. Bach's " Cantata 147."
Pachelbel's  "Canon"
G.F.Haendel's "Benedicat Vobis"
F. Shubert's  "Ave Maria"
F. Shubert's  " Santo "
"Salve a la virgen"
Wagner's  " Weddings March"
And many other songs...
Los Chicos el Coro
J.S. Bach's " Cantata 147."
Pachelbel's  "Canon"
G.F.Haendel's "Benedicat Vobis"
F. Shubert's  "Ave Maria"
F. Shubert's  " Santo "
"Salve a la virgen"
Wagner's  " Weddings March"
And many other songs...
Classic Music
Clínica Buchinger in Marbella
Concerts for the city town councils in:
Antequera
Ronda
Alozaina
Benahojam
Mijas
Hotel Villapadierna
Private events;
Málaga
Torremolinos
Orgiva
Benadalid
Arenas
Casino de Marbella