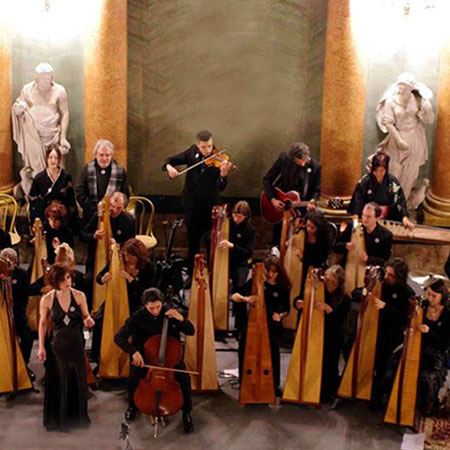 Harp Orchestra Como
Believed to be the world's most famous Celtic harp orchestra
Founded by one of the most appreciated modern harpists worldwide
Cover Celtic music to Venetian baroque, jazz to minimalism and much more
Guarantee to add a truly magical feel and atmosphere to your event
Based in Como, Italy and available to perform at events worldwide
Harp Orchestra Como VIDEOS
Harp Orchestra Como PHOTOS
Harp Orchestra Como were founded in 2002 by one of the most appreciated modern harpists worldwide and are today considered to be the largest celtic harp orchestra in Europe.
The Harp Orchestra are a musical formation composed primarily of lever harps, or Celtic harps, as they are commonly known, alongside other instruments such as cello, violin, flute, accordion, guitar, bass, drums, soprano voice and choir. The musicians form an interesting and harmonious group, aged between 17 and 60 years. In full, the formation numbers 16 harpists, 12 of whom are women. 
In their humble beginnings the Orchestra's repertoire, was initially composed of ancient melodies and traditional Irish music, however now covers an extensive 360-degree range of music. Peculiar techniques, alongside a mix of Celtic, Classical and South American genres, give the orchestra's music a broad range of new colours. Original compositions, Ancient Music, Flamenco and Celtic, Ethnic tunes are all rearranged to meet the ears of the modern audience in an amusing and contagious way.
The Celtic Harp Orchestra have given many concerts in Italy, the Duomo Cathedral of Milan, Teatro Sociale of Como, and abroad with gigs in Spain, Switzerland, France, Ireland, Greece, Germany, Britain, China, Japan and Korea.
The Orchestra has worked together with notorious artists and personalities such as Andrea Bocelli, Tadao Ando, Carlos Nunez and many others as well as appearing on major TV Channels, such as RAI, Swiss television RTSI, Chinese State TV, CCTV3.
They are available to hire for a wide range of events, and are guaranteed to add a truly magical feel and atmosphere to your event.