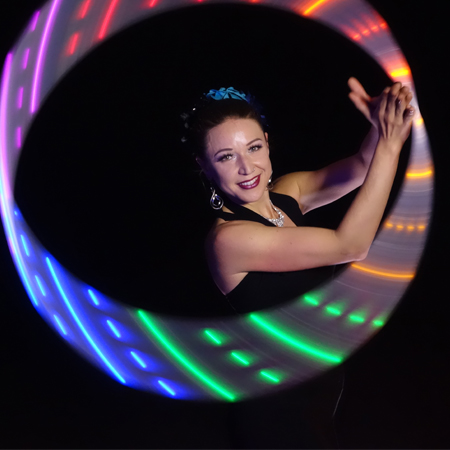 Hula Hoop Show Paris
A talented hoop artist, our sassy performer is a skilled circus entertainment expert and burlesque dancer
Our hoop artist's themed shows inc. 1920s, World, Breaking Bad, School is Over and The Pink Panther
Incorporating vibrant costumes, fun soundtracks and eye catching choreography, each hoop act is totally unique
Our hula hoop dancer provides the ideal entertainment for festivals, cabaret nights, private parties and more
Book Hula Hoop Show Paris for events in France and internationally
Hula Hoop Show Paris PHOTOS
International booking agency Scarlett Entertainment have built a reputation for sourcing and supplying the best live acts in the industry. Whether you are planning a small private event or large festival, our expert sales team will work with you to provide the perfect act for your occasion.
A versatile performer with a wide variety of circus entertainment options for client's to choose from, the hula hoop dancer behind Hula Hoop Show Paris loves bringing playfulness and creativity into her spectacular live routines. Providing a wide range of hoop acts inspired by her travels and popular culture, our hoop artist is certain to charm your guests with her vibrant costumes, and fun choreography and sparkling personality.
Trained in circus arts, pyrotechnics, modern and tribal dance styles and burlesque, our professional performer loves embodying characters like the femme fatale, glitzy pin-up or exotic dancer and bringing them to life. Born in France but inspired by world travelling, our hoop artist has been influenced by cultures and experiences across the globe. Never failing to capture an audience's attention with her bubbly personality, our artist is sure to make an impression at your event.
Different hoop act options:
1920s: Wearing a flapper outfit and hooping to furious jazz rhythms, this energetic act is lots of fun for audiences.
World: Influenced by her travels, our hoop performer incorporates tribal dance, belly dance and exotic music into her mysterious routine.
Breaking Bad: Inspired by everyone's favourite drug dealing school teacher, our artist takes on the role of the crazy chemist in this LED hula hoop show
The Pink Panther: Mixing an electro swing soundtrack with the iconic Pink Panther, this sexy hoop act incorporates burlesque elements into the routine.
Also offering totally bespoke show creation, our hoop artist can make something especially for your event. Able to cater to almost any theme, whether it be Christmas, James Bond or something totally off the wall, our experienced hula hoop dancer will do everything she can to make your idea into a reality. Having performed at numerous events including London Burlesque festival, Collective Dream Catch and Illusion Sound, our super hooper is guaranteed to spin her way into audience's hearts.
Please speak to our team at Scarlett Entertainment today to find out more about booking circus entertainment for your next event.
Collective Dream Catch
Wunderkabarett
The Kalinka
London Burlesque Festival
Illusion Sound
Lettingo Production
Berlin Burlesque Festival