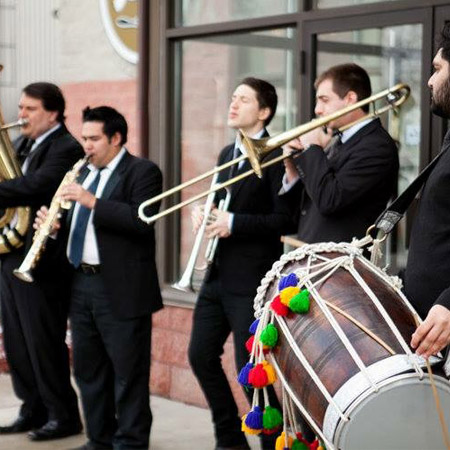 Indian Brass Band New York
Fantastic jazz party band will transport your guests to the dance floor.
Incredible high energy jazz musicians that will turn heads and captivate your guests.
Exceptional brass band can tailor their performance to fit your event.
Perfect live music show for wedding receptions, private parties, themed events, and more.
Book instrumental music for events worldwide and across the US.
Our fantastic brass band is a jazz party band unlike any other jazz based band you have seen before. Comprised of talented and professional jazz musicians, our live music show is filled with passion, elegance, fast paced music, and dance floor fires. Our unique and entertaining brass band's brand of instrumental music will keep your party or gathering flowing, and will provide wonderful background music that will keep guests shaking and moving. Performing a mixture of funk, jazz, top 40, and popular Bollywood instrumentals, our sensational jazz party band will be the highlight of your event.
A hit among baraats and weddings, our exceptional brass band can also break off and are available as solo performers as well, featuring either a sax player, trumpet performer, pianist, violinist, percussionist, and more. Performing an instrumental music set that is usually around a little more then 1 hour, our wonderful group of jazz musicians will not disappoint and will surely provide your upcoming event or gathering with a resounding wow factor. Featuring irresistible dance beats that will keep your guests engaged and entertained, our live music show is a fantastic spectacle for the ear as the soothing and blood pumping sounds will ease your guests.
Our high energy and sophisticated jazz musicians will help create a unique and unforgettable atmosphere that will help take your event to the top, leaving your guests with endless experiences surrounded by wonderful music. Our jazz party band can play a multitude of event sizes, and can even tailor their fabulous performance to mix with any event theme or style guideline, a true set of versatile musicians. The ideal musical act for private parties, wedding receptions, themed occasions, corporate functions, gala dinners, and much more.
If you're interested in booking our exceptional jazz musicians and treat guests to lovely instrumental music, contact any of our entertainment experts who are standing by to assist you with your booking needs.