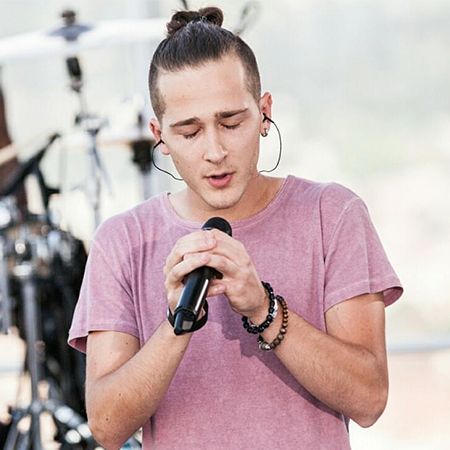 Indie Singer & Guitarist
A talented male vocalist and guitar player who performs indie rock covers and also his own compositions
He gained great popularity and reputation due to his participation in Italy's X Factor
His set list can be adapted to satisfy different music tastes, and he can sing in either English or Italian
Performs with his live band at festivals, pubs, after dinner shows, ceremonies, parties, and many more
Based in Rieti and available for performances throughout Italy
Indie Singer & Guitarist PHOTOS
This Indie Singer & Guitarist is guaranteed to liven up any party with his talent and powerful stage presence. This talented live musician gained popularity in his country due to his participation in Italy's X Factor. Since then, this talent show star has continued captivating audiences of all ages throughout Italy with the indie rock covers he performs, electric or acoustically.
Passionate about music from a young age, this vocalist and guitar player has come along way. He started to play the guitar when he was 13, and became interested in signing when he was 17. Since then, this talented live musician has performed in both small and large clubs and pubs.
After successfully performing at numerous events and festivals, he decided to participate in the X factor. After this TV experience, he became a talent show star and has continued performing as a lead singer and guitarist in a live band.
Our talented live musician and vocalist delivers vibrant live music performances that are widely applauded by indie and rock fans. He can perform both indie rock covers by world-famous artists and also his own compositions. Whatever the occasion and always accompanied by his live band, he will make sure audiences of all sorts enjoy themselves and sing along to the music at the top of their lungs. On top of that, this indie vocalist can sing in either English or Italian, which makes his shows suitable for performances anywhere in the world.
His live music performance is the ideal choice for festivals, after dinner experiences, private parties and any other event or celebrations.  
Scarlett Entertainment offers live music entertainment and covers singers for events and parties all around the world.
If our Indie Singer & Guitarist is the party entertainment option you have in mind for your event, don't hesitate to contact our team of specialists and make an enquiry. They will let you know his availability and guide you through the booking process.
Animale - Lorenzo Aleandri/leonardo Tittoni
Aspetta - Lorenzo Aleandri/ Leonardo Tittoni
Best of You - Foo Fighters
Blurry - Puddle of Mudd
Bullet with Butterfly Wings - The Smashing Pumpkins
Cochise - Audioslave
Creep - Radiohead
Everlong - Foo Fighters
Good Riddance (time of Your Life) - Green Day (acustic)
Hurt - Nine Inch Nails (Acoustic)
Immanuel - Lorenzo Aleandri/leonardo Tittoni
A Beautiful Lie - 30 Seconds to Mars
Lithium - Nirvana
Osservando -  Lorenzo Aleandri
Pieces - Sum 41
School - Nirvana
Senza Te - Lorenzo Aleandri
Snuff - Slipknot (acustic)
Song 2 - Blur
Stay Togheter for the Kids - Blink 182
Venere - Lorenzo Aleandri/leonardo Tittoni
Wake Me Up When September Ends - Green Day
Wonderwall - Oasis
Iris - Goo Goo Dolls