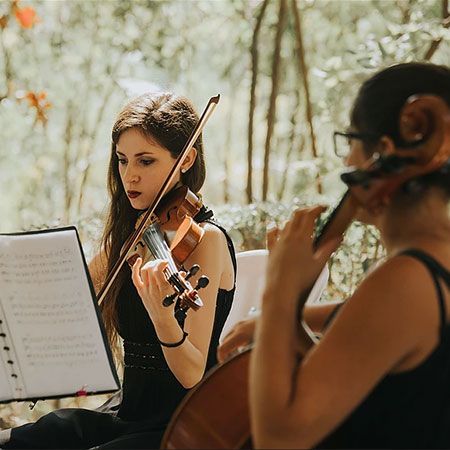 Instrumental Ensemble Spain
A variety of instrumentalists and string musicians from Spain enliven any social gathering
Available in different lineups including solo violinists, duos, trios and string quartets, to name a few
Vast repertoire ranges from classical music and film soundtracks to pop and rock tunes and Christmas songs
Instrumental background music perfect for wedding ceremonies, cocktail lounges, drinks receptions, etc.
These Instrumental Ensembles are based in Southern Spain and available for performances worldwide
Instrumental Ensemble Spain PHOTOS
Make sure your wedding or special day is an occasion to be remembered by hiring the right Instrumental Ensembles for it. The following string musicians and other artists can play instrumental background music and create a pleasant atmosphere at your party.
Available in a number of different lineups, a variety of string musicians from Spain can be booked for your special occasion. Some of the musicians available include violinists, violoncello player, viola players, fiddle, mandolin and banjo players and also guitarists and pianists. Specialists in instrumental and classical string music, they can adapt their set list to suit the different tastes of your guests.   
Our different instrumental ensembles' repertoire is very extensive. They can play classical string music from the baroque period, from romanticism and also 20th century classical melodies. Our instrumentalists can also play famous film soundtracks, pop and rock tunes and celtic, folk and traditional music and video games and TV series musical themes.
For weddings and other events in Spain, they can play copla and pasodoble such as 'Ay, Pena, Penita!' or 'Chiclanera'; they can also delight listeners with instrumental covers of boleros and South American songs like 'Cielito Lindo' or 'Besame Mucho'; and will make sure all guests at your party enjoy some internationally known songs like 'Yesterday' by The Bealtes or 'Halleluja' by Leonard Cohen. You can check their full set list by clicking the tab above.
Instrumental background music is the perfect for wedding ceremonies, cocktail lounges, drinks receptions, garden parties and many other social gatherings.
Scarlett Entertainment can offer violin solos, duos, trios and a string quartet for weddings and other events in Spain and all over the world.
Are you interested in booking one of these Instrumental Ensembles? Then get in touch with our Entertainment Specialists today and make an enquiry. Our dedicated team of experts will be happy to provide further details on this string musicians from Spain and guide you through the booking process.
Classical:
3º Mov Sonata Vienesa, Mozart
Adagio from Sonata in G m, Ecclès.
Air in D, Bach
Anitra's dance (Peer Gynt), Grieg.
Ave María,Schubert
Canon Pachelbel
Clair de lune, Debussy.
Eine kleine Nachtmusik, k.525, Mozart
Gavotte, Bach
Habanera (from Carmen Suite), Bizet.
Hebrides overture, Mendelssohn
Hungarian dance, Brahms
Intermezzo Sinfónico Cavallería Rusticana, Mascagni
La Donna e Mobile, Verdi.
Largo, Bach
Lohengrin, Wagner
Meditation (Thais), Massenet
Minuetto, Boccherini
Quando corpus morietur, Pergolesi.
Rondó a la Turca, Mozart.
Septiminio (Menuett), Beethoven
Sinphony n. 40, Mozart (fragment)
The Nutcracker, Tchaikovsky
Va pensiero (ópera Nabuco), Verdi
Waltz of the flowers
Wedding march, Mendelssohn
Zarabande, Haëndel
A Summer Place
Autumn Leaves – Les feuilles mortes.
Blues in the Night
Breakfast at Tiffany's - Moon River (Henry Mancini).
Chicago - All that Jazz
Disney Soundtracks
Father of the bride – Canon in D (Pachelbel)
Game of thrones
Grease - Summer Nights
La Vie en Rosse –(E.Piaf)
Legends of the fall
Life is beautiful– (Nicola Piovani)
Midnight in Paris - Bistro Fada
Near my God to Thee
Out of Africa - Flight over Africa (J.Barry)
Pretty woman
Scent of a Woman [Esencia de Mujer]- Tango por Una Cabeza (A. Piazzolla)
Summertime – Summertime (Gershwin)
The Godfather - Speak Softly Love.
The Mission - Gabriel's Oboe (E. Morricone)
The last of the mohicans
Titanic
Pop / Rock:
A hard day's night
Accidentally in love - Counting Crows
All you need is love
Beethoven's Five Secrets - One Republic
Blowing In the Wind, Bob Dylan.
Chandelier - Sia
Eleanor Rigby
Eye of the Tiger - Survivor
Fly me to the Moon - Frank Sinatra
Get Back
Hey Jude
I Feel Fine
I can't help falling in Love - Elvis Presley
Imagine, John Lennon
La chispa adecuada - Héroes del Silencio
Love is in the Air - George Young
Michelle
My Way, Frank Sinatra.
Penny Lane
Set fire to the rain - Adele
She loves You
Smooth Criminal - Michael Jackson
Something Stupid, Frank Sinatra
Sound of Silence, Simon & Garfunkel
Viva la vida - Coldplay
With or without you - U2
Ticket to Ride
We can work it out
Yesterday
Capote de Grana y Oro:
El Beso
El relicario
Granada
Las Leandras
María de la O
Pichi (chotis)
¡Ay, Pena, Penita!
Amarte es un placer.
Bésame Mucho
Historia de un amor.
Perfidia.
Por ti volaré.
Somos novios.
Celtic Music:
Highland Cathedral
Lanningan's
Napoleon crossing the Alps
Shandon Bells
The Blarney Pilgrim
The Irish Washerwoman
Tripping Up the Stairs
Assassin's Creed IV: Black Flag (Main Theme)
Gods will be watching (Main Theme)
Main Theme
Pokemon (Center Theme)
Silent Hill (Music Box)
Tetris (Main Theme)
The Sims 1 (Building Mode Theme)
Twilight Princess (Hidden Village)
Tango:
Libertango
Por una cabeza
2º Mov Sonata Vienesa, Mozart
Aase's death (Peer Gynt), Grieg.
Adagio, Albinoni
Amazing Grace with Bach
Ave María, Gounod
Barcarola, J. Offenbach
Cantata n. 147, Bach
Concierto de Aranjuez, Joaquín Rodrigo
Es ist ein ros entsprungen (La feria rosa del mundo), Praetorius.
Grave from Sonata in G m, Ecclès.
Hallelujah, Haëndel.
Humoresque, Dvorak
II mov Sonatina, Haendel
Jazz Suite, Shostakovich.
Largo from Winter, Vivaldi
Lascia chio pianga, Haëndel.
March​
Minuetto in G, Bach
Moment Musical, Schubert
Recordare, Mozart.
Salut d'amour, E. Edgar
Serenade, Schubert
Surrexit Christus Hodie, Biber
Thy hand & Dido's Lament, Purcell
Vals del Jueves, E. Gutiérrez
Water Music, Haëndel
Wedding march, Wagner
Film Music:
Amélie - Vals / Comptine d´une autre étè.
Ben-Hur - Parade of the Charioteers
Braveheart –(J.Horner).
Casablanca - As time goes by (M.Steiner)
Cinema Paradiso - Love Theme (E. Morricone)
Doctor Who - Doctor Who Theme
Forrest Gump - Feather Theme (Alan Silvestri).
Gladiator
Hymne à la Nuit, Jean Philipp Rameau
La la land - City of stars
Les choristes:
Love Story -(F. Lai)
My heart wil go on
Ocean's Eleven – Claro de Luna (Debussy)
Pirates of the Caribbean
Romeo & Julieta - A time for us (N.Rota)
Schindler's list - (John Williams)
Tennessee - Pearl Harbor
The Magnificent Seven
The Wizard of Oz - Over the Rainbow (Harold Arlen)
The lord of the rings
Vois sur ton chemin, B. Coulais
A Thousand Years - Christina Perri
A sky full of stars - Coldplay
All of me - John Legend.
Angels - Robbie Williams
Billie Jean - Michael Jackson
Can't buy me love
Despacito - Luis Fonsi Ft. Daddy Yankee
Every breath you take - The Police
Falling Slowly, Glen Hansard.
From me to You
Hallelujah, Leonard Cohen.
Himno de la Champion
I Giorni - Ludovico Einaudi
I want to hold your hand
In my Life
Let it Be
Marry you - Bruno Mars
Moon River, Henry Mancini.
Nothing Else Matters - Metallica
Por ti volaré - Andrea Bocelli
She - Elvis Costello
Singing in the rain, Nacio Her Brown
Someone like you - Adele
Somewhere Over The Rainbow, Harold Arlen
Sweet child o'Mine - Guns N Roses
What a Wonderful World, Louis Armstrong
The Beatles:
Twist and Shout
Yellow Submarine
Spanish Music: Copla and Pasodoble:
Chiclanera
El Gato Montés
Gallito
La Giralda
Madrid (chotis)
Ojos Verdes
Suspiros de España
Boleros and South Amercian Songs:
Aquellos Ojos Verdes.
Cielito Lindo.
La Bikina
Por debajo de la mesa.
Quizás, quizás.
Tico Tico
Barney Brallaghan
Kesh Jig
Merry Men
O son do ar - Luar Na Lubre
St Anne's Reel
The Fox Hunter's Jig
The Rakes of Kildare
Videogames:
Game of Thrones (Rains of Castamere & Main Theme)
John Williams Medley (Indiana Jones, Superman, ET, Jaws, Jurassic Park)
Mario Bros Medley (Catacombs, Hills, Underwater, Victory & Game Over Themes)
Shop Theme
Sonic: The Hedgehog (Green Hill Zone)
The Legend of Zelda:
Title Theme
Yoshi's Island (Athletic Theme)
Invierno porteño (Estaciones porteñas)
Oblivion
Tasty Tango - David Burndrett