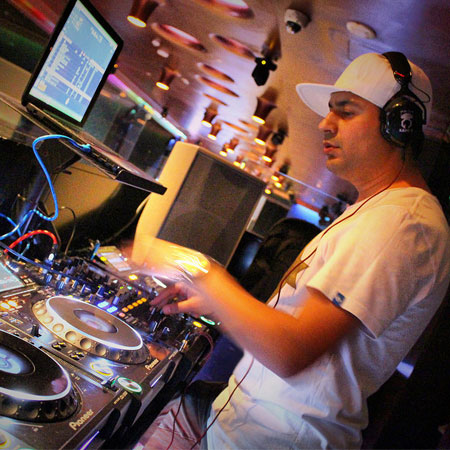 International DJ Dubai
Over 12 years of experienced packing dance floors & starting parties
Repertoire inc. Iranian music, hip hop, pop, rock, Latin, House, Dubstep…
Previous clients include global hotel chains & Abu Dhabi Film Festival
Perfect for private & corporate functions, wedding receptions & more
Based in Dubai & available to perform at events worldwide
International DJ Dubai PHOTOS
Passionate about music from a young age, this DJ began playing the keyboard and guitar and went on to learn the techniques behind music production as a studio supervisor before starting is professional music career in 2003 when he opened a nightclub in Abu Dhabi.
Now a renowned and experienced DJ, he creates exciting high-energy set lists from a vast repertoire of genres ranging from Iranian and Persian music, to Latin, Arabic, Khaliji, House, Deep House, Dubstep, Dance and Reggae as well as international classics fro the 70s and 80s.
An expert at getting the party started and packing dance floors from the first song right up until the last - with guests still wanting more even at the end of the night - he is able to adapt this sets to perfectly suit each individual event. He can begin with international hits for all ages and progress into dance club anthems as the evening continues or keep a steady momentum throughout the night. He has years of experience judging his audience and adapting his set on the spot!
Slick transitions, original remixes, pounding beats and a feel-good energy are all to be looked forward to from this amazing professional DJ!
Emirates Palace
Shangri-La Hotels & Resorts
Raffles Hotels & Resorts
Fairmont Hotels & Resorts
JW Marriott
Armani Hotels & Resorts
Al Qasr
Sheraton
Royal Ascot Hotel
Le Meridien
The Address Hotels & Resorts
The Ritz Carlton
Radisson Royal Hotel Dubai
Kempinski
Conrad Hotels & Resorts
Millenium Plaza Hotel Dubai
Avari
Hilton Hotels & Resorts
Sofitel
Crowne Plaza
Ramada
Abu Dhabi Film Festival
" It was great thanks!! Loads of people said how much they enjoyed the music so thank you! "

B M, Guest
" Thank you so much for doing an amazing job at the wedding everything was great! "

L G, Bride
" The DJ was fantastic! Really good and friendly guy, got everyone dancing. Thanks again! "

N F, The Wharf
" The music on the day was excellent, thank you. The DJ judged the audience to perfection and the dance floor was packed from half way through our first dance until we got kicked out of the venue! It was great service all round, so thank you too for your advice and planning. "

Y K, Easter Club
" The music was absolutely spot on. Exactly what we needed in the hour after the first dance to get all ages on the dance floor and then around 10pm it turned towards the exact sort of dancey club music I was hoping for, which was beautifully judged to keep momentum going. The mixing was also very special. Often a forgotten component, but the transitions were slick, perfectly matched etc.. Easy to become accustomed to and certainly not the case at a lot of weddings and clubs I've been to! Thanks once again! "

A C, Bride's sister
" People were dancing from the second the music started to the second it ended, and the last song was probably the best moment of my life so far. Thank you for being a great wedding DJ, I would happily recommend you to others. "

A F, Host
" The music was great and the dancefloor was kept very busy all night! Many thanks to the DJ who came along, the music really made the evening and we both really appreciated it. We would have no hesitation in recommending you to friends and we look forward to using your services again in the future. "

L P, Guest
" Absolutely IMMENSE night on Saturday! Had an amazing time... wish I danced more! Everyone LOVED the music and the only thing we would have changed was if it lasted for another few hours! "

U C, The Hilton
" Thank you very much for Saturday night, we've had a lot of comments on how good the music was, it definitely got everyone dancing! "

D T, Groom