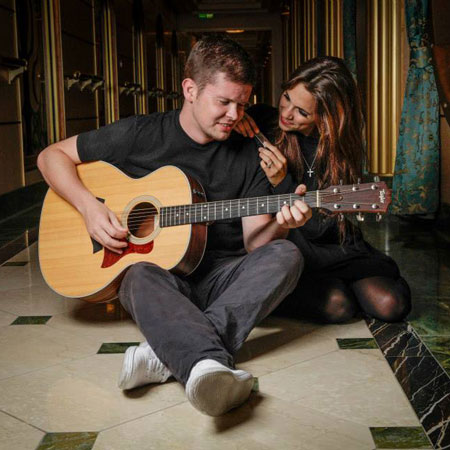 Irish Acoustic Duo
Irish Acoustic duo perform a vast range of covers from Bob Dylan to Eva Cassidy, The Beatles, and many, many more
Diversely talented, our covers duo perform both acoustic and technology enhanced piano, guitar, harmonica and vocals
Known for their tight harmonies and undeniable chemistry
Perfect live music entertainment for parties, weddings, corporate entreating, cruise ships and more
Based in Ireland, our Irish Acoustic Duo are available for international bookings
Irish Acoustic Duo PHOTOS
Having travelled the world performing beautiful live music entertainment, our young Irish Acoustic Duo is a talented and charming covers duo. 
Perfect for a wide range of events from weddings and parties to corporate entertaining and cruise ships, our professional pianist and guitarist can create a sophisticated or lively atmosphere depending on the energy of your event. 
From soft, elegant ambient background music, to high-energy and powerful numbers, this delightful covers duo has the talent and musicality to take your guests on a musical journey through numerous emotions, genres and decades. 
Boasting an enormous repertoire, our covers duo can perform for days without repeating the same number twice. This exhaustive set list enables you to pick and choose a tailored collection of numbers for our pianist and guitarist to perform for a truly special and tailored performance. 
Sharing the vocals of each song, our covers duo take turns in lead singing and backing for each other while performing tight harmonies. Our female pianist is able to play keys or a grand piano for a beautiful focal point for your event. Accompanying her on harmonica and guitar, our male guitarist strikes up the audience with his dynamic stage presence.
Having met while performing separately on cruise ships, our covers duo struck an immediate friendship and found a shared love for music before beginning to perform together. And the rest is history! Now married, our charming pair continues to perform together, delivering pitch-perfect harmonious numbers and a commanding stage presence with undeniable chemistry. 
Fantastically talented and entertaining, our pianist and guitarist are guaranteed to wow guests with their thrilling renditions of covers from 1950s hits, contemporary tunes, and traditional Irish ballads.
Just one of our extensive live music entertainment acts, discover more acoustic duos, guitarists and pianists. 
To book our enchanting Irish Acoustic Duo for your next event, get in touch with our team of Entertainment Experts. 
All of Me—Frank Sinatra
Fly Me To the Moon—Frank Sinatra
I Got You Under my Skin—Frank Sinatra
Somewhere Beyond the Sea—Frank Sinatra
The Way You Look Tonight—Frank Sinatra
1950s
Blue Suede Shoes—Elvis Presley
Can't Help Falling in Love—Elvis Presley
Folsom Prison—Johnny Cash
Get Rhythm—Johnny Cash
Great Balls of Fire—Jerry Lee Lewis
Hounddog—Elvis Presley
Jailhouse Rock—Elvis Presley
Long Legged Guitar Picking Man—Johnny Cash/June Carter
Peace in the Valley—Elvis Presley
Ring of Fire—Johnny Cash
Suspicious Minds—Elvis Presley
That's Alright Mama—Elvis Presley
Unchained Melody—Righteous Brothers
What A Good Thing We Had—Johnny Cash/June Carter
You Are My Sunshine—Johnny Cash
1960s
500 Miles—Peter Paul and Mary
All You Need is Love—The Beatles
Baby Blue—Bob Dylan
Bang Bang—Nancy Sinatra
Blackbird—The Beatles
Blowing in the Wind—Bob Dylan
Boots of Spanish Leather—Bob Dylan
Brown Eyed Girl—Van Morrison
Can't Buy Me Love—The Beatles
Catch the Wind—Donovan
Come Together—The Beatles
Dock of the Bay—Otis Redding
Don't Think Twice—Bob Dylan
Eight Days A Week—The Beatles
Fare Thee Well (Dink's Song)—Oscar Isaac
Feeling Good—Nina Simone
Forever Young—Bob Dylan
Hey Jude—The Beatles
Honky Tonk Woman—The Rolling Stones
House of the Rising Sun—The Animals
I Can't Get No Satisfaction—The Rolling Stones
I Shall Be Released—Bob Dylan
If Tomorrow Wasn't Such a Long Time—Bob Dylan
If You Could Read My Mind—Gordon Lightfoot Waterloo Sunset—The Kinks
It Ain't Me Babe—Bob Dylan
I'm A Believer—The Monkees
I've Just Seen a Face—The Beatles
Knockin' On Heaven's Door—Bob Dylan
Let It Be—The Beatles
Love Is Just a Four-Letter Word—Joan Baez
Make You Feel My Love—Bob Dylan
Man Of Constant Sorrow—Bob Dylan
Mighty Quinn—Bob Dylan
Moondance—Van Morrison
Nights in White Satin—Moody Blues
Obladi-Oblada—The Beatles
One More Cup of Coffee—Bob Dylan
So Long Marianne—Leonard Cohen Hallelujah—Leonard Cohen
Stand By Me—Ben E. King
Sweet Caroline—Neil Diamond
Teach Your Children Well—Crosby Stills & Nash
The Weight—The Band
These Boots Are Made For Walking—Nancy Sinatra
Twist and Shout—The Beatles
What a Wonderful World—Louis Armstrong
1970s
ABC—The Jackson 5
Abracadabra—Steve Miller Band
Ain't No Sunshine—Bill Withers
Ain't Nothing Like the Real Thing—Marvin Gaye
Another Brick In the Wall—Pink Floyd
Benny and the Jets—Elton John
Blame It On the Boogie—Jackson 5
Can You Feel the Love Tonight—Elton John
Candle in the Wind—Elton John
Country Roads—John Denver
Dancing Queen—ABBA
Desperado—The Eagles
Don't Go Breaking My Heart—Elton John & Kiki Dee
Dreams—Fleetwood Mac
Father and Son—Cat Stevens
Fernando—ABBA
First Cut Is the Deepest—Rod Stewart
First Cut is the Deepest—Cat Stevens
Forever Young—Rod Stewart
Go Your Own Way—Fleetwood Mac
Guess That's Why They Call Them the Blues—Elton John
Harvest Moon—Neil Young
Have You Ever Seen the Rain—Rod Stewart
Heard It Through The Grapevine—Marvin Gaye
Heart of Gold—Neil Young
Hope I Don't Fall in Love With You—Tom Waits
Horse With No Name—America
Hot Stuff—Donna Summer
Hotel California—The Eagles
How Can I Tell You—Cat Stevens
How High The Moon—Gloria Gaynor
I Want You Back—The Jackson 5
I Will Survive—Gloria Gaynor
It's Still Rock and Roll to Me—Billy Joel
I'll Be There—The Jackson 5
Killing Me Softly—Roberta Flack
Last Dance—Donna Summer
Lean On Me—Bill Withers
Let's Get It On—Marvin Gaye
Looking For the Heart of a Saturday Night—Tom Waits
Mamma Mia—ABBA
Moonshadow—Cat Stevens
Movin' Out—Billy Joel
Old Man—Neil Young
Old Time Rock and Roll—Bob Seger
On the Radio—Donna Summer
People Get Ready—Curtis Mayfield
Rock/Rock Ballad/Folk Rock
Rocket Man—Elton John
Rockin' in the Free World—Neil Young
S.O.S—ABBA
She's Always a Woman—Billy Joel
Stuck In the Middle with You—Stealers Wheel
Sweet Home Alabama—Lynyrd Skynyrd
Take It Easy—The Eagles
The Boxer—Simon and Garfunkel
The Joker—Steve Miller Band
The Weight—The Band
Tiny Dancer—Elton John
Vienna—Billy Joel
We Didn't Start the Fire—Billy Joel
What's Going On—Marvin Gaye
Wild World—Cat Stevens
Wish You Were Here—Pink Floyd
Wonderful Tonight—Eric Clapton
YMCA—The Village People
Your Song—Elton John
Have I Told You Lately—Rod Stewart
Jazz Ballads
Against All Odds—Phil Collins
All Night Long—Lionel Ritchie
Beat It—Michael Jackson
Billie Jean—Michael Jackson
Born in the USA—Bruce Springsteen
Brown Eyed Girl—Van Morrison
Devils in Dust—Bruce Springstein
Don't Stop Believing—Journey
Don't Worry About a Thing—Bob Marley
Don't Worry Be Happy—Bobby McFerrin
Elevation—U2
Every Breath You Take—The Police
Faithfully—Journey
Fishermans Blues—The Waterboys
Free Falling—Tom Petty
Girls Just Wanna Have Fun—Cyndi Lauper
Heaven—Bryan Adams
Hungry Heart—Bruce Springsteen
I Wanna Dance with Somebody—Whitney Houston
If I Should Fall Behind—Bruce Springsteen
Imagine—John Lennon
In the Air Tonight—Phil Collins
Into the Groove—Madonna
It's My Life—Bon Jovi
I'll Be There—Michael Jackson
I'm On Fire—Bruce Springsteen
Jolene—Dolly Parton
Like A Prayer—Madonna
Living On a Prayer—Bon Jovi
Material Girl—Madonna
Message in a Bottle—The Police
One—U2
Redemption Song—Bob Marley
Roxanne—The Police
Sad Eyes—Bruce Springsteen
Still Haven't Found What I'm Looking For—U2
Streets Have No Name—U2
Stuck In a Moment—U2
Sweet Child O Mine—Guns & Roses Paradise City—Guns & Roses
Sweet Dreams—Eurythmics
The River—Bruce Springsteen
Three Little Birds—Bob Marley
Thriller—Michael Jackson
Time After Time—Cyndi Lauper
True Colors—Cyndi Lauper
Vertigo—U2
Wanted Dead or Alive—Bon Jovi
Whole of the Moon—The Waterboys
With or Without You—U2
You'll Be In My Heart—Phil Collins
1990s
Babylon—David Gray
Believe—Cher
Bittersweet Symphony—The Verve
Days Like This—Van Morrison Goodbye and I Choke—Macy Gray
Don't Dream It's Over—Crowded House
Everybody Hurts—REM
Fall At Your Feet—Crowded House
Hit The Road Jack—Ray Charles
Iris—Goo Goo Dolls
Layla—Eric Clapton
Linger—The Cranberries
Losing My Religion—REM
Sail Away—David Gray
Save Tonight—Eagle Eye Cherry
Summer Wine—Bono and The Corrs Runaway—The Corrs
This Year's Love—David Gray
Weather With You—Crowded House
Wonderwall—Oasis
Zombie—The Cranberries
2000s
All I Want—Kodaline
All of Me—John Legend
Black Horse and a Cherry Tree—KT Tunstall
Black and Gold—Sam Sparro
Blame It On Me—George Ezra
Budapest—George Ezra
Candy—Paolo Nutini
Chandelier—Sia
Chasing Cars—Snow Patrol
Chasing Pavements—Adele
Crazy—Gnarls Barkley
Drops of Jupiter—Train
Forget you—Gnarls Barkley
Galway Girl—Mundy
Get the Party Started—Pink
Green Eyes—Coldplay
Happy—Pharrell Williams
Hello—Adele
Ho Hey—Lumineers
Home—Edward Sharpe and the Magnetic Zeroes
I Wasn't Expecting That—Jamie Lawson
I'm Yours—Jason Mraz
Jar of Hearts—Christina Perri
July—Mundy
Last Request—Paolo Nutini
Let Her Go—Passenger
Little Lion Man—Mumford and Sons
Lucky—Jason Mraz featuring Colbie Calliat
Mr. Brightside—The Killers
Need a Dollar—Aloe Blacc
One and Only—Adele
Only Love Can Hurt Like This—Paloma Faith
Other Side of the World—KT Tunstall
Riptide—Vance Joy
Rolling in the Deep—Adele
Rumor Has It—Adele
Run—Snow Patrol
Set Fire To the Rain—Adele
She Will Be Loved—Maroon 5
Skinny Love—Bon Iver
Somebody That I Used To Know—Gotye
Somebody Told Me—The Killers
Soul Sister—Train
Speed of Sound—Coldplay
Stay With Me—Sam Smith
The A Team—Ed Sheeran
The Boxer—Mumford and Sons
The Cave—Mumford and Sons
The Man—Aloe Blacc
The Scientist—Coldplay
Thinking Out Loud—Ed Sheeran
This Love—Maroon 5
Titanium—Sia/David Guette
Too Close—Alex Clare
Turning Tables—Adele
Uptown Funk—Bruno Mars
Use Somebody—Kings of Leon
Valerie—Amy Winehouse
Viva La Vida—Coldplay
Wagon Wheel—Old Crow Medicine Show
Wagon Wheel—Old Crow Medicine Show
Wake Me Up—Avicii
Wings—Birdy
Yellow—Coldplay
1980s