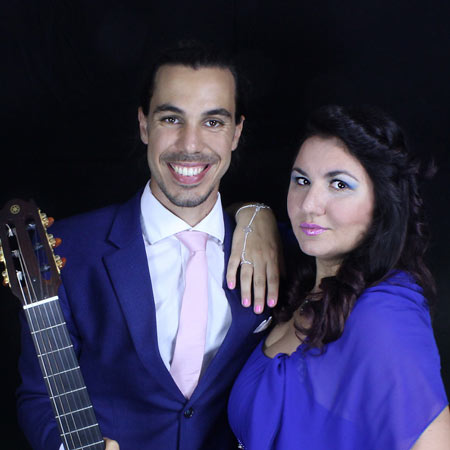 Italian Music Duo
Old styled acoustic duo will perform a variety of classic songs at your event.
Skilled cover performers capture the magic of traditional swing and recreate the magic.
Talented female vocalist performs with an incredible vocal range.
Ideal male guitarist for private parties, corporate events, receptions, and more.
Book live music show for events throughout Italy and worldwide.
Our incredibly talented acoustic duo cover performers are sure to make a huge impact at your upcoming special event if booked, and will fill your guests with high energy and an atmosphere that is completely carefree and stress free. Our remarkable female vocalist and male guitarist can perform a variety of evergreen, oldies, pop, jazz, blues, and rock classics throughout their memorable live music show experience. Your guests are bound to rush the dance floor if you bring our wonderful cover performers to your upcoming social gathering. 
Providing a sensational live music show experience, our vintage acoustic duo can perform up to 4 hours of live music entertainment, and boast an impressive repertoire of over 300 songs, including hits such as "My Girl" by The Temptations, "Twist And Shout" by The Beatles, "Save The Last Dance For Me" by The Drifters, and "Time After Time" by Cindy Lauper to name just a few of the songs featured in our live music show. Comprised of a talented female vocalist and male guitarist, our sensational cover performers perform with dedication, elegance, and loads of fun. 
Our amazing cover performers can also perform their acoustic songs with backing tracks if needed. Our highly versatile live music show experience is completely adaptable as our wonderful acoustic duo can perform a fresh and new song requested by you for your upcoming special occasion, the perfect fit for a variety of different themes and styles. Performing hit after hit, our amazing acoustic duo will leave your guests with unforgettable memories and experiences. The perfect live music show experience for private parties, corporate events, gala dinners, drink receptions, weddings, family days, and much more.
Contact any of our amazing Scarlett Entertainment team of event experts if you are interested in booking our exceptional acoustic duo cover performers for your upcoming special event.
A Song For You - Ray Charles
Agua De Beber - Tom Jobim
And I Love Her - Beatles
All My Loving - Beatles
At Last - Etta James
Autumn Leaves - Frank Sinatra
Besame Mucho - Consuelo
Velazquez
Black Orpheus - Jobim
C'est Ci Bon - Louis Armstrong
Cheek To Cheek - Ella Fitzgerald
Cry Me A River - Ella Fitzgerald
Desaynado - Tom Jobim
Diamonds Are A Girl's Best Friend -
M.monroe
Dream A Little Dream Of Me -
Mamas And Papas
Don't Know Why - Norah Jones
Feeling Good - Nina Simone
Fever - Peggy Lee
Fly Me To The Moon - Frank Sinatra
It Don't Mean A Thing If You Ain't Got
That Swing - Duke Ellington
I'll Never Fall In Love Again - Burt
Bacharach
I Got Rhythm - Gershwin
I Say A Little Prayer - Dionne
Warwick
L.o.v.e. - Nat King Cole
Johnny Be Goode - Chuck Berry
Let's Twist Again - Chubby Checker
Bye Bye Love - Everly Brothers
La Bamba - Ritchie Valens
Blue Suede Shoes - Elvis Presley
Diana - Paul Anka
Jailhouse Rock - Elvis Presley
Heartbreak Hotel - Elvis Presley
Speedy Gonzales - Pat Boone
Crockodile Rock - Elthon John
Great Balls Of Yre - Jerry Lee Lewis
Rock Around The Clock - Bill Haley
Shout - The Isley Brother
Stupid Cupid - Connie Francis
Whola Lotta Shakin' - Jerry Lee Lewis
You Never Can Tell - Chuck Berry
Old Time Rock&roll - Bob Seger
American Pie - Don Mc Lean (Madonna
Version)
Big Yellow Taxi - Joni Mitchell
I Will Survive - Gloria Gaynor
Night Fever - Bee Gees
Killing Me Softly - Roberta Flack (Acoustic
Version)
Knocking On Heaven's Door - Bob Dylan
Have You Ever Seen The Rain - Ccr
High Way To Hell/disco Inferno Medley
Hit The Road Jack - Ray Charles
I Can't Get No Satisfaction - Rolling Stones
I Heard Through The Grapevine - Marvin
Gaye
I'm A Believer - The Monkees
Proud Mary - Ike And Tina
Light My Yre - The Doors (Will Young
Version)
My Girl - The Temptations
Respect - Aretha Franklin
Think - Aretha Franklin
Save The Last Dance For Me - The Drifters
Stand By Me - Ben E. King
Somebody To Love - Je~erson's Airplane
Son Of A Preacher Man - Dusty Speingyeld
Sympathy For The Devil - Rolling Stones
Theese Boots Are Made For Walking -
Nancy Sinatra
The Dock Of The Bay - Otis Redding
The Look Of Love - Dusty Springyeld
The House Of The Rising Sun - The Animals
The Shoop Shoop Song - Betty Everett
Twist And Shout - Beatles
Venus - Shocking Blue
Yesterday - Beatles
You Can't Hurry Love - The Supremes
Will You Love Me Tomorrow - The Shirelles
Wonderful World - Sam Cooke
Baby One More Time - Britney Spears
Basket Case - Green Day
Black Or White - Michael Jackson
Black Hole Sun - Soundgarden
Creep - Radiohead
Crush - Jennifer Paige
Don't Speak - No Doubt
Genie In A Bottle - Christina Aguilera
Hedonism - Skunk Anansie
Wake Me Up Before You Go-go - Wham!
Walk Like An Egyptian - The Bangles
Walking On Sunshine - Katrina&the
Waves
What A Feeling - Irene Cara
What I Am - Edie Brickell
Wicked Game - Chris Isaak
Ironic - Alanis Morissette
I'm Every Woman - Whitney Houston
If You Had My Love - Jennifer Lopez
If It Makes You Happy - Sheryl Crow
I Will Always Love You - Whitney Houston
Killing Me Softly - Fugees
Kiss Me - Sixpence None The Richer
Life - Des'ree
Losing My Religion - R.e.m.
Man I Feel Like A Woman - Shania Twain
More Than Words - Extreme
No Scrubs - Tlc
Nothing Compares 2 U - Sinead O' Connor
Run Baby Run - Sheryl Crow
Snow On The Sahara - Anggun
That Don't Impress Me Much - Shania
Twain
This Kiss - Faith Hill
Together Again - Janet Jackson
Torn - Natalie Imbruglia
Truly Madly Deeply- Savage Garden
Under The Bridge - Red Hot Chili Peppers
You're Still The One - Shania Twain
Wonderwall - Oasis
Wanna Be - Spice Girls
Why - Annie Lennox
Breathless - The Corrs
Can't Yght The Moonlight - Lee Ann
Rimes
Can't Get You Out Of My Head - Kylie
Minogue
Crazy - Gnarles Barkley
Crazy In Love - Beyoncé
Disturbia - Rihanna
Girl Put Your Records On - Corinne
Bayle Rae
Goodnight Moon - Shivaree
I Gotta Feeling - Black Eyed Peas
I Kissed A Girl - Katy Perry
I'm Like A Bird - Nelly Furtado
I'm Outta Love - Anastacia
I'm Yours - Jason Mraz
Irreplaceable - Beyoncé
Just Dance - Lady Gaga
Listen - Beyoncé
Lovefool - The Cardigans
Music - Madonna
Not That Kind - Anastacia
Out Of Reach - Gabrielle
Right To Be Wrong - Joss Stone
Rome Wan't Built In A Day -
Morcheeba
Single Ladies - Beyoncé
Stronger Than Me - Amy Winehouse
Toxic - Britney Spears
Umbrella - Rihanna
Valerie - Amy Winehouse
Whenever Wherever - Shakira
Who Knew - Pink
A Whole New World - From Alladin
Aquarius/let The Sunshine In - Hair
Always - Bon Jovi
Bleeding Love - Leona Lewis
Everything I Do (I Do It For You) -
Brian Adams
Hero - Mariah Carey
I Don't Wanna Miss A Thing -
Aerosmith
If I Ain't Got You - Alicia Keys
I Will Always Love You - Whitney
Houston
Mandy - Barry Manilow
My All - Mariah Carey
My Cherie Amour - Steve Wonder
Nothing's Real But Love - Rebecca
Ferguson
One - U2
She - Elvis Costello
Stay With Me - Sam Smith
To Make You Feel My Love - Bob
Dylan
Truly Madley Deeply - Savage
Garden
Take A Message - Remy Shand
Truly Madly Deeply - Savage
Garden
Thinking Out Loud - Ed Sheeran
You Are Not Alone - Michael Jackson
Your Song - Elthon John
When You Say Nothing's At All -
Ronan Keating
When I Was Your Man - Bruno Mars
A Fuego Lento - Rosana
Addicted To You - Shakira
Besame Mucho - Dean Martin
Black Magic Woman - Santana
Candela - Noelia
Conga - Gloria Estefan
Corazon Espinado - Santana
Desaynado - Tom Jobim
El Talisman - Rosana
Europa - Santana
Guantanamera - Celia Cruz
Ja Sei Namorar - Tribalistas
La Zaca - Jarabe De Palo
Mambo N°5 - Lou Bega
Manha De Carnaval - Luis Bonfà
Manos Al Aire - Nelly Furtado
Mas Que Nada - Sergio Mendez
Mi Chico Latino - Geri Halliwell
No Me Ames - J-lo Mark Anthony
La Isla Bonita - Madonna
Let's Get Loud - Jennifer Lopez
Living La Vida Loca - Ricky Martin
Ojos Asì - Shakira
Para No Verte Mas - Mosca Tze Tze
Que Serà Serà - Doris Day
Quisas Quisas Quisas - Triny Lopez
Yo Siguo Aqui - Paulina Rubio
Shimbalaie - Maria Gadu
Tristezza - Elizeth Cardoso
Ti Sento - Matia Bazar
Tintarella Di Luna - Mina
Tu Vo' Fa L'americano - Carosone
Vacanze Romane - Matia Bazar
(Tango Version)
Volare (Nel Blu Dipinto Di Blu) -
Modugno
Vorrei La Pelle Nera - Nino Ferrer
Un'ora Sola Ti Vorrei - (Versione
Giorgia)
Via - Conte
That's Amore - Dean Martin
Vivre La Vie - Kelly Joyce
Non Dimenticar - Dean Martin
Pack Up - Eliza Doolittle
Quando Quando Quando - Michael Bublé
Stuck - Caro Emerald
Save The Last Dance For Me - Michael Bubl
Strange I've Seen That Face Before - Grace Jones
Moon River - Audrey Hepburn
A Night In Tunisia - Ella Fitzgerald
Lulluby Of Birdland - Ella Fitzgerald
Michelle - Beatles
My Baby Just Cares For Me - Nina
Simone
Nature Boy - Nat King Cole
New York New York - Lisa Minnelli
One Note Samba - Tom Jobim
Over The Rainbow - Judy Garland
Putting On The Ritz - Irving Berlin
Singing In The Rain - Gene Kelly
So Nice - Astrud Gilberto
Smile - Charlie Chaplin
Smoke Gets In Your Eyes - The
Platters
Summertime - Geroge Gershwin
Take Yve - Carmen Mcrae
The Lady Is A Tramp - Ella Fitzgerald
The Look Of Love - Burt Bacharach
The Man I Love - Billie Holiday
The Girl From Ipanema - Astrud
Gilberto
Unforgettable- Nat King Cole
Walk On By - Dionne Warwick
What A Wonderful World - Louis
Armstrong
Why Don't You Do Right - Peggy Lee
Black Co~ee - Etta James
Blues In The Night - Katie Melua
Give It To Me Right - Melanie Fiona
I Got A Woman - Ray Charles
Rock Me Baby - Tina Turner
I Got Trouble - Christina Aguilera
I Just Wanna Make Love To You - Etta
James
I Put A Spell On You - Joss Stone Je~
Beck
I Still Got The Blues For You - Gary
Moore
I Rather Go Blind - Etta James
Mercy - Du~y
Same As You - Scott Henderson
You Can Leave Your Hat On - Etta
James
Working Woman Blues - Valerie
June
A Natural Woman - Aretha Franklin
Ain't No Mountain High Enough - Marvin
Gaye
Bang Bang - Cher
Be My Baby - The Ronettes
Dancing In The Street - Martha And The
Vandellas
Day Tripper - Beatles
For Once In My Life - Steve Wonder
Georgia On My Mind - Ray Charles
Heart Of Glass - Blondie
Hotel California - The Eagles (Bossa
Version
I Can't Stand The Rain - Ann Peebles
Imagine - John Lennon
I Wish - Steve Wonder
Lady Marmalade - Patty Labelle
Long Train Running - The Doobie Brothers
Mercedez Benz - Janis Joplin
One Way Or Another - Blondie
Roxanne - The Police
Smoke On The Water - Deep Purple (Bossa
Version)
Signed Sealed Delivered - Steve Wonder
Somebody To Love - Queen
Staying Alive - Bee Gees
Street Life - Randy Crawford
Sunny - Boney M
Superstition - Steve Wonder
This Will Be - Natalie Cole
You Are The Sunshine Of My Life - Steve
Wonder
You're So Vain - Carly Simon
You've Got A Friend - James Taylor
Ain't Nobody - Chaka Khan
Bette Davis Eyes - Kim Karnes
Girls Just Wanna Have Fun - Cindy Lauper
Billie Jean - Michael Jackson
Beat It - Michael Jackson
Call Me - Blondie
Careless Whisper - George Michael
English Man In New York - The Police
Every Breath You Take - The Police
Faith - George Michael
I Still Haven't Found What I'm Looking For -
U2
I Wanna Dance With Somebody - Whitney
Houston
Karma Chameleon - Culture Club
Kiss - Prince
Like A Virgin - Madonna
Like A Prayer - Madonna
Man In The Mirror - M.jackson
Maniac - Michael Sembello
Material Girl - Madonna
River Deep Mountain High - T.turner
She Drives Me Crazy - Fine Young
Cannibals
Smooth Operator - Sade
Sweet Child Of Mine - Guns'n'roses
Sweet Dreams (Are Made Of This) -
Eurythmics
Tainted Love - Soft Cell
The Best - Tina Turner
Time After Time - Cindy Lauper
Upside Down - Diana Ross
Video Killed The Radio Stars - The Buggles
You Might Need Somebody - Randy
Crawford
A Woman's Worth - Alicia Keys
Ain't No Other Man - C. Aguilera
Back To Black - Amy Winehouse
Best Thing I Never Had - Beyoncé
Black Horse And A Cherry Tree - Kt
Tunstall
4 5 Seconds - Mccartney Rihanna K.
West
All About That Bass - Meghan
Trainor
Bang Bang - Ariana Grande/ Jesse J/
Nicky Minaj
Blue Jeans - Lana Del Rey
Born This Way - Lady Gaga
Blurred Lines - Robin Thicke
California King Bed - Rihanna
Chandelier - Sia
Diamonds - Rihanna
Elastic Heart - Sia
Firework - Katy Perry
Get Lucky - Daft Punk
Ghost Gunyghters - As Animals
Glitter And Gold - Rebecca Ferguson
Happy - Pharrel Williams
Hello - Adele
Locked Out From Heaven - Bruno
Mars
Love Me Like You Do - Ellie Goulding
Man Down - Rihanna
Moves Like Jagger - Maroon5
Mr Saxobeat - Alexandra Stan
Next To Me - Emelì Sande
Only Girl - Rihanna
Price Tag - Jesse J.
Raggamun - Selah Sue
Rather Be - Clean Bandit
Roar - Katy Perry
Rolling In The Deep - Adele
Royals - Lorde
Someone Like You - Adele
Uptown Funk - Bruno Mars
You And I - Lady Gaga
Wake Me Up - Avicii Feat Aloe Blacc
We Found Love - Rihanna
All Around The World - Lisa
Stenyeld
Beauty And The Beast Theme
Cabaret - Liza Minnelli
Diamonds Are A Girl's Best Friend -
Gentlemen Prefer Blodes
I've Had The Time Of My Life ( Dirty
Dancing Movie)
Let It Go - Frozen
Memory - B. Streisand From Cats
Moonriver - Breakfast At Ti~any's
My Favorite Things - The Sound Of
Music
Oh Pretty Woman - Roy Orbison
On My Own - Les Miserables
Nobody Does It Better - The Spy Who
Loved Me
Part Of Your World - The Little
Mermaid
Put The Blame On Mame - Gilda
Que Sera Sera - The Man Who Knew
Too Much
Rezections - Mulan
Summer Nights - Grease
The Power Of Love - Back To The
Future
You're The One That I Want - Grease
When You Wish Upon A Star -
Pinocchio
A Far L'amore Comincia Tu - R. Carrà
Albachiara - Vasco
Almeno Tu Nell'universo - Mia
Martini
Amarsi Un Po' - Lucio Battisti
Amore Disperato - Nada
Azzurro - A.celetano
Bugiarda - C.caselli
Con Te Partirò - A.bocelli
E La Luna Bussò - L.berté
Estate - Bruno Martino
Felicità - Albano E Romina
Figli Delle Stelle - Alan Sorrenti
Gente Di Mare - Tozzi Raf
Gloria - U. Tozzi
Hai Delle Isole Negli Occhi - T.ferro
Il Cielo In Una Stanza - Gino Paoli
Il Tuo Bacio È Come Un Rock - A.
Celentano
Il Tempo Di Morire - Lucio Battisti
Impressioni Di Settembre - Pfm
Io Che Non Vivo - Pino Donaggio
La Bambola - Patty Pravo (Fox Trot
Medley)
L'italiano - Toto Cutugno
La Gatta - Gino Paoli
Malafemmena - Totò
Mamma - Claudio Villa
Marina - Rocco Granata
Nessuno - Mina
Non Ho L'età - Gigliola Cinquetti
Non Voglio Mica La Luna - Fiordaliso
O Sole Mio - Pavarotti
Parole Parole Parole - Mina
Sarà Perché Ti Amo - Ricchi&poveri
Se Stasera Sono Qui - Tenco
Self Control - Raf
Si Viaggiare - Lucio Battisti
Saint Tropez Twist - Peppino Di
Capri
A Night Like This - Caro Emerald
Back It Up - Caro Emerald
Ba Ba Baciami Piccina - Alberto Rabaglaiti
Blue Moon - The Marcels
Buonasera (Signorina) - Fred Buscaglione
Bye Bye Love - The Everly Brothers
Carina - Fred Buscaglione
C'est Ci Bon - Louis Armstrong
Candy Man - Christina Aguilera
Guarda Che Luna - Fred Buscaglione
Legata Ad Un Granello Di Sabbia - Nico Fidenco
Mambo Italiano - Rosemary Clooney
Matilde - Harry Belafonte
Moondance - Van Morrison
La Vie En Rose - Edith Piaf