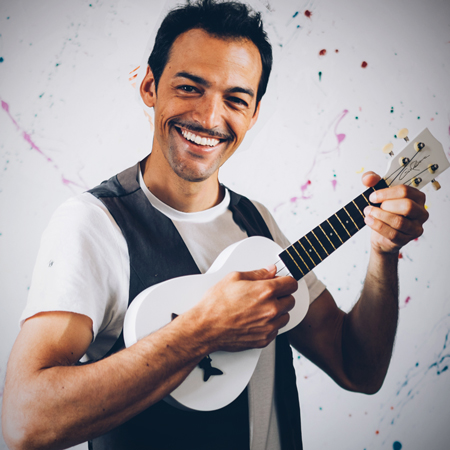 Italian Ukulele Player
Fantastic Italian Ukulele player and live music entertainer
Has a large and varied repertoire of international songs
All his songs are are well known but re-imagined and stripped down for the ukulele
Perfect for Wedding, private parties, Summer events and much more
Based in Rome and available for events all over the world
Our superb Italian Ukulele Player is perfect for bringing an immediate joyful atmosphere to any event or party. The sounds of the ukulele insight connotations of sunshine and happiness, this makes him a wonderful choice for a wide variety of events and occasions. 
Armed with just tiny four stringed guitar and his stunning voice, our Italian ukulele player can deliver high impact live music guaranteed to captivate your audience's attention from start to finish. The solo musician requires very little space to perform and, if required, can perform fully acoustic.
He will delight your guests with the gentle and charming sounds of the ukulele as he performs from a wonderful repertoire of international hits, classics songs and quirky melodies. From the Beatles, to Liza Minnelli, Frank Sinatra to Bob Marley, all his songs are are well known but re-imagined and stripped down for the ukulele.
This Italian Ukulele Player is a professional musician with years of experience as a live music entertainer. The multi-instrumentalist has performed for a variety of crowds all over the world. Based in Rome he travels the world and has performed in some of the best world resorts from Sinai Grand (Sharm El Eheik) to Mauritius (Le Flamboyant) Maldives (Kihaaad), Sardinia (Colonna beach) and Sicily (Pollina Valtur resort) and Calabria (Capo Rizzuto). He is perfect for weddings, background music, and special events.
If you are looking for a solo musician or ukulele player for your event or wedding, get in touch with our team of Entertainment Coordinators who will be more that happy to help you book this artist.