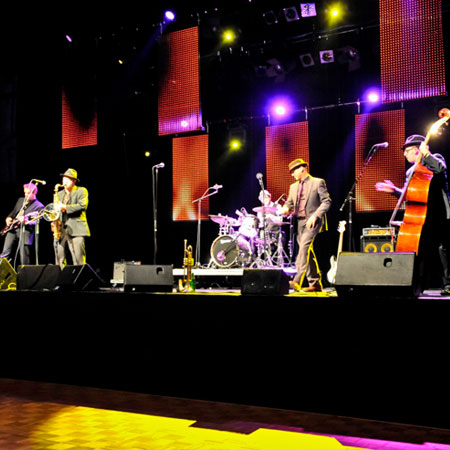 Jive Swing Band
One of the hottest Swing Jive and Jump Blues bands in the UK
Repertoire consists of 1940's energetic Jive & Swing & vintage Rock n Roll
Will have everyone up struttin' their stuff on the dance floor
Performed at high-profile celebrity events for: Arnold Schwarzenegger...
Based in South East England & available to perform at events worldwide
From performing on Mahé Island in The Seychelles, The Society of Petroleum Engineers in Norway to Kelly Brook's birthday party at her London club Steam & Rye and for Sir Bobby Charlton at his Find A Better Way Charity Gala event in London, The Jive Swing Band are one of the hottest Swing Jive and Jump Blues bands to choose for your event.
Their high-energy SwingyJazzyJiveyBluesy music will guarantee to have everyone on the dance floor all night long. Their repertoire consists of 1940's energetic Jive and Swing infused with cheeky good humour although they are also able to play vintage Rock n Roll tunes, Ska numbers and a grooving Funk set should a particular event call for it. Whatever style it is, the band never fail to liven up any event so book them now - they'll cook up a storm!
Route 66 – Nat King Cole
Grandma Plays The Numbers – Wynonie Harris
Caledonia – Louis Jordan
Reet Petite – Jackie Wilson
Pennies From Heaven – Bing Crosby/Louis Armstrong
I Like My Baby's Puddin' – Wynonie Harris
Stray Cat Strut (Pink Panther Theme) – Brian Setzer Orchestra
Flip Flop Fly – Joe Turner
Jump Jive and Wail – Brian Setzer Orchestra
Straighten Up And Fly Right – Nat King Cole
Ain't Nobody Here But Us Chickens – Louis Jordan
Jack You're Dead – Louis Jordan
Shakin' Mother For Ya – Champion Jack Dupree
Five Guys Named Moe – Louis Jordan
Earth Angel – The Penguins
In The Mood – Glenn Miller
Choo Choo Cha Boogie – Louis Jordan
Reet Petite & Gone – Louis Jordan
Saturday Night Fish Fry – Louis Jordan
Blood Shot Eyes – Wynonie Harris
Buona Sera / Marie Marie – Louis Prima
It Don't Mean a Thing (If It Ain't Got That Swing) - Duke Ellington
Going Back To Louisiana – Delbert McClinton
Boogie All Night – Alvin Lee
Let The Good Times Roll – Louis Jordan
This Boy – The Beatles
Tuxedo Junction – Manhattan Transfer
Summertime – Billie Holiday
Paper Moon – Ella Fitzgerald
Sleep Walk – Santo & Johnny
The Dirty Boogie – Brian Setzer Orchestra
This Cat Is On A Hot Tin Roof – Brian Setzer Orchestra
Minnie The Moocher – Cab Calloway
Night and Day – Frank Sinatra
Ride Daddy Ride - Fats Noel
Big Ten Inch - Bull Moose Jackson
It Ain't The Meat - The Swallows
I Wanna Be Like You (King Of The Swingers) - Louis Prima
Pencil Full Of Lead - Paolo Nutini
One Scotch One Bourbon One Beer - Amos Milburn
Night Train - Jimmy Forrest
This Ol' House - Brian Setzer Orchestra
Ain't Misbehavin' – Fats Waller
- Kelly Brook's birthday at her London club Steam & Rye.
- The Royal Albert Hall Ignite Season at Cafe Consort. (2013)
- Private corporate event held by Rolex
- St. James's Place Wealth Management Group (2014)
- Vinopolis London (2014)
- Diageo Headquarters Park Royal London (2014)
- The Shard (Tallest building in the E.U.) London Bridge
- The Rosewood Hotel near Covent Garden London (2014)
- InterContinental Hotel Westminster London (2013)
- An Evening with Arnold Schwarzenegger
- Sir Bobby Charlton at his Find A Better Way Charity Gala event London
- Society of Petroleum Engineers (SPE) BBQ Dinner and Dance Norway.
- The Centenary Pavilion at Leeds United Football Club (2014)
- Investment and Wealth Management Awards
- Terrapinn Business Events London (2014)
- Bond Street Association Bond Street London (2012)
- The London Marathon (playing along the main route) London (2011)
- World Low Cost Airlines Congress Business Design Centre
- Pfizer pharmaceutical company Kent (2009)
- Private event Mahé Island Seychelles. (2014)
" It is us who should be thanking you. You entertained everyone quite brilliantly even though we kept you waiting. We will be happy to book you again. With best regards. "

Martin Dansey, CEO of Find a Better Way Charity
" Thanks again for playing at the event. Everyone had a great night and loved the music. We will definitely keep you on our list for other events that we're doing. "

Julia - Head of Communications, Marketing and Events at Mitie
" Thank you so much for being part of our event on Saturday. You were great and went down a storm. Lots of positive feedback from our guests about your performance. I would have no hesitation in recommending you to others or indeed using you again at a future event. Please pass on our grateful thanks to all the guys in the band for all their hard work. With best wishes "

Alison - Senior Partner The St. James's Place Partnership
" All of our guests commented on the band and you were really the highlight of our party ("The band was really special" was the comment from everybody the day after). Even the people who did not come on the dance floor, enjoyed the music tremendously. So a big thank you for what you did. "

Caroline and Judy
" Totally awesome band - got everyone going and really made the night. We were extremely satisfied with the band; elated to be precise. They arrived promptly and set up quietly without disturbing our wedding breakfast. We had a short gap before the evening reception which is when they sound checked, and even that sounded good. After playing our first dance through the PA as it was a slightly unusual choice (Together You & I - Dolly Parton), we requested that the first song they play was "Rock around the Clock" as Emma and her dad used to dance to it when she was a child. They were the first on the dance floor and then everyone joined in. It was a great start to the evening and really got everyone rocking. The band knew exactly where to pitch the sets to keep the atmosphere going, and we have had no end of comments about how fantastic the band were. They added some funk tracks in to the last set, which kept the party going right till the end. We just bought their CDs too and currently listening to them whilst going through the wedding pics! "

Emma and Marek
" The band were an absolutely amazing swing band playing in my lounge at my 50th Birthday party. All my friends and family have commented on how terrific they were - the skilled musicianship and Mark's powerful fantastic vocals and their fun loving cheeky personality. They adapted songs for me, allowed my friend to sing a couple of numbers with them and enabled my son to perform a surprise saxophone solo with them which had me in tears as I was so proud! To summarise, I would say you will make a success of any party/event and will definitely get the party going! I would highly recommend them "

Geetha and John
" You guys were great!! Thank you so much x "

Kelly Brook, TV Presenter, actress and model
" Just a little note to say a massive thank you for making our wedding evening so much fun. So many people rave about the band and how much they loved the music. We have and will continue to thoroughly recommend you and will come and see you in concert soon. Many thanks and Blessings "

Ollie and Becky
" Just a quick (belated) note to thank you and the rest of the band for performing at our wedding in June. We had an absolutely fantastic time and heard nothing but praise for you from the rest of the guests. A couple of them have since been asking for your details, so hopefully you should get some repeat business out of it all. Thanks again, it really made our night. "

Sophie and Doug
" Just a quick message to say thank you so much for a fantastic evening on Saturday. You guys were brilliant, the music was spot on and everyone has commented on how great you were. We will definitely be recommending you to others in the future! "

Naomi and Oscar
" I've just got back from honeymoon and wanted to send you and the band a quick email to say a big THANK YOU for playing at our wedding on 14th June. You guys were amazing and everyone had a brilliant time dancing about. I was also loving the drum solo from my brother in law with you all – he mentioned you came and spoke to him after. Thanks again and hope you guys had as much fun as we did. "

Kelly and Chad
" I am writing to express my sincere gratitude for the fantastic job your band did in entertaining the guests at our recent Gala Dinner. You performed with such spirit and energy and your music is both infectious and uplifting. As such, thank you for your contribution in making the event such a success. We have received extremely positive feedback from all those in attendance and we hope that the evening will provide a real boost to the recognition of this charity's important work. We raised over £10,000 on the night- money that will directly help us to achieve our mission of negating the effects of landmines worldwide. On behalf of the Find A Better Way Board Of Trustees, I wish you well in your future endeavours and I hope I have the pleasure of watching your band perform again in the future. Yours sincerely "

Sir Bobby Charlton CBE, Legendary Footballer
IDEA ARTICLES RELATED TO Jive Swing Band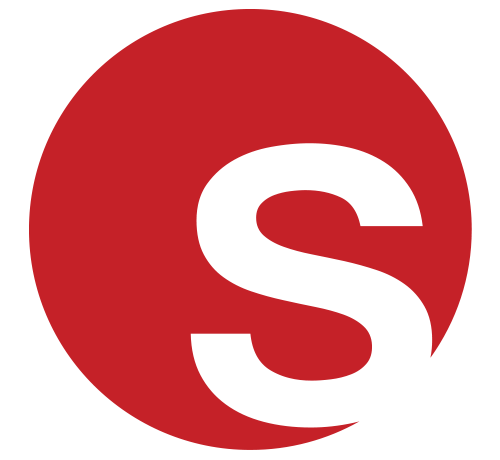 Our Most Popular Event Themes from 2018 and What to Expect for 2019
Our Most Popular Event Themes from 2018 and What to Expect for 2019
Juliana Rodriguez
|
19/10/2018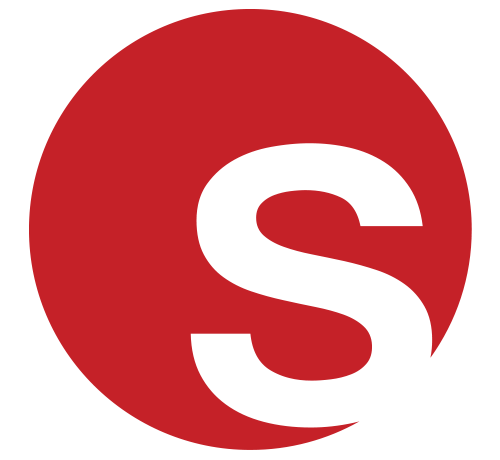 Theme Ideas For Your New Years Eve Party
Theme Ideas For Your New Years Eve Party
Grace Henley
|
28/12/2015