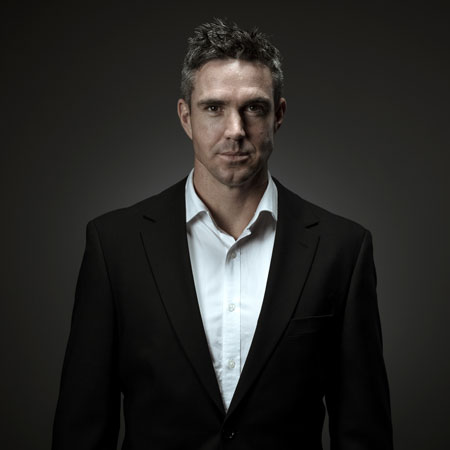 Kevin Pietersen
Former England Cricket Player
Available for inspiring Q&As and as keynote speaker for events
His keynotes topics include team adversity, maximising success, leadership and more
Also a conservation keynote speaker, he dedicates his time to conservation and community causes
Based in the UK and available for international appearances
Widely known for his cricketing prowess, Kevin Pietersen has been described by esteemed legends within the game as simply the 'Greatest batsman to ever wear an England shirt.' Kevin Pietersen made his debut for England in 2005 and in an international career spanning a decade, played 104 Test matches, scoring 8,181 runs at an average of 47.28. He has scored over 13,000 runs in all formats of the game and in 2013 became England's all-time leading run-scorer.
After his sensational 158 at the Oval in 2005, an innings which helped England secure an Ashes victory for the first time since 1987, the England team received MBEs from her Majesty the Queen. However, cricket is only one part of who Kevin is. As a fearless, selfless and single-minded individual, Kevin has demonstrated a fierce determination to overcome adversity and fight to help others, be it underprivileged children or threatened rhinos in Africa and India.
In addition to his roles as a cricket analyst with International broadcasters, Kevin's focus is to dedicate more time and energy to conservation and community work. With the mission to save Rhinos from extinction, Kevin set up an initiative called SORAI (save our Rhino's in Africa and India). A product range (cricket and general merchandise) to support the fundraising and awareness for ongoing preservation and protection of Rhino's in Africa and India, and the ongoing education, awareness and public support of this issue globally. 
Perfect for corporate events, charity galas, sporting events, conferences and more, Kevin Pietersen is a fantastic keynote speaker to engage and inspire guests. 
Top Tip:
Kevin Pietersen can attend Q&A's or offer a 30 minute Keynote speech titled, 'Busting the 'champion' myth'. In this he busts myths, shares some confidences and explains how he has taken lessons from cricket into the next phase of his life. He's honest, incisive and incredibly inspiring. Feedback from his talks has demonstrated the surprise his audiences feel at the difference between the Kevin they think they know and the Kevin they meet.
Scarlett Entertainment offers a huge range of keynote speakers for events that span a range of topics from sport and business to technology, creativity and more. Browse our roster of exceptionally talented and inspiring keynote speakers to engage your audiences. 
To book Kevin Pietersen to make an appearance at your next event, get in touch with our team of Entertainment Experts who'll be happy to help.