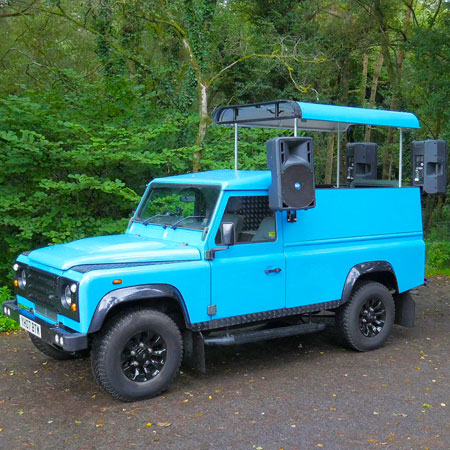 Land Rover DJ Booth
A fully functioning DJ booth in a Land Rover bringing music to any location
Excellent alternative to hiring in staging and a PA system
The car can be branded with logos and even include at full vinyl wrap
Able to access most types of terrain and ready in half an hour of arrival
Based in Cardiff and available for events around Europe
Land Rover DJ Booth PHOTOS
The incredible and innovative Land Rover DJ Booth is a mobile DJ service unlike any other. Bringing music of your choice to where most DJs would struggle, this is a fully portable, self-contained DJ booth with and professional PA system all housed in a vibrant blue Land Rover Defender.
The Land Rover DJ Booth quite literally goes the extra mile to bring music to your special event. With the mobile DJ service being built in an all-terrain car like the Land Rover means that it can travel to, and on, most locations and surfaces. If your party is in a muddy field, on the beach, up a mountain or in a very inaccessible location, this is no problem for this mobile DJ booth. Its a great choice for outdoor or large-scale indoor events.
The self-contained mobile DJ service is an excellent alternative to bring out staging and a PA system as it has both in one. Additional extra include extra subwoofers, lighting and smoke machines to bring the full DJ booth experience. Generally, they can be ready to go within half an hour of arrival and will kick off with tunes of your choice. 
Land Rover DJ Booth is a blank canvas open to branding making it a great choice for promotions and product launches. Choices include logos attached to the sides, full branding boards or a full vinyl wrap. Complete this with flashmob dancers and you've got a fun and engaging brand event.
Previous clients of the mobile DJ booth include Abbott Cheerzone at the Berlin Marathon, Manchester Student Social, Manchester Arndale Centre, Monster Race and Cardiff Half Marathon and more.
To book the Land Rover DJ Booth for your event, please get in touch with our team at Scarlett Entertainment. It is based in Cardiff, Wales, and available for events across the UK and Europe.