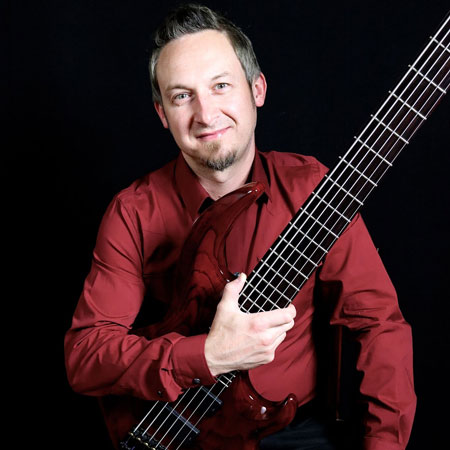 Las Vegas Guitarist
Exceptional Las Vegas guitarist performs a range of different musical genres to suit all occasions
Received the Outstanding Performance Award at the UNT Addison Jazz Festival
Using only his 6-string guitar, looping pedals, and various effects, our musician creates a full band sound
Previous clients include Samsung at CES, and Doosan at CONEXPO
Based in Las Vegas and available for worldwide bookings
Las Vegas Guitarist VIDEOS
Las Vegas Guitarist PHOTOS
An exceptional Las Vegas Bass Player who boasts outstanding live event music that is perfect for a range of different events. With a versatile repertoire and incredible talent for music, this bass player offers the ultimate event entertainment for any occasion looking for a high end musician to create an idyllic atmosphere that everyone appreciates.
Having performed for major clients such as Samsung at CES, and Doosan at CONEXPO
This phenomenal Las Vegas Bass Player offers a tailored performance that captivates the essence of your event in all its entirety, complementing the ambience with soothing background music that is a delight to listen to. 
An event musician who has performed in Las Vegas with Pop Evolution, John Davidson, Zowie Bowie, Foreigner's Domenick Allen, Kelly Clinton & Clint Holmes, crooner Brian Evans, Backbeat Village, and for multiple celebrity benefits, including the Las Vegas Celebrates the Music of Michael Jackson tribute in 2009. Our Las Vegas Bass Player has performed in some of the biggest venues in Vegas from the Pearl at the Palms to the Stirling Club, Wynn, the Venetian, Bellagio, Bally's, Margaritaville, Green Valley Ranch, Sam Boyd Stadium, the Tropicana, and many more.
Top Tip:
With only his 6-string guitar, looping pedals, and various effects, our one man band has recorded comprehensive and layered backing tracks, over which he plays the melody, various other harmony parts, and complicated solos live in performance at your event. 
All the music - the backing chords, the harmonies, sub-melodies - all of it has been produced by our musician.
Rewarded for his exceptional talents our musician received the Outstanding Performance Award at the UNT Addison Jazz Festival in 2014. 
Offering a wide range of genres, our Las Vegas Bass Player can perform anything from jazz to Bossa Nova, radio hits, classical music and more, perfect for corporate events, private parties, cocktail hours, receptions and grand openings. 
To book our Las Vegas Bass Player or for more information about live event music and event entertainment, contact our Entertainment Specialists.