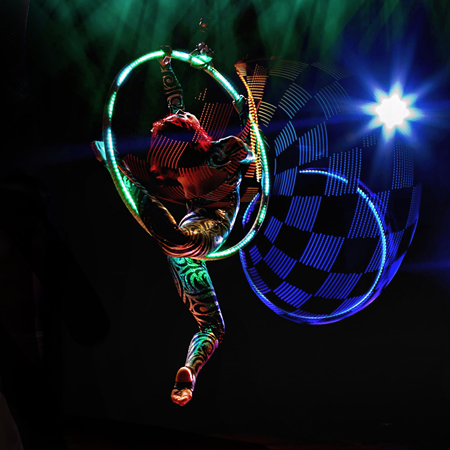 LED Aerial Hoop Act Mexico
Fascinating aerial hoop act stands out from its contemporaries thanks to the wonderful LED hoop
Her mid-air contortions and sophisticated aerial skills are augmented by the dazzling LED lights
LED hoop act is a great choice for events with a futuristic theme, nightclubs of VIP parties
Multi-skilled performer also offers an LED cyr wheel act and aerial straps shows
Based in Mexico City this aerialist is available for events all over the world
Our LED Aerial Hoop Act Mexico offers this unique and tantalising circus entertainment for a variety of events the world over. This fascinating aerial hoop act stands out from its contemporaries thanks to the wonderful LED hoop which illuminates the performance area with a multitude of multicoloured lights. The LED aerialist becomes a focal point of your event that guests simply cannot take their eyes. 
Perched upon her spinning LED hoop, the LED aerialist elegantly drapes her body in and around the prob. Her mid-air contortions and sophisticated aerial skills in an aptly fitting lycra costume make the aerial hoop act a very casual but highly engaging performance option. The fascinating light patterns, that are created by the LED aerialist, are enough to mesmerise any spectator.
The LED Aerial Hoop Act Mexico is a circus entertainment option that can be applied to a wide range of events. From corporate events and private parties to cruise ships and resort residencies, the circus aerial hoop act is sure to become a talking point at the event. 
Based in Mexico City, this all-round talented circus performer has a wide range of skills and performance options. She has a range of circus entertainment acts, from aerial to floor shows, that can be tailored to your event's specifics. This LED hoop act is a great choice for events with a futuristic theme, nightclubs of VIP parties. 
Top Tip:
The multi-skilled performer also offers an LED cyr wheel act and aerial straps shows.
Contact us at Scarlett entertainment to book the LED Aerial Hoop Act Mexico for your event.