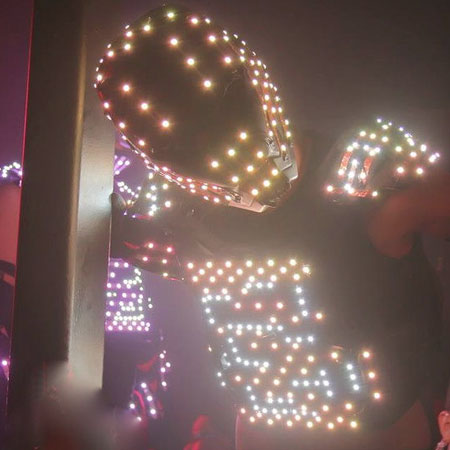 LED & Fire Ninjas
Unique act turns ordinary events into unforgettable experiences
Head to toe in LEDs, armed with lights, cryo guns, confetti cannons
LED Ninjas can pose for photos or hype up any crowd onstage
Also offer a range of fire arts - fire poi, fans, breathing, eating...
Based in Orlando & available to perform at events worldwide
What initially began as a brother sister fire duo based in Orlando has transformed over the years into the LED & Fire Ninjas. This act is a unique entertainment service striving to change ordinary events into unforgettable experiences. These modern ninjas are far from stealthy and will gain the attention of any crowd. Suited from head to toe in LEDs, armed with lights, cryo guns, confetti cannons and more, they're equip to turn any night into a spectacle. The pair have provided main stage and atmosphere talent for Cirque groups, nightclubs, movies, charities, camps, weddings, restaurant openings and more. The siblings are dedicated to providing an energetic form of entertainment that appeals and captivates any audience.
LED Ninjas -
Whether it's walking though crowds, posing for photos or onstage these LED ninjas will hype up any crowd. They offers stilt walking and LED performances while attired in their LED suits. While on or off stilts they can be equipped with cryo cannons, confetti cannons or streamer guns.
Ninja Fire Performers - 
They also offer a wide range of fire arts including - fire poi, fans, double staff, torches, staff, orbs, breathing and eating. With fire the duo can perform coordinated doubles routines, partner acrobatics, fight scenes or give solo performances.