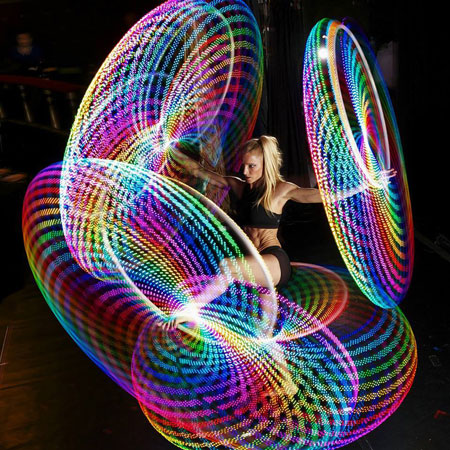 LED Hula Hoop Dancer
Our LED hula hoop dancer is the ultimate performer guaranteed to brighten every stage
An acrobat who has trained with the elite Beijing Acrobatic School uses her advanced skills to create dynamic routines
Demonstrates extreme flexibility, balance, strength, coordination and grace in each and every performance
Performed in over 42 countries
Based in London and available for worldwide bookings
LED Hula Hoop Dancer PHOTOS
Our highly trained acrobat has transformed the loveable childhood activity of hula hooping into a dynamic awe-inspiring performance that combines LED hula hoops and exciting routines. An LED hula hoop dancer who demonstrates phenomenal amounts of flexibility, balance, strength, coordination and grace in each and every performance is the ultimate hula hoop performer.
Having trained with the elite Beijing Acrobatic School, our LED hula hoop dancer combines her unique skills for hula hooping multiple hoops whilst she brightens the stage with her mesmerising LED hoops. With over 10 years of experience performing her incredible hula hoop routine this acrobat has astounded audiences in over 42 different countries! Mixing highly skilled routines with flexibility, strength and vibrant LED lights this hula hoop performer will light up every event.
Using the latest LED technology our hula hoop dancer's hoops are programmed in advance to change colour on the beat of the music – creating an exciting performance that will leave your guests in a trance. 
In addition to her colour changing hoops our hula hoop dancer can accommodate specific colours, logos and graphics to be used for corporate events, brand launches and product launches, or alternatively to match your colour scheme. A visually stunning display of talent and light that is a guaranteed hit with audiences of all ages will WOW your guests and leave them wanting more as our phenomenally talented performer creates a rainbow light spectacle right before your eyes.
With high energy routines, bright lights and exciting music this wonderful acrobat will give your guests something to talk about for years on end as she performs unbelievable tricks and routines. Perfect for corporate events, private parties, brand launches, product launches and any occasion that desires a glowing performance. 
To book our fabulous LED hula hoop dancer contact our Entertainment Specialists or to see more from our incredible acrobat visit our Hula Hoop Street Show, Hula Hoop Workshop and Hula Hoop Duo pages.
Awesome Events
Berlin Lacht Street Festival
Bloomsbury Big Top
European Juggling Convention
Flame Oz
ITV
La Soiree
London Evening Standard
Mexican Circus Convention
Swoop
Villach Street theatre Festival
Women's Tennis World Cup championships
2012 Olympic Closing Ceremony
BBC
Bethnol Green Working Mans club
Brighton Flow Fest
Five Ring Circus Newcastle
Fringe World Festival
Illusion on Ice
Lake Tahoe Flow Arts Festival
London Hoopfest
Phoenix Fire Productions
Tadah Artist Habitat
Wambam club
Artshub