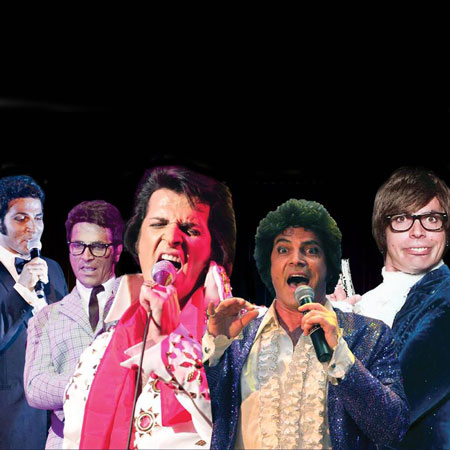 Legends Character Performer
Incredibly talented male singer mimic the vocal style and appearance of several legends
Impersonates the likes of Elvis, Tom Jones, Austin Powers and John Lennon
Book individual acts or a variety show with all of his impersonations
Has toured with Elvis' actual entourage and performed for Elvis' road manager
Based in Melbourne and available for events around the world
Legends Character Performer PHOTOS
Book our Melbourne based character performer to amaze your guests with his impeccable tribute acts to some of the great and legendary male singers of our time. The character performer is blessed to have an appearance which he can easily transform into all manner of famous characters. Coming from and acting and musical background means he can turn his skills into outstanding tribute acts that blow away audiences all over the world.
Our Australian character performer specialises in 1960s, Hollywood and Las Vegas themes with his most outstanding and highly praised tribute act being Elvis Presley. He beautifully recreates the vocals and stage presences and has a wide variety of classic Elvis costumes depending on the live performance required. The male singer also offers tribute acts to Dean Martin, Buddy Holly, Tom Jones, Jim Morrison, John Lennon and Austin Powers
You can book a full live performance featuring just one of his tribute acts or a show stopping, crowd wowing all-inclusive tribute show where our character performer will deliver a high quality performance with all of his tribute acts. He will tailor his live performance to suit client needs and can be booked as a solo male singer with backing tracks or accompanied by a band. This can be a small four piece right up to a full big band for a big impact.
If you're after an exceptional character performer and want to enjoy the hits of some iconic male singers from the mid 20th century, then contact our team of entertainment experts who will help you book this top notch tribute show.
" I'm very impressed, you do great justice to my good friend's legacy, and I don't say that very often "

Jerry Shilling, Elvis's closest friend
" You were brilliant...A truly magnificent portrayal of all the personas...Your Elvis was brilliant, but now, you as Jim Morrison!! That was incredible! "

Shelly Craft - Channel 9
" You did an absolute fantastic tribute to Elvis and it brought back so many memories, You sang from the heart just like Elvis did "

Joe Esposito, Elvis' own road manager