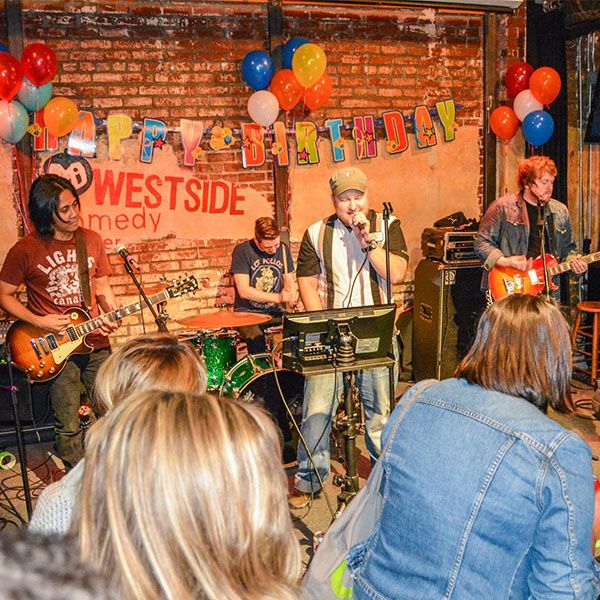 Live Karaoke Band LA
Not just any karaoke experience, guests are encouraged to jump onto the stage with a live band and sing their hearts out!
Full karaoke set up included and our Leading singer will act as a host during the night encouraging guests to come up and sing and fill in any gaps
Happy to learn new songs and have a vast song list including something special for everyone
Have created immersive karaoke experiences for many clients such as Warner Brothers, The Hard Rock Cafe and Converse
Based in LA our bandeoke experience is available to book for weddings, private parties, corporate events and more within the US
Live Karaoke Band LA PHOTOS
Photo Credits: Joey Barone Photography
A-Ha - Take On Me
ABBA - Dancing Queen
AC/DC - Highway To Hell
AC/DC - You Shook Me All Night Long
Adele - Rolling In The Deep
Aerosmith - Dream On
Al Green - Let's Stay Together
Alanis Morissette - Hand In My Pocket
Alanis Morissette - Ironic
Alanis Morissette - You Oughta Know
Alannah Myles - Black Velvet
Alice In Chains - Man In The Box
Alicia Keys - If I Ain't Got You
Amy Winehouse - Back To Black
Amy Winehouse - Valerie
Amy Winehouse - You Know I'm No Good
The Animals - House of the Rising Sun
Aretha Franklin - Respect
Aretha Franklin - (You Make Me Feel Like) A Natural Woman
The Beatles - Twist & Shout
The Beatles - Ob-La-Di, Ob-La-Da
The Beatles - Come Together
Bill Withers - Lean On Me
Billy Idol - Rebel Yell
Billy Idol - White Wedding
Billy Joel - You May Be Right
The Black Crowes - Hard To Handle
The Black Keys - Lonely Boy
Black Sabbath - War Pigs
Blackstreet - No Diggity (with or without the rap parts)
Blink 182 - All The Small Things
Blondie - One Way Or Another
Blues Brothers - Sweet Home Chicago
Blues Traveler - Hook
Bob Marley - Three Little Birds
Bobby Darin - Mack The Knife
Bon Jovi - Living On A Prayer
Bruno Mars - Just The Way You Are
Bruno Mars & Mark Ronson - Uptown Funk
Bryan Adams - Summer of '69
Cab Calloway - Minnie The Moocher
Cake - The Distance
The Cars - Just What I Needed
Carrie Underwood - Before He Cheats
Cee-Lo Green - Forget You! (explicit or clean version)
Charlie Daniels Band - The Devil Went Down To Georgia
Cheap Trick - I Want You To Want Me
Chuck Berry - Johnny B. Goode
The Clash - Should I Stay or Should I Go?
Counting Crows - Mr Jones
Cranberries - Zombie
Creedence Clearwater Revival - Fortunate Son
Creedence Clearwater Revival - Proud Mary
The Cure - Just Like Heaven
Cyndi Lauper - Girls Just Wanna Have Fun
Danzig - Mother
Darius Rucker - Wagon Wheel
The Darkness - I Believe In A Thing Called Love
David Bowie - Let's Dance
Def Leppard - Pour Some Sugar On Me
Destiny's Child - Say My Name
Florence + The Machine - Dog Days Are Over
Foo Fighters - Everlong
Foo Fighters - Learn To Fly
Frank Sinatra - My Way
Fugees - Killing Me Softly
Garth Brooks - Friends In Low Places
George Michael - Careless Whisper
George Michael - Faith
Gin Blossoms - Hey Jealousy
Ginuwine - Pony
Gloria Gaynor - I Will Survive
Gnarles Barkley - Crazy
Goo Goo Dolls - Slide
Grease - Summer Nights
Green Day - Basket Case
Guns 'N' Roses - Sweet Child O' Mine
Harry Belafonte - Jump In The Line
Harvey Danger - Flagpole Sitta
Heart - Alone
Huey Lewis & The News - The Power Of Love
The Isley Brothers - Shout!
Jackson Browne - Somebody's Baby
James Brown - I Feel Good
Janis Joplin - Me And Bobby McGee
Janis Joplin - Piece Of My Heart
Jason Mraz - I'm Yours
Jefferson Airplane - White Rabbit
Joan Jett - I Love Rock 'N' Roll
John Lennon - Imagine
Johnny Cash - Folsom Prison Blues
Johnny Rivers - Secret Agent Man
Journey - Don't Stop Believing
Journey - Faithfully
Journey - Separate Ways
Kanye West - Gold Digger
Kelly Clarkson - Since U Been Gone
Kid Rock & Sheryl Crow - Picture
The Killers - Mr. Brightside
Kings Of Leon - Sex On Fire
KT Tunstall - Black Horse & The Cherry Tree
Lady Gaga - Bad Romance
Lady Gaga - Million Reasons
Lit - My Own Worst Enemy
Lynyrd Skynyrd - Simple Man
Lynyrd Skynyrd - Sweet Home Alabama
Madonna - Like A Prayer
Maná - Oye Mi Amor
Maroon 5 - This Love
Marvin Gaye - Let's Get It On
Modern English - I Melt With You
NSYNC - Tearin' Up My Heart
Nancy Sinatra - These Boots Are Made For Walking
Neil Diamond - Sweet Caroline
Night Ranger - Sister Christian
Nirvana - Smells Like Teen Spirit
No Doubt - Don't Speak
No Doubt - Just A Girl
No Doubt - Sunday Morning
Pat Benatar - Heartbreaker
Pat Benatar - Hit Me With Your Best Shot
Patsy Cline - Crazy
Pearl Jam - Last Kiss
Peggy Lee - Fever
Pink Floyd - Wish You Were Here
The Pointer Sisters - Fire
Poison - Every Rose Has Its Thorn
The Police - Every Breath You Take
Prince - Kiss
Prince - Little Red Corvette
Prince - Purple Rain
Proclaimers - I'm Gonna Be (500 Miles)
Queen - Crazy Little Thing Called Love
Queen - Don't Stop Me Now
Queen - We Will Rock You
Radiohead - Creep
The Ramones - I Wanna Be Sedated
Red Hot Chili Peppers - Under The Bridge
Rick Springfield - Jessie's Girl
Rihanna - Love On The Brain
Ritchie Valens - La Bamba
Robert Johnson - Sweet Home Chicago
Simple Minds - Don't You Forget About Me
Sir Mix-A-Lot - Baby Got Back
Smash Mouth - All Star
The Smiths - There Is A Light That Never Goes Out
Social Distortion - Ball & Chain
Soft Cell - Tainted Love
Spice Girls - Wannabe
Steppenwolf - Born To Be Wild
Steve Miller Band - The Joker
Stevie Ray Vaughan - Pride And Joy
Stevie Wonder - Superstition
Stone Temple Pilots - Plush
Stray Cats - Rock This Town
Stray Cats - Stray Cat Strut
Sublime - Badfish
Sublime - Santeria
Sublime - What I Got
Survivor - Eye Of The Tiger
Sweet - Ballroom Blitz
Taylor Swift - Shake It Off
Tears For Fears - Everybody Wants To Rule The World
The Temptations - Ain't Too Proud To Beg
The Temptations - My Girl
Tom Jones - It's Not Unusual
Tom Petty - American Girl
Tom Petty - Mary Jane's Last Dance
Toto - Africa
U2 - One
U2 - With Or Without You
Van Halen - Ain't Talkin' 'Bout Love
Van Morrison - Brown Eyed Girl
Vanilla Ice - Ice Ice Baby
Violent Femmes - Blister In The Sun
Walk The Moon - Shut Up And Dance
Warren G & Nate Dogg - Regulate
Weezer - Say It Ain't So
Young MC - Bust A Move
Zac Brown Band - Chicken Fried
ZZ Top - Sharp Dressed Man
3 Doors Down - Kryptonite
4 Non-Blondes - What's Up?
Warner Brothers
Converse
NBC's The Voice
The Hard Rock Cafe
FantaSea Yachts
The LA Zoo