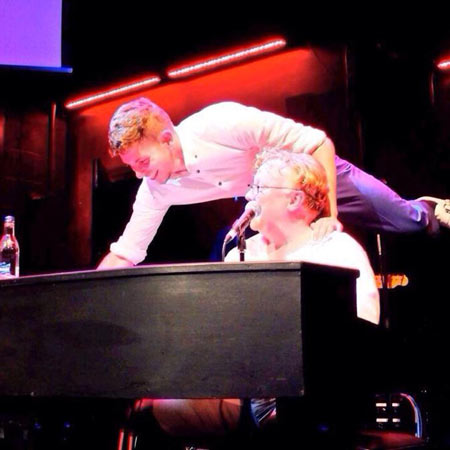 Live Rock'n'Roll Piano Show
Incredible duelling pianos will "wow" guests at your event.
Live music show featuring covers from across rock 'n' roll.
Piano duo performs with passion and professionalism for all size events.
Ideal piano show for private parties, gala dinners, corporate events, receptions, etc.
Book instrumentalists for special events across the UK and worldwide.
A remarkable live music show comprised of our very skilled piano duo and instrumentalists, a talented duelling pianos experience that will captivate your guests from start to finish. Creating the perfect atmosphere and soundtrack for your social gathering or special event, our duelling pianos players will perform a vast repertoire that includes unique cover renditions of classic 1950s rock 'n' roll songs that are bound to have mass appeal and lasting impressions. An exceptional live piano show that will keep your guests moving about, dancing, and singing along with our performers. 
Ensuring your guests are filled with high energy and are engaged throughout our phenomenal live music show, our piano duo and instrumentalists will keep heads turning thanks to their upbeat nature. Performing a wonderful set that ranges in options from 2 sets of 45 minutes that is simply filled with fun filled rock music. A professional duelling pianos duo and piano show that showcases the skills provided by our wonderful musicians. A pair of seasoned cover performers with years of performing experience, our piano duo is the real deal and will demonstrate their unique playing styles with undeniable passion. 
A high energy live music show experience that can be adapted to fit most event themes and styles, our versatile piano players are dynamic and accomplished, performing to raving crowds across the globe. Delivering your special occasion with rich and distinctive sounds that are both fun filled and wonderful. A sensational live music show that will leave your guests with unforgettable memories and experiences, the perfect live music entertainment experience option for private parties, receptions, theatre performances, gala dinners, festivals, corporate functions, and much more.
Contact our fantastic event specialists here at Scarlett Entertainment if you are interested in bringing our wonderful and talented piano duo to your upcoming event.