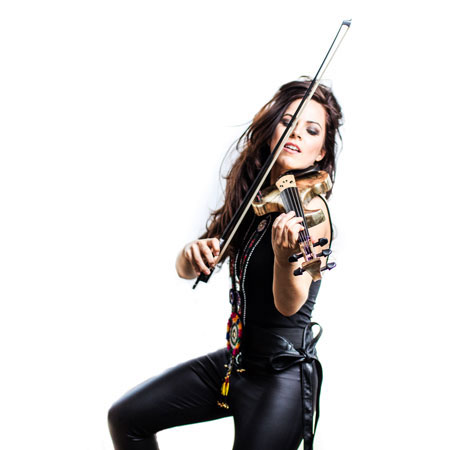 London Solo Violinist
Amazing and highly sophisticated acoustic or electric female violinist
Extensive repertoire ranges from pop and classical to Jazz and soundtracks
Extremely professional with experience both in the studio and on the stage
Can freestyle along to a DJ or create a fully customised show
Based in London and available for event all over the world
London Solo Violinist PHOTOS
Book our exceptionally good and charismatic London solo violinist for your live music entertainment needs and she is guaranteed to to hit all the right notes with your guests. Our female violinist is dedicated to providing the perfect live music for any occasion and going far beyond all expectations.
Available as an acoustic or electric violinist, this extraordinary musician provides beautiful music and energetic performances for events all over the world. Whether a private party, wedding reception, club night, product launch, corporate function or high end event, our luxury violinist will tantalised the audience with her performance. Working from an extensive repertoire that ranges from pop and classical to Jazz and soundtracks to folk and fusion, she is able to completely tailor her live music performance and even offer complete bespoke electric violin shows. 
Our classically trained London solo violinist is a hugely talented and high-in-demand session musician, fluent sight-reader and a confident and inventive improviser able to effortlessly adapt her style. The female violinist regular performs solo, with string ensembles, in West End shows like Wicked, for studio recordings, freestyling alongside DJs and as a professional touring session musician having recently toured with Elbow and Sophie Ellis Bextor. The female violinist is also a full-time member of a world famous group who are regarded as the pioneers of folk rock.
The electric violinist performs with a fascinating custom made 5 string Bridge Dragon electric violin in hand dyed silver/gold and her acoustic violin is a 2008 Paul Collins copy of a Guanari. The fantastic electric violinist is constantly honing her signature sound and has a large and growing selection of effect pedals to enhance her performances. 
If you would like to book our brilliant luxury violinist to entertain your guests with one of her outstanding solo performances to get people dancing whilst freestyling to a DJ, get in touch with our entertainment specialists who will be more than happy to help. 
Adventure of a Lifetime - Coldplay
Ain't No Sunshine - Bill Withers
Ain't Nobody (chillout Version) - Jasmine Thompson
All of Me (chillout Version) - John Legend
All of Me - John Legend
Baba O'riley - the Who
Blame - Calvin Harris
Burn - Ellie Goulding
Can't Feel My Face - the Weeknd
Can't Get You out of My Head - Kylie
Can't Stop the Feeling - Justin Timberlake
Chandelier - Sia
Cheap Thrills - Sia
Comfortably Numb - Pink Floyd
Daughters - John Mayer
Diamonds - Rihanna
Drive - The Cars
E.T. - Katy Perry
Elastic Heart - Sia
Everybody Hurts - REM
Get Lucky - Daft Punk
Gravity - John Mayer
Great Gig in the Sky - Pink Floyd
Halo - Beyonce
Hold My Hand - Jess Glynne
Hysteria - Muse
I Follow Rivers - Lykke Li
Into the Mystic - Van Morrison
Kashmir - Led Zeppelin
Knights of Cydonia - Muse
Layla - Eric Clapton
Let's Dance - David Bowie
Little Lies - Fleetwood Mac
Love Me Again - John Newman
Love Me Like You Do - Ellie Goulding
Paradise - Coldplay
Pure Shores - All Saints
Purple Rain - Prince
Rather Be - Clean Bandit
Royals - Lorde
Shake It Out - Florence & The Machine
Skyfall - Adele
Sorry - Justin Bieber
Sorry - Madonna
Starman - David Bowie
Stay With Me - Sam Smith
Sweet Child of Mine - Guns 'n' Roses
Teardrop - Massive Attack
Thinking out Loud - Ed Sheeran
Tilted - Christine and The Queens
Toxic - Britney Spears
Treasure - Bruno Mars
We Found Love (acoustic) - Rihanna
Will You Still Love Me Tomorrow - Amy Winehouse Version
Pop:
Adagio - Albinoni
Apres Un Reve - Faure
Arioso - Bach
Arrival of The Queen Of Sheba - Handel
Barcarolle - Offenbach
Canon - Pachelbel
Clair De Lune - Debussy
Gymnopodie No.1 - Satie
Hornpipe from 'Water Music' - Handel
Humouresque - Dvorak
Meditation - Massenet
Minuet - Boccherini
Ode To Joy - Beethoven
Pavane - Faure
Plaisir D'Amour - Martini
Salut D'Amour - Elgar
Sicilienne - Faure
Spiegal Im Spiegal - Part
The Girl With The Flaxen Hair - Debussy
Traumerei - Schumann
Violin Sonata Op.5 No. 1 in D - Corelli
Violin Sonata Op.5 No. 3 in C - Corelli
Voi Che Sapete - Mozart
Jazz:
A Night In Tunisia
A Nightingale Sang In Berkeley Square
All Of Me
Cry Me A River
Every Time We Say Goodbye
Feeling Good
Georgia On My Mind
I Want A Little Sugar In My Bowl
It Don't Mean A Thing If It Ain't Got That Swing
L-O-V-E
Misty
Misty Blue
Moon River
Moondance
My Funny Valentine
Satin Doll
Summertime
Tenderly
The First Time Ever I Saw Your Face
Will You Still Love Me Tomorrow
Soundtrack:
Another Way to Die - Quantum of Solace
Game of Thrones - Game of Thrones
Tango Por Una Cabeza - Scent of A Woman
Classical:
" She was incredible throughout the event, her professional, vibrant personality and her interaction with customers meant that the event was exciting and immersive for all. We can't thank her enough and would love to work with her again in the future "

Illamasqua
" She is a mesmerising performer - a sublime, lyrical, flowing violinist "

The Chichester Observer
" Words cannot express how truly thankful I am for your incredible presence at last night's gathering. I received so many compliments about your playing, and I am sure you did too. Thank you again and I hope there will be many more events we can work together "

Yorke Goldney, Diamond Showcase, December 2016
" It is her electric violin that is often the standout instrument. Classically trained, she puts that to one side to deliver solos ranging from hauntingly ethereal to pulsating runs that, if you close your eyes, sound more like an electric guitar than an electric fiddle "

Folk Radio (Fairport's Cropredy Convention)