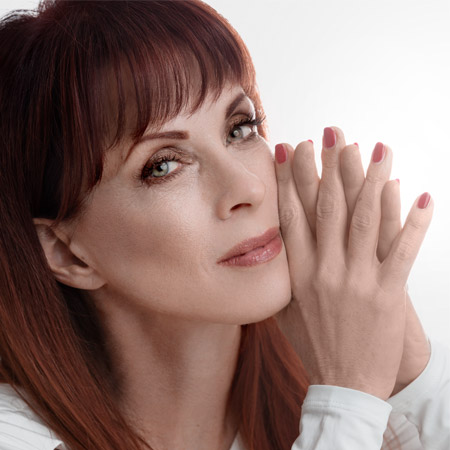 Lounge Vocalist Florida
Brilliant and talented female vocalist with a stunning and dynamic vocal range.
Skilled female singer will perform everything from pop to chill out.
Sensational live music show including covers of "Let It Be," "Umbrella," and more.
Perfect lounge singer for parties, receptions, weddings, gala dinners, etc.
Chill out music performer available for booking throughout the USA and worldwide.
A fantastical live music show comprised of a highly skilled and dynamic voiced female singer that will create the perfect atmosphere for your special event, our remarkable female vocalist will "wow" your guests with her soothing vocal range and large repertoire of song selections, including everything from pop to rock, and even chill out music. Providing your social gathering with outstanding live music entertainment, our lounge singer is bound to create lasting memories and leave lasting impressions on your event. Our skilled female vocalist will ensure that your audience is entertained and engaged throughout her performance.
Our skilled female singer is a highly versatile female vocalist who can supply years worth of performing experience, delivering an unforgettable live music show that will bring energy, rhythm, and elegance to your special event. Performing a tailored set, our lounge singer can perform her phenomenal live music show for an undisclosed amount of time, performing unique chill out music remixes to win over your audience. Providing a first rate soundtrack for your upcoming social gathering, our female singer will perform to impress, and she will not disappoint.  
Demonstrating her unique and passion filled love for live music performances, our wonderful and beautiful female singer will supply your upcoming engagement with a rich and distinctive soundscape that is sure to turn heads, and keep your guests on their feet as they experience the energy falling off our talented performer. Performing solo or with a saxophonist, our female vocalist is a natural performer. The perfect musical option for private parties, ceremonies, receptions, weddings, corporate functions, festivals, gala dinners, and much more.  
Contact any of our helpful entertainment experts here at Scarlett Entertainment if you are interested in treating your guests to our sensational female vocalist and lounge singer. Our friendly team can help you arrange entertainment for every aspect of your event and even suggest additional services that you may need also. 
Dream A Little Dream - Classic Mix
Girl From Ipanema (Smooth Jazzy Bossa Chilloutmix)
Sex And The City Theme Song - Groove Armada Mix
Smooth Operator- Sade
No Ordinary Love - Sade
Kiss Of Life - Sade
Here Comes The Rain Again - Eurythmics - Groove Chillout Mix
Riders On The Storm - (Dooors) Piano Chillout Mix
Killing Me Softly - Fugees Or Unplugged
You're Just Too Good To Be True - Fugees
Slow Down - Morcheeba
Relax - Ibiza Sunset Lounge
Walk On The Wild Side - Lou Reed > Dj Disse Remix
Oye Como Va - Santana > Latin Chillout Remix
Careless Whisper - G Michael > Kruder Dorfmeister Remix
Feelin Alright - Joe Cocker - Mostl Remix
Why Waste Ur Time (U No Ur Gonna B Mine) French Lounge Remix
Live Together - Sade - R N B Remix By Jillene
Autumn Leaves - Lounge Chillout Remix
Night And Day - Frank Sinatra Big Band Mix
Fly Me To The Moon - Diana Krall Chic Remix
I Cant Get You Out Of My Head - Kylie Minogue Playback
I'm Like A Bird - Nelly Furtado
Say It Right - Nelly Furtado
Time After Time - Cyndi Lauper
Who's That Girl - Eurythmics
Flamenco Lounge - Love Is (Elton John)
Do It Away - Minus 8 Collaberation
La Vie En Rose - Grace Jones Bossa Nova Mix
Good Morning - Club House Piano Track
Feel Me - Lounge House Funky Piano Track
Get Up - Matt Bianco Groovestar Remix
Get Funky Chicago - Groove Armada (Cafe Del Mar) Vocal
Goodbye Sadness - Astrid Gilberto
Besame Mucho - Smooth Bossa Nova Remix
Northern Lights - Cafe Del Mar Vocal Remix
Hero - Mariah Carey
Soul Connection (From Cafe Del Mar 14)
Breakaway (From Cafe Del Mar 15)
Que Calor (From Travel Beyond Cd)
Moving On (From Travel Beyond Cd)
Dance With Me (From Travel Beyond Cd)
Cha Cha Child
Mon Cher (From Travel Beyond Cd)
Sail Away (From Travel Beyond Cd)
Travel Beyond (From Travel Beyond Cd)
You're My Sweetness
Sunset Ocean
Spring In Your Soul
Smile
Electricity
Someday
Its You
Star Gazing
Do It Away (With Minus 8)
Lovers Lullaby
Get Here
Right By Your Side (Eurythmics)
Nature Boy (Gerschwin)
Summer Time (Gerschwin)
Sometime Ago (Chick Corea)
Spain - Chick Corea
You Are So Beautiful
Your Song - Elton John
All Of Me
That's Life
Lovin' You (Is Easy Cause Ur Beautiful)
Georgia
La Vie En Rose
Fly Me To The Moon
Every Breath You Take (Police)
Fields Of Gold (Sting)
Tea In Sahara (Sting/police)
Your Love Is King (Sade)
Smooth Operator - Sade
Sunshine Of My Life - S. Wonder
Don't You Worry Bout A Thing - S. Wonder
Misty - Jazz Standard
Fever - Classic
Don't Explain - Billie Holiday
Like Someone In Love - Byork
Besame Mucho
Gabriel - Cafe Del Mar
Music Makes The People Come Together - Madonna
Let It Be - Beatles
Here There Everywhere - Beatles
If - Bread
Love Me Tender Elvis
Angie - Rolling Stones
Forever Together - Fleetwood Mac
Prism
The End Of Your Days
Open Road
Crystal Plains
Follow The Feeling
Symphony Sea
Ain't No Sunshine - Chillout Mix
All Of Me - Billie Holiday
Let's Fall In Love - Diana Krall
One Note Samba - Electro Bossa Beat Remix
Night And Day - Frank Sinatra Big Band Mix
Fly Me To The Moon - Diana Krall Chic Remix
I Cant Get You Out Of My Head - Kylie Minogue Playback
I'm Like A Bird - Nelly Furtado
Say It Right - Nelly Furtado
Time After Time - Cyndi Lauper
When A Man Loves A Woman -
Because You Love Me - Celine Dion
Still The One - Shania Twain
Time After Time - Cyndi Lauper
Umbrella - Rihanna
Live Together - Sade
Frozen - Madonna
Unforgettable - Natalie Cole
Poker Face - Lady Gaga
Who's That Girl - Eurythmics
Dont Worry Be Happy - Bobby Mcferren
Come Away With Me - Nora Jones
Don't Know Why - Norah Jones
Good Lovin - The Rascals Rnb Remix
Let's Fall In Love - Diana Krall
Groove Is In The Heart - Dee Lite
Ring My Bell - 80's Disco
Sing It Back - Moloko / I Feel Love - Donna Summer Medley
Get The Party Started - Pink
Music - Madonna
Sweet Dreams Are Made Of This - Deep House Remix
Missing (Like Desert Miss The Rain) - Everything But The Girl
Believe - Cher
Paradise - Sade Dance Mix
Your Love It Feels So Good (That's What Takes Me High)- Sonique
Sun Is Shining - Bob Marley Dance Remix
Misty
All Of Me
Night And Day
I Only Have Eyes For You
Fever
Like Someone In Love
Corcovado
The Wave
One Note Samba
Georgia
Sunshine Of My Life
Agua De Beber
Dream A Little Dream
River Flows In You - Yiruma
Careless Whispers - George Michael
Oye Como Va - Santana
Killing Me Softly
Corcovado
The Wave
Girl From Ipanema
One Note Samba
Summer Samba
Soul Free - George Michael
The Look Of Love - Dusty Springfield
Imagine
Knockin On Heaven's Door - Dylan
My Way - Sinatra
Imagine - John Lennon
I'm Like A Bird - Nelly Furtado
Farmer's Trust - Pat Metheny
Wonderful World
Take Five
Birdland
Say It Right - Nelly Furtado
Umbrella - Rihanna
I'll Be There - Michael Jackson
Don't Know Why (Nora Jones)
I Only Have Eyes For You
Somewhere Over The Rainbow
As Time Goes By
Night And Day
Jamaica Farewell - Harry Belafonte
Fire And Rain - James Taylor
You've Got A Friend - Carol King
Sometime Ago
Bridge Over Troubled Water - Simon & Garfunkel
Crystal Ship - The Doors
Hero - Mariah Carey
My Heart Will Go On -titanic Theme Song
Can't Live If Livin Is Without You - M Carey
Live To Tell - Madonna
The Rose - Bette Midler
River Of Time
Someday
Roller Coast
It's You
Shine With Me
911
The Red Balloon
Primavera
The End Of Your Days
Open Road
The Look Of Love - Dusty Springfield Cafe Del Mar Mix