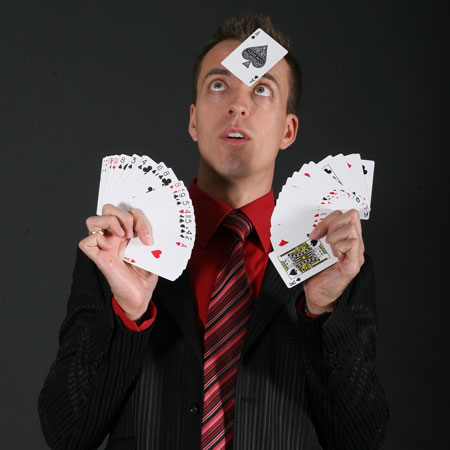 Magician Michael
Performs walk around close up magic & a stand-up comedy magic show
His close up magic won 1st prize in Danish Magic Circle contest
Popular with exhibitions, conferences, corporate events & weddings
Can promote a company product or message through his magic
Based in Copenhagen, Denmark & available to perform at events worldwide
Copenhagen based Michael performs walk around close up magic (cards, coins, rope, poker chips, rubber bands, - anything that fits into my pockets.) and also a Stand-up Comedy Magic Show (A funny rope routine, a card selection by 4 spectators found blindfolded with folio wrapped around his head, and finally a ventriquelist act that goes horribly wrong - I "forgot" the dummy at home, so I have to use a man from the audience. He then has to perform a card trick (and he succeeds!) with a remote controlled jaw/mouth mounted on his face:) Everybody is treated with respect, and no audience member will be offended. They WILL laugh a lot, though....
At fairs, exhibitions and conferences, companies use Michael to draw attention to themselves. With his elegant execution of tricks, he seduces his audience and catches and keeps their attention. He creates unforgettable experiences for the company's potential customers.
In 2006 and 2007 Michael won first prize in close up magic in the Danish Magic Circle contest. The following year he achieved a third place in the Nordic Championships in Oslo.  Michael performs in both Danish and in English. The ingredients of his performance are self-irony and deftness. Even portions of humour and magical tricks.
STAND-UP COMEDY MAGIC
Michael entertains with visual, verbal and amusing magic on stage. This show is suitable for events with an audience of more than 500. If the audience amounts to more than 500, big screens are recommended. Michael can be booked as a magic master of ceremonies for product presentations or other shows with various features.
Michael tailors his on stage performance for the target group together with the organizer. Michael has an adult as well as a family edition of his stand-up comedy magic. The participation of members of the audience provides the impression of an unpredictable stage show where anything may happen. Michael is of course in full control the entire time.
COMEDY CLOSE-UP MAGIC
Michael has won several prizes in this category. Michael either entertains at the table during dinner parties or moves around among the guests. In the event of more than 300 guests, Michael recommends a couple of colleagues. Magic performed close to the audience is suitable for festive dinners, receptions, fairs, exhibitions, boutiques and conferences.
Michael has a unique concept for fairs that will ensure your stall many visitors which means an increased number of potential customers for your sales department. Magic can be performed with your products and Michael can voice your company message.