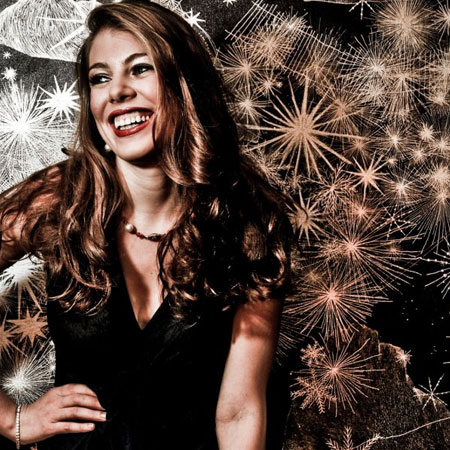 Mezzo Soprano: Leandra
Classical Crossover, Opera and Musical Theatre Vocalist Leandra
As featured on CNN, Good Morning America, BBC, The View and more
Starred in Hell's Kitchen, Rigoletto, Man of La Mancha and more
Lead vocalist on Celebrity Cruise liners
Based in San Francisco, USA and available to perform worldwide
Mezzo Soprano: Leandra PHOTOS
After making her debut at the young age of 14 with the American Symphony Orchestra, Leandra Ramm went on to win a plethora of competitions as a soloist for her outstanding vocals. The mezzo-soprano has toured both in the USA and abroad with a host of renowned Opera theatre companies, landing keys roles in productions such as Rigoletto, Man of La Mancha, Iolanthe, Cosi Fan Tutte, the premier of Mario and the Magician, and more recently the off-Broadway musical Hell's Kitchen. 
Her combined talent and looks have attracted media attention, and she has sung and appeared in television programmes all over the world such as: CNN Anderson Cooper 360, Good Morning America, 60 Minutes Australia, BBC, The View as well as appearing on radio broadcasts and featuring in magazine and newspaper articles.
To find out more about how to book contact our team of Entertainment Specialists.
Una Voce Poco Fa (from Il Barbiere di Siviglia)
Phantom of the Opera (from Phantom of the Opera)
Think of Me (from Phantom of the Opera)
All I Ask of You (from Phantom of the Opera)
Wishing You Were Somehow Here Again (from Phantom of the Opera)
Habanera (from Carmen by Bizet)
Gypsy Song (from Carmen by Bizet)
Summertime (from Porgy and Bess by Gershwin)
Panis Angelicus (by Cesar) Pie Jesu (from Requiem By Lloyd Weber)
Quando Men Vo (from La Boheme by Puccini)
Voi Che Sapete (from Le Nozze di Figaro by Mozart)
Halleluja (from Excultate Jubilate by Mozart)
Ave Maria (by Schubert and Bach/Gounod)
TRADITIONAL/STANDARDS
Somewhere Over the Rainbow
Time to Say Goodbye
O Sole Moi
National Anthem
You Raise Me Up
The Man I Love (standard by Gershwin)
The Prayer (from Celine Dion/Andrea Bocelli)
MUSICAL THEATER
If I Loved You (from Carousel)
Memory (from Cats)
Defying Gravity (from Wicked)
Popular (from Wicked)
On My Own (from Les Miserables)
I Dreamed a Dream (from Les Miserables)
Don't Cry for Me Argentina (from Evita)
Suddenly Seymour (from Little Shop of Horrors)
I Could Have Danced All Night (from My Fair Lady)
Astonishing (from Little Women)
I Can Cook Too (from On the Town)
What Good would the Moon Be? (from Street Scene)
Green Finch and Linnet Bird (from Sweeney Todd)
I Don't know How to Love Him (from Jesus Christ Superstar)
As Long As He Needs Me (from Oliver)
OPERA/CLASSICAL
Fly Me To the Moon
Cheek to Cheek
Besame Mucho
You Make Me Feel So Young
Zing! Went the Strings of My Heart
Trolley Song
Almost Like Being in Love
New York New York
POP/COUNTRY
Don't cha (Pussycat Dolls)
The Power of Love (Celine Dion)
I Will Always Love You (Whitney Houston)
The Greatest Love of All (Whitney Houston)
Man I Feel Like a Woman (Shania Twain)
Breath (Faith Hill)
Crazy (Patsy Cline)
Hero (Mariah Carrey)
Objection (Shakira)
Toxic (Britney Spears)
HOLIDAYS
Have Yourself a Merry Little Christmas
Silent Night
Holy Night
O Come All Ye Faithful
Hark! The Herald Angels Sing
Chestnuts Roasting on An Open Fire
Angels We Have Heard on High
Deck The Halls
Go Tell it on the Mountain
Joy to the World
Chanuka Oh Chanuka
I have a Little Dreidel
SWING
60 MINUTES
THE TODAY SHOW
ANDERSON COOPER 360 CNN
THE VIEW
732 NUMBERS COMMERCIAL
CAREER HIGHLIGHTS:
Die Zauberflöute with Opera Orchestra of New York
Bernstein On Broadway Gala with Aspen Opera
Little Women with Centre City Opera Theatre
Cosỉ Fan Tutte with Martina Arroyo Foundation
Mario and the Magician with Center for Contemporary Opera
Finalist - Palm Beach Opera Competition
Finalist- Harold Haugh Light Opera Competition
Encouragement Award - Five Towns Music & Arts Young Artists Opera Competition
First Place Winner - Associated Music Teacher's League Young Musicians Competition
FILM/TV:
60 MINUTES AUSTRALIA
IVANHOE BROADCAST NEWS
BBC
RUSSIAN MEGACARD COMMERCIAL
Hell's Kitchen The Musical
Iolanthe at International Gilbert & Sullivan Festival
Hansel and Gretel with Center City Opera Theatre
Rigoletto at La Mama
Man of La Mancha with Diablo Light Opera Company
Finalist - Giulio Gari International Competition
Finalist - Connecticut Opera Guild Competition
Semi-Finalist - Long Leaf Opera Competition
Award Winner - Friday Woodmere Music Club Vocal Competition
First Place Winner- Des Moines International Choir Competition
GOOD MORNING AMERICA
" Attractive, bright and articulate… she knows what she wants to do with her life, and how to achieve it "

The Herald, Scotland
" …Leandra Ramm has an extraordinary voice… For Leandra, the possibilities seem endless. "

Anderson Cooper 360, CNN
" Leandra Ramm is a wonderful opera singer who also performs some pop. She's currently a lead vocalist on the Equinox and will be through Feb 3, 2012. Unfortunately, I won't be able to do a cruise on that ship by then. This makes me really sad because she's an amazing talent. If anyone has seen her perform on the Equinox, do speak up...Well, I hope I get to catch a performance of her on land then. "

Guests of Celebrity Cruises
" Her ambition and her talent drive her… "

Good Morning America