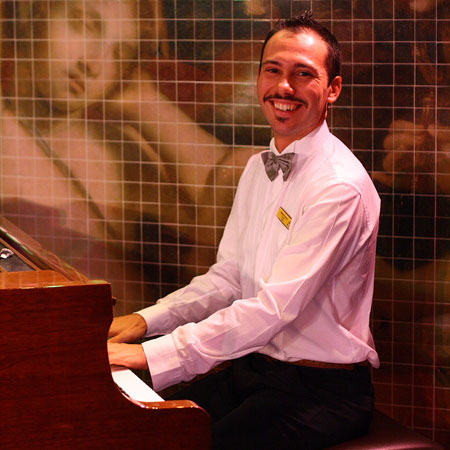 Milan Pianist Roberto
A multi-award winning musician, pianist and composer
Performs a repertoire of jazz, pop, classical and soundtrack music
Has received acclaim from critics for his impressive skills
In high demand at a broad range of events including 5 star hotels
Based in Milan and available to perform at events worldwide
Having studied the Piano from the tender age of 9, Roberto is a highly accomplished pianist and composer who has graduated with highest honours, praise and mention.
Having gained extensive experience from a very young age, he has a performed with a number of highly prestigious orchestras and musical ensembles including the Orchestra Sinfonica of Pesaro Paisiello, Association of Musical Dino Ciani and has also composed and performed soundtracks for short films by award-winning national awards and has recently composed the soundtrack for the film "The Ballad of Fra."
A multi-award winning musician, Roberto has received acclaim from both audiences and critics alike for his impressive skill and knowledge. In April 2012 he was the winner of the first prize at the International Piano Competition "Rospigliosi" and recently won the first prize at the National Music Bellagio Competition in Switzerland.
Performing a repertoire of jazz, pop, classical and soundtrack music, Roberto is in high demand at a broad range of events including 5 star hotels, cruise ships, hotels, private parties, weddings and more.
Contact us today to find out more!