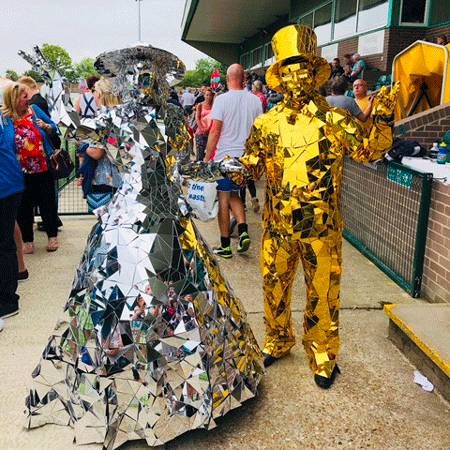 Mirror People UK
Mirror People UK boast dazzling roaming entertainment that captures the attention of everyone whom they encounter
Sparkling lady and gent walkabout characters bring elegance and disco together in a stunning fusion of mirrors and fashion
Futuristic performers pop and lock on dance floors, interact with guests, pose for photos and create their very own light show
Both male and female mirror characters available for all events
Based in Kent UK and available for worldwide bookings
Time to reflect on your event plans so far? You may have to take a long hard look in the mirror if you've yet to book one of our super sparkly dancers! Seemingly made entirely from shards of glass, our Mirror People UK are the ultimate human glitter balls, guaranteed to turn heads wherever they go. 
The futuristic look and feel of these performers will wow the crowds as they pop and lock on the dancefloor and shine from afar. Mixing and mingling with your guests as well as posing for photos these mirror characters are a force to be reckoned with and a delight to have at every event whether it be a nightclub, brand launch, corporate event or private party. 
Perfect for complimenting a disco theme, these mirror men are even brighter when combined with our dazzling LED robots and Mirror Ball Heads mix and mingle artists. 
Roaming about your event these magnificent roaming characters take the ambience from zero to 100 with their charming personalities and dazzling costumes. Perfect for any event looking to up the ante and create a buzz amongst their guests. 
Available in gold and silver our characters can be booked together as a duo as well as solo walkabout characters. With an elegant persona about them our Lord and Lady mirror men and women become fascinating to watch and impossible to take your eyes off of. 
Top Tip:
Our mirror men usually perform 3 x 25 minute sets making for the ultimate walkabout characters and roaming entertainment option. 
Perfect for complementing any colour schemed this is roaming entertainment at its finest as our Mirror People UK refract light and brighten every event with their dazzling costumes and loveable personalities. 
To book our enchanting Mirror People UK or for more information about roaming entertainment and walkabout characters, contact our helpful team of Entertainment Specialists today.