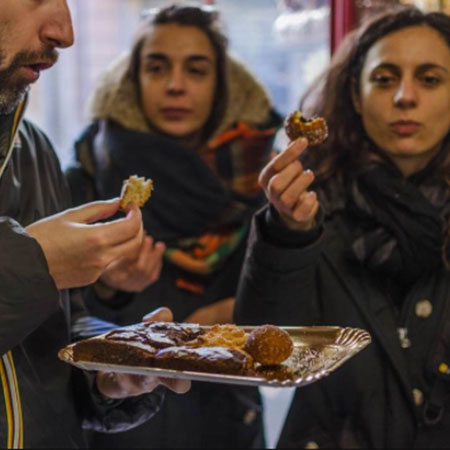 Modena Food Tour
An unforgettable food experience will allow visitors to discover one of the culinary hearts of Italy
Italian tasting tour includes breakfast, vinegar and cheese tasting, Lambrusco toast and traditional desserts
Participants will visit Albinelli food market and Luciano Pavarotti's favourite dessert shop
Ideal group food activity for food lovers and gourmets who enjoy discovering new tastes
This Modena Food Tour is available for groups of up to eight people
Are you endowed with good appetite and taste for food? Are you visiting Italy soon? Whether you're a visitor or a local, you can't afford to miss this Modena Food Tour in one of the most famous culinary capitals in Europe. This Italian food experience is a group food activity that will allow you to discover the most hidden secrets of the Italian kitchen.
Especially enjoyed by food lovers and gourmets, this Italian tasting tour is guaranteed to whet anybody's appetite. This unforgettable Italian food experience starts early with a proper Modena breakfast. After this first meal, visitors will visit Albinelli food market, the culinary heart of the town where they will discover a universe of fresh flavours and bright colours and will have time to explore and buy fruits and vegetables.
Guided by our team of experts, participants will walk through the market and will check the different market stalls tasting Parmigiano Reggiano, the best Modena cheese. This group food activity will also allow visitors to find out why Modena is worldwide famous for its Aceto Balsamico Tradizionale (traditional balsamic vinegar) and they will see first hand how it's made, what is the special touch that makes it unique and how to use it properly.
During this Italian tasting tour, gourmets will also share some Tigelle - the social food for excellence! Our group food activity's participants will finish this unique Italian food experience with a sparkly glass of Lambrusco and a toast. The last stop will be Luciano Pavarotti's favourite shop where they will enjoy delicious desserts and sweet treats.
This group food tour includes:
5 gourmet stops
Gnocco fritto and cappuccino
Different Parmigiano and other local fresh cheese
Tigelle and Lambrusco
Baslamic vinegar tasting
Typical desserts
Scarlett Entertainment offers a variety of food tours and other food and drink entertainment in Italy and all around the world.
If you would like to book this delicious Modena Food Tour, don't hesitate to contact us today and make an enquiry. Our in-house team of Entertainment Specialists will be more than happy to provide further details on this Italian tasting tour and assist you in the booking process.