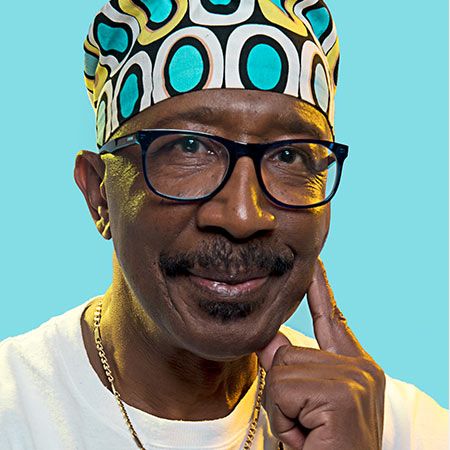 Mr Motivator
Get guests on their feet and energised with Mr Motivator!
This fitness guru was a favourite amongst high-profile celebrities before breaking out onto GMTV
He spearheaded the Get Motivated club fitness campaign where he met Prime Minister Gordon Brown and worked on the NHS Change 4 Life campaign
This motivational speaker is a popular choice with blue-chip companies looking to increase productivity and energise staff
Still sporting his trademark, colourful unitard he's the perfect host for corporate team building, as a conference energiser or for public events
Derrick Errol Evans (Mr Motivator) was born in Jamaica but has lived the majority of his life in the UK. He first started working in the fitness business as an instructor in Northwest London, his high-energy and motivational techniques were extremely popular with a variety of clients and he went on to provide one2one training to many celebrities becoming a renowned celebrity fitness guru.
His big break came in August 1993, when he was credited with vastly improving the viewership of the Breakfast Television Show GMTV. Evans created a memorable persona wearing his now trademark brightly coloured unitards, with complimentary socks and bum bags.
Following this success, he then went on to release a number of exercise videos with his BLT (Bums, Legs Tums) range becoming the biggest selling titles in the UK and to date over 2 million copies have been sold.
After approximately 10 years at GMTV Evans took a step back from his television career to refocus and further develop his talent for Motivational speaking. He quickly became a popular choice for blue-chip companies looking to motivate staff with guest speakers and fun team building activities. Evan's did, however, briefly return to GMTV in 2009 to spearhead a Fitness campaign on, The Get Motivated club, where he met Prime Minister Gordon Brown and also worked on the prevalent Change 4 Life campaign with the NHS.
Each year he makes personal appearances on the main stage at many Family Music Festivals, around the UK and abroad. He also has many Motivational speaking engagements and hosts mass workouts for many varying charities and schools. His unique and highly motivational way of exercising has resulted in him being in great demand for Television, Film and radio appearances but has also proved extremely popular for corporate team building, as a conference energiser and public events.