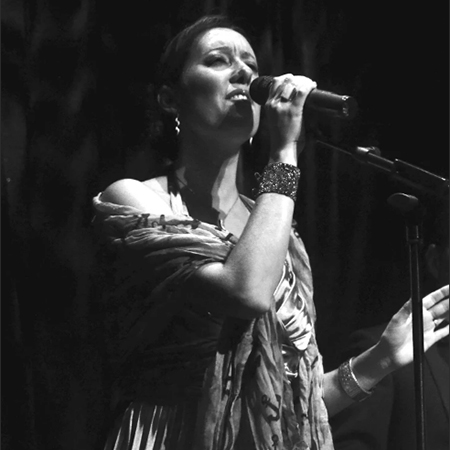 Multi-genre Female Singer
A versatile female vocalist with a varied set list of songs
Performs acoustic live covers and unplugged shows with a talented guitarist
A repertoire to suit any event's requirements and can sing in Italian, English, French, Spanish and Portuguese
Ideal live entertainment option for cruise ships, private parties and any other special occasions
Multi-genre Female Singer is based in Italy and available for international bookings
Multi-genre Female Singer VIDEOS
Multi-genre Female Singer PHOTOS
If you're looking for a performer who can sing different styles, then this Multi-genre Female Singer is the perfect live entertainment option for your upcoming event or party. This versatile live singer has a wide repertoire that she can adapt to suit your guests' different music tastes a
This talented live singer will not only captivate audiences with her melodious voice and her smile, but also with the diversity of her shows. She can sing different genres such as pop, rock, jazz, bossanova, blues, swing and Latin in different languages. Our talented live singer can perform in either Italian, English, French, Spanish or Portuguese and create a set list that combines all of them.
Our versatile female vocalist will get audiences in the groove with 'Mambo No. 5' by Lou Bega, captivate Lumineers and pop lovers with versions of songs such as 'Hey Ho' and dance basic routines herself when she performs catchy salsa tunes such as 'Suavemente' by Elvis Crespo.
Our talented live singer is usually accompanied by a wonderful guitarist which whom she performs a wide variety of acoustic live covers and also unplugged live shows. Together, this pair of musicians is the ideal live entertainment option for a wide range of events such as weddings, birthdays, cruise ships and any other type of special occasions or private parties.
Backed by years of experience singing as a duo with a guitarist, our versatile female vocalist can offer different type of unplugged live shows. She can sing acoustic live covers by Edith Piaf or The Beatles, 70s and dance music and catchy Latin and Bossanova tunes.
Make sure all your guests enjoy your party by booking a versatile live singer who can perform songs of different genres.
Contact our entertainment specialists and request further info on this wonderful Multi-genre Female Singer and the different shows she can perform.