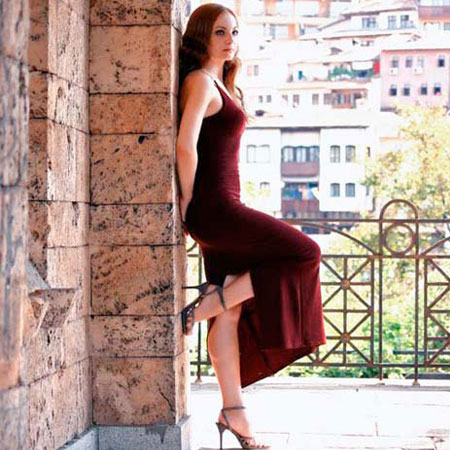 Musical Theatre Entertainer
A multi skilled entertainer in the world of musical theatre
Has a strong skill set in classical ballet, dance, acrobatics and singing
At the tender age of three Lana had recorded her first full-length record
Has spent the past decade touring over 40 different countries
Based in Montreal, USA and available to perform at events worldwide
Musical Theatre Entertainer PHOTOS
Bulgarian born singer, acrobat and dancer, Lana is a multi skilled entertainer in the world of musical theatre.
At the tender age of three she recorded her first full-length record, under the direction of her grandmother who was an operetta singer. By the age of five, she had also enrolled in a rhythmic gymnastics program, which after years of hard work, helped her win her position on the Bulgarian National team.
Having a strong skill set in classical ballet, dance, acrobatics and singing, Lana gained a solid physical foundation to begin her career as a musical theatre entertainer.
Continuing her musical path, Lana went on to study at the National Academy for Theatre and Film Arts in Sofia, where she obtained her BA in Musical theatre performance.
Lana has since spent the past decade touring over 40 countries, experiencing other cultures and truly enriching her professional experience.
She has appeared as Fantine in "Les Misérables", Mary Magdalene in "Jesus Christ Superstar", Sally Bowles in "Cabaret" and Nancy in "Oliver!".