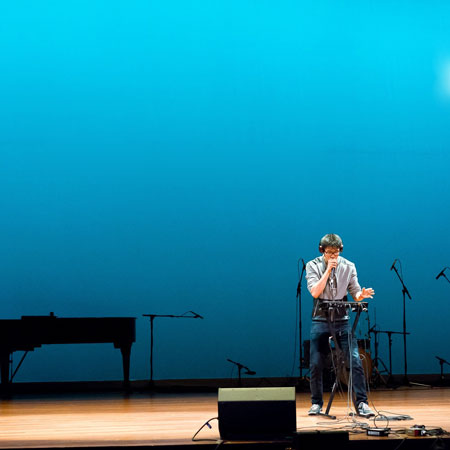 New York Beatboxer
Award winning beatboxer and live looper brings an urban edge to all occasions
New York beatboxer that can organically produce entire vocal compositions without the assistance of background instrumentals
Spontaneous live performance boasts highly engaging entertainment
Won the finals of Amateur Night at the Apollo as well as Kollaboration Star
Based in New York and available for worldwide bookings
New York Beatboxer PHOTOS
An award winning New York beatboxer who brings an urban edge to every event, this phenomenal beatboxer stuns crowds with his remarkable talent as he creates high energy music using nothing but a microphone and a loop pedal. 
Having spent the past 12 years developing and perfecting his talent, our beatboxer uses his mouth to create engaging, high energy, bass thumping music through the intricate process of recording and layering vocal sounds. 
Organically producing entire vocal compositions without the assistance of a prerecorded sample or background instrumental this brilliant artist can perform music from hip hop to pop, electronic dance music, house music and more using only his voice.
Having won the season finals of Amateur Night at the Apollo, a talent contest that has helped launch artists such as Stevie Wonder, The Jacksons and Lauryn Hill. Not only that but he went on to win the Kollaboration Star of the nation's premiere Asian American and Pacific Islander talent competition.
The Vice Champion in the American Beatbox Championships and USA representative at the Grand Beatbox Battle in Switzerland, this beatboxer has astounded audiences and judges from all over the world.
Gaining media attention on CBS News and The Huffington Post this promising star is guaranteed to impress all at your event as he takes to the stage and performs outstanding music that pushes the boundaries of what the human body is capable of. 
Perfect for corporate events, private parties, marketing and advertising campaigns, media appearances and more. 
To book our New York Beatboxer or for more information, contact our Entertainment Specialists today.