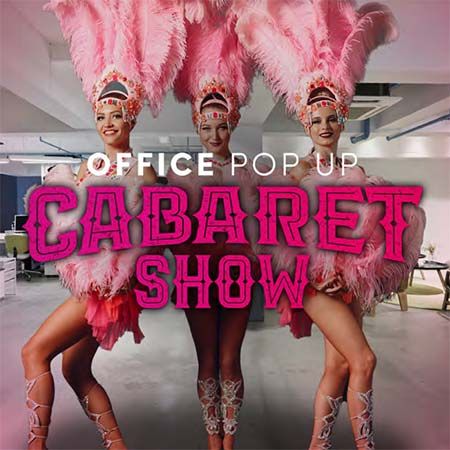 Office Pop Up Cabaret Club
Our Office Pop Up Cabaret Club combines singing, dancing and cirque performance in a one-of-a-kind variety show
Our fabulous Cabaret Host will add a touch of glitz and glamour while engaging guests from start to finish
From Showgirls, cabaret singers and pop up cirque acts, you can design a pop-up cabaret show that suits your guests
Add-on a pop-up cocktail station equip with your very own bartender, guests can sip delicious drinks while they enjoy the show
This Pop Up Cabaret Club can travel to your office or venue in the UK and can be tailored to suit your needs
FAQs
How does the Office Pop Up Cabaret Club work?
This unique variety show is tailored to your venue, audience and event theme. Build your own show by selecting performances from our fabulous host, cabaret singer, showgirls and pop-up cirque acts or decide to have a full lineup.
Once you have selected your chosen performers, we will begin to design and create your own unique show. For those looking for a VIP pop up event for guests, add-on a cocktail experience for guests.
Can this experience be customised?
This Pop Up Cabaret Club is created entirely bespoke. We will work with you to understand your audience, venue and create a lineup of entertainment that will impress and have them immersed in the show!
Please get in touch to find out more information on how we can create a bespoke cabaret show for your event. 
 How long is the Cabaret Show?
The length of the show will be determined by the performances selected, 
Where is the Office Pop-Up Cabaret Club available?
The Pop Up Cabaret Club is available for bookings throughout the UK.