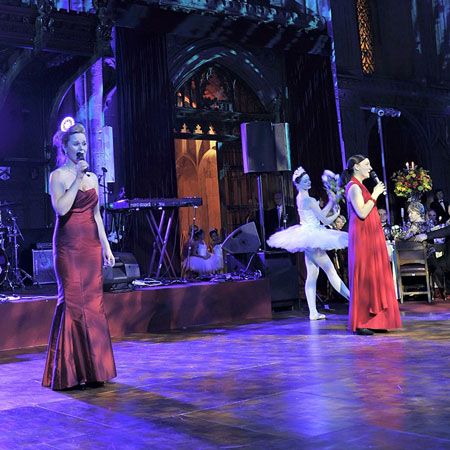 Opera Ballet Dancers
Sophisticated opera duo supported by troupe of top-quality ballet dancers
Fully customisable performance with firm favourites included
Dancers weave among your guests before arriving onstage
Singers perform scenes from famous operas while dancers tell story
UK-based act available for bookings worldwide
Opera Ballet Dancers PHOTOS
Offering the ultimate in sophisticated performance ideas and exclusive shows for high-class events, this opera duo and ballet ensemble must be considered. Going to every effort to design their show around a client's needs and the unique facets of the venue chosen, the ballet dancers will tailor the costume, song choice and dance routine. They have a number of firm favourites that always mesmerise their audiences, however can create a show around the nature and specifics of your event.
Having played in a number of London's most prestigious and beautiful venues, these respected ballet ensemble and opera singers need to be seen to be believed. With arresting costumes all around, including the tutus and uniforms of the dancers and impressive gowns of the opera duo, they will do everything they can to complement the décor and style of your venue and event. 
In addition to the main act, the ballet dancers and opera singers are available to offer a less formal walkabout show where the dancers improvise among the guests, mingling with and wowing them. Always keen to offer customisation options, the Opera Ballet Dancers will consult with you on how the walkabout would work, what singing options may be available and how it would fit into your event's schedule.
Exclusive shows of this kind means that the group are available for the most special of special occasions, such as a wedding or high-class corporate function. The line-up of dancers is adaptable to the requirements of your venue, and the artists offer a number of complementary acts that can be considered in addition to the standalone main show. 
To book this popular and spellbinding act, don't hesitate to contact our dedicated entertainment specialists, and be sure to check the Opera Ballet Dancers' list of previous clients and testimonials to rest assured you are getting the highest quality available.
AG Jeans
Asics
Brockett Hall
Chivas Whisky
Clerkenwell Design Week
EMI
Globe Brand
Grosvenor House
Hot or Not App
Island Records
Kensington Roof Gardens
Le Meriden Piccadilly
Officers Mess Association
Prince of Brunei
Rocket Music
Sheraton Park Lane Hotel
Amba Hotel
Box Fresh
Camilla Al Fayed
City AM Awards
Diesel
Four Seasons Hotel Hampshire
Great Foresters Hotel
Hilton London Metropole
Ideal Home Show
Jermirah Carlton Hotel
Landmark Hotel. London
New World Resources
Park Lane Hilton
Remedy Productions
Saville Club
Sony Music
" You are amazing - talent personified, beguiling and able deliver a truly unique, dramatic and diverse set of dance performances for any occasion! I wouldn't hesitate to hire them again, a top notch and wonderfully memorable addition to our event. "

Matador Pictures
" Opera Ballet Dancers seamlessly weaved their magic across my guests, leaving them enthralled with their dance routines. Their versatility and can-do approach made this special birthday dinner sparkle. "

Regentcap
" Thank you so much for your beautiful contribution to our show in Barcelona. For me in person your performance was the absolute highlight of the evening. It was touching and looked stunning. "

Syndicate Events
" The Opera Ballet Dancers' performance with the philharmonic orchestra was amazing! They were lovely to work with. Our favourite part from the festival was the addition of the ballet dancers to the finalé. It looked beautiful and a lot of people got very emotional. "

Bismillah – Under The Stars