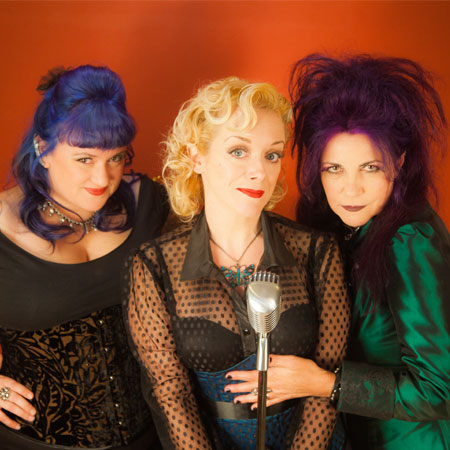 Original Vocal Trio
Vocal Harmony Trio who combine brilliant elements of comedy
Cover popular 1940s songs in a pop, metal, rock and punk style
Provide highly glamorous, cheeky and hilarious shows
Highly inspiring, they provide the perfect light hearted entertainment
Based in Bath and available to perform at events worldwide
Original Vocal Trio VIDEOS
Original Vocal Trio PHOTOS
Consisting of three extremely talented vocalists, the Original Vocal Trio provides highly unique performances, suitable for a wide variety of events.
Combining brilliant elements of comedy, the harmonious trio covers close harmonies from popular 1940s groups in a pop, metal, rock and punk style.
Ensuring that each song is rearranged and interpreted in a completely new and exciting way, they provide highly glamorous, cheeky and hilarious shows.
A highly inspiring act, the female trio provide the perfect light hearted after dinner entertainment at a variety of events, all held together by utter professionalism and a great sense of humour!
The Ace of Spades
I kissed a girl
White Rabbit
Orgasm Addict
Decontrol
Bad Things
Enter Mr Sandman (the classic track meets Metallica)
Do Right (BF original arrangement)
Old Cape Cod
Bei Mir Bist du Schoen
Boogie Woogie Bugle Boy
Don't sit under the Apple Tree
I will Survive (Puppini Sisters Arrangement)
The Gay Bar Boogie Woogie
" A sexy ,sharp and funny bunch of women, who stopped me in my tracks when I heard their lovely harmonies at Glastonbury. It was a pleasure to share the same stage with them at Bath Comedy Festival too. Top Drawer! "

Mik Artistik
" Familiar songs with a new twist delivered with zest, aplomb and not a little sex appeal! Beautifully sung and very funny too. "

Ralph Oswick, Artistic Director of The Natural Theatre Company
" Sexual politics with a smile and and a wink: wry, witty, ironical, versatile and prolifically inventive chanteuses, the Bellefleurs are one of the most arresting, amusing and just plain likeable acts to come out of the subculture of the women's movement since feminist cabaret in 80s London "

Andrew Gibson, Professor of Modern Literature and Theory, University of London
" I so loved your performance at the Bath Comedy Gala (6/4/14) and look forward to seeing you again hugs x People, go see !! "

Lorraine Chase, Actress and British Treasure