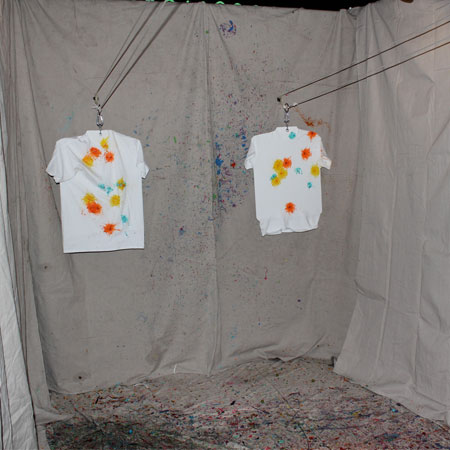 Paintball T-Shirt Activity
A unique take on paintball, this fun activity is fully controlled & contained
Guests have the chance to create their own unique event favors
Fun art based entertainment with a universal appeal
A fun indoor paintball activity for corporate events, exhibitions & much more
Book our paintball t-shirt activity for events in New York & worldwide
This unique act offers an unusual take on traditional paintball with a fun indoor paintball activity that will see guests in control of making their own unique event favors!
Our paintball t-shirt activity is interactive entertainment that gives your guests the chance to get behind a paintball gun in a test of  their creativity as well as their aim! At any one time two guests can take aim and fire a set of multicolored paintballs at white t-shirts hung at the end of a firing range. The result, an explosively colorful t-shirt that they can wear and take home after the event (even if just at home)! Paintballs can be limited to a specific range of colors to fit in with a color scheme or company branding.
Party paintball is a fun form of art based entertainment with a universal appeal; guests of all ages will be itching to have a go! The paintball activity is fully controlled and contained by our expert event facilitators ensuring a safe and fun experience.
A fun activity to take part in and a great way to give your guests a takeaway that is unique to them and will forever remind them of your event book our paintball t-shirt activity for corporate events, exhibitions, kids events and much more.