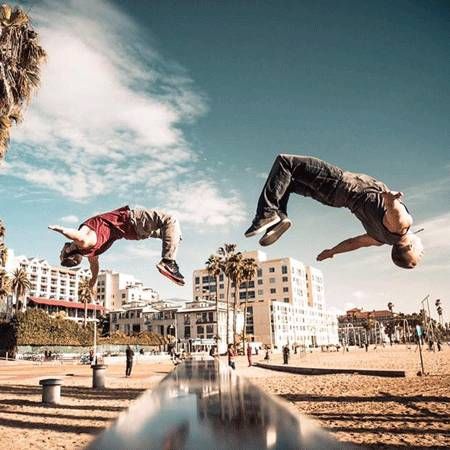 Parkour Performance Team
The world's leading Parkour, FreeRunning and professional Acrobatic movement performance athletes
Our Parkour Performance Team have appeared in films such as Harry Potter, James Bond, Pirates of the Caribbean and more
Can be booked for live events, feature films and commercial, video production, photography, coaching and workshops, consultancy and choreography
Combine parkour, free running, martial arts and urban displays
Based in Basingstoke, UK and available for worldwide bookings
Parkour Performance Team PHOTOS
An exceptional team of parkour professionals who specialise in the arts of movement from parkour to free running, martial arts and urban displays. Having provided high impact and visually provoking movement sequences for film, television, live events and photographic campaigns, our Parkour Performance Team break the mould and push the boundaries of athletic performance in new and innovative ways.
Offering a range of services our parkour performers can be booked for:
Show Live Events
Feature Films/Commercials
Video Production and Photography
Coaching/Workshops
Consultancy and Choreography
Boasting a showcase that can feature all of their remarkable stunts, these outstanding athletes are guaranteed to leave every audience member completely astounded. Appearing in films such as Harry Potter, James Bond, Pirates of the Caribbean and more, these high octane performers are a force to be reckoned with.
Our Parkour Performance Team can be scaled up to a large group of parkour professionals as well as being booked as solo event entertainment artists. Tailoring every performance to suit each individual event perfectly, this Parkour Performance Team boast event entertainment that is of the highest calibre and effortlessly professional.
Top Tip: Our professional parkour performer, action film actor, choreographer and Guinness World Record holder is also available for hire as a solo parkour performer - head over to his Parkour and Free Running page for more information.
With options to perform both indoors and outdoors our team of parkour professionals make for thrilling event entertainment for all occasions from corporate events, car launches, major PR stunts, campaigns, commercials and festivals. Guaranteed to impress guests and audiences of all ages these brilliant parkour performers exceed expectations of what the human body is capable of and astound onlookers with their incredible feats of acrobatics and agility.
To book our exceptional Parkour Performance Team or for more information about parkour performers contact our helpful team of Entertainment Specialists today.
Avatar
Cartoon Network
Disney
F1
Guinness World Records
Intel
NBC
Nissan Juke Launch
Puma
Sprite
Vans
Zap Cat
BBC
Casino Royale
Duracell
FIFA
Harry Potter and The Deathly Hallows
KPMG
Nationwide
O-Neil
Schwarzkopf
Swatch
Vodafone
Alesha Dixon
Barclays
Channel 4
EA Games
Fitness First
ITV
MTV
Nestle
Philips
Shell
T Mobile
Volkswagon
Adidas
Canon
Death Race 2
Extreme Sports
Five
Innovate
Ministry of Sound
Nissan
Prince of Persia World Premiere
Snickers
University of Derby
XBox