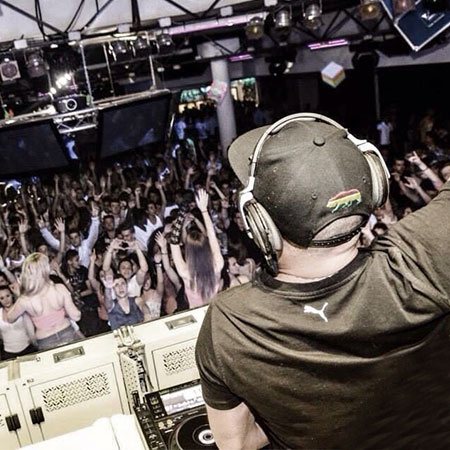 Party DJ Italy
Versatile club party DJ is also a talented pianist and drummer who can create a unique musical experience
Varied songs lists vary from electro-house sounds to hip hop and RnB rhythms
His productions had been praised by international DJs such as Bob Sinclar, Dennis Ferrer, Dr. Kucho, Laidback Luke, Tiesto and Avicii
Perfect club party DJ for nightclubs, VIP parties, big celebrations and many other special occasions!
This Party DJ from Turin, Italy and is available for bookings nation and worldwide
Bring your celebration to a whole new level by booking this Party DJ from Italy, a performer with a wealth of experience an unstoppable energy!
This Turin DJ became interested in mixing music at an early age and was taught how to do it by his father, a well-known Italian nightclub DJ who was one of the first artists to introduce the figure of DJ/showman in Italy back in the 80s.
Now a popular Italian nightclub DJ himself, this performer was trained as a pianist at the Conservatory of Turin. A talented musician, he has collaborated as an arranger with different music studios. A creative artist who is in constant search of new ways to create music, he also has a home studio where he works on his own projects.
A club party DJ that enjoys exploring new sounds, his style can vary from electro-house to RnB. In fact, his passion for hip hop music inspired him to create his own electronic independent label. Our club party DJ and producer's latest productions have been supported and praised by international DJs such as Bob Sinclar, Dennis Ferrer, Dr. Kucho, Laidback Luke, Tiesto and Avicii, to name but a few.
Our Italian nightclub DJ is a popular entertainment option for clubs but also for VIP parties and other big celebrations. Happy to adapt to each client's brief, our Turin DJ will be happy to share his cabin with other artists.
Top Tip:
A versatile performer, this live event DJ is also a skilled drummer who belongs to this Electronic Pop Trio - find out more about this option by checking their profile.
Scarlett Entertainment offers a wide range of club party DJs for events and occasions in Italy and all over the world.
Hire DJs for clubs by contacting us today. If you're interested in this Party DJ from Italy in particular, then don't hesitate to get in touch with us today. Our dedicated team of Entertainment Experts will be more than happy to answer all the questions you may have about this Italian nightclub DJ and assist you in the booking process.