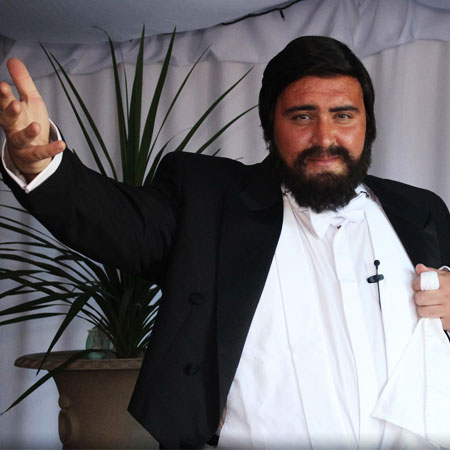 Pavarotti Tribute
Incredible Pavarotti tribute delivers the same stunning voice and powerful performance as the iconic singer
Acclaimed opera singer has over 25 years performing experience all over the world
Amazing Pavarotti tribute singer delivers iconic songs like "Nessun Dorma" and "La Donne Mobile" in stunning style
Sensational classical tenor has performed all over the world including prestigious performances at the Pride of Spain Awards 2013 and 2014
Outstanding classical vocalist based in the UK and available worldwide
Book our fantastic Pavarotti tribute for a stunning tribute to one of the most iconic singers of all time. Our sensational opera singer delivers a moving and powerful tribute to the great Luciano Pavarotti, delivering stunning performances of some of his biggest songs and classical pieces. Our fantastic Pavarotti tribute singer delivers the same incredible vocal tone and powerhouse performances that the singer was known for and his captivating voice makes him an incredible performer in his own right.
Audiences all over the world have been amazed by this incredible classical tenor, and even non-opera fans will be spellbound by the immense talent and passionate performances from our superb singer. Book this incredible classical vocalist for a classy and elegant performance that will leave audiences at any event in awe.
Our incredible classical vocalist has over 25 years performing experience in a huge range of styles from contemporary to musical theatre and opera. Our classical tenor has wowed audiences around the world with his authentic and evocative tribute to his idol, Luciano Pavarotti. This stunning Pavarotti tribute covers all the timeless opera songs the singer was famous for including "Nessun Dorma", "La Donne Mobile" and "Una Furtna la Grima" among many others. 
Our sensational Pavarotti tribute singer has experience performing all over the world, including UK events like Haven Holidays, Cofton Holidays, Weymouth Bay and Savoy Hotel. He also performed at the prestigious Pride of Spain Awards in 2013 and 2014.
Our opera singer's passionate and stylish performances will resonate with any audience whether they normally listen to opera or not and this incredible classical tenor promises to deliver the same show stopping vocal performances Pavarotti was famous for.
Scarlett Entertainment offers you a fantastic range of classical vocalists for performances around the world.
Contact our team to arrange booking one of our top quality acts.
Park Dean
Savoy Hotel
Weymouth Bay
Cofton Holidays
Riviera Centre Torquay
The Pride of Spain Awards 2013 and 2014
Haven Holidays