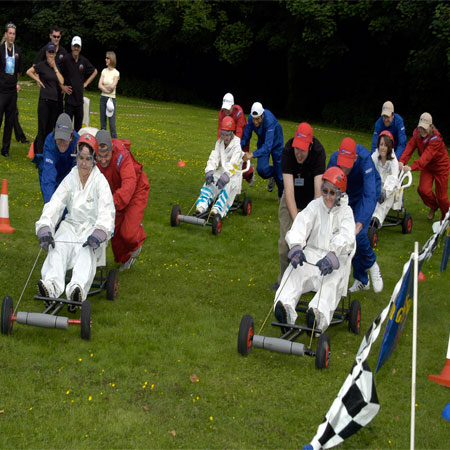 People Power Grand Prix
Exciting & engaging activity for delegates of all ages
Mentally & physical challenging as delegates create their own Grand Prix
Promotes resourcefulness, leadership, time management & networking
Previous clients include: Microsoft, Sony, Starbucks, Yahoo, DELL
Based in Hong Kong & available for events worldwide
People Power Grand Prix PHOTOS
Dedicated to creating a wide range of innovative team building solutions, they have over 50 unique and licensed experiential training programmes to suit the clients' needs. They aim to enhance teamwork through improved communications, decision-making skills and leadership development.
This exciting and innovative activity brings the high-octane thrills and glamour of the world's most exclusive motor sport event to your team's corporate day out! Delegates are divided into teams and become responsible for organising their very own Grand Prix.
This activity challenges the both the mental and physical abilities of each team member. Each team must build their own hi-tech go-karts, earning car components by taking on a series of initiative challenges. Once complete, the cars are built for speed with a bucket seat, lightweight tubular chassis, wide wheels and race-tuned suspension. Each member of the team takes on a specific role: pusher, driver, pit crew and are encouraged to develop their skills and tactics and create a racing strategy that will help them win! Each team's performance during the earlier challenges determines their position on the starting grid and the track itself is fully decked out with glass, team colours, starting lights, trackside advertising and the all important race marshals.
Whether you're looking for a simple 30-minute build and race competition or a full half-day team activity, the People Power Grand Prix provides multiple layers of skill improvement and team working while remaining engaging and exciting.
Key Learning Benefits:
Resourcefulness / Budget Control
Project Planning / Time Management
Strategy Communication
Networking
Uniting New / Merged Teams
Practical Leadership
Fun / Motivation
Energising a Conference
DDB
Jack Morton
MCI Group
Quadrant
Serious Staging
Allens Arthur Robinson
Bird & Bird
Dibb Lupton Asia
Kennedy's
Hogan Lovells
Orrick Herrington & Sutcliffe
Pinsent Masons
Slaughter & May
ACE Insurance
American Century
Barclays Capital
BNY Mellon
Calyon
CLSA
Credit Suisse
Deloitte
DHR
EQT Partners
GAM
Hong Kong Exchange and Clearing
HSBC Insurance
ING
Julius Bär
KGI
MGPA
Morgan Stanley
New York Life
Pan Asian Mortgage
Prudential
RBS Coutts
Royal Skandia
Sarasin Bank
Schroders
SG Private Banking (Asia Pacific)
Swiss Privilege Limited
TPG Capital
Thomson Reuters
West LB Bank
Amazon Papyrus
Astra Zeneca Gulf
BASF
Bosch
Caterpillar
Cesar Asia
Connell Bros
Davis Standard LLC
DuPont
Eaton
Evonik
FMC Agricultural Products
Grundfos
Hitachi
InFocus Corporation
Jardine Schindler
Johnson & Johnson Medical
Kimberley Clark
Kirkstone
KSO
Li & Fung
Mettler-Toledo
Objet
Reckitt Benckiser
Rockwell Automation
Source Direct International
Stora Enso
Tate & Lyle
TESCO
Travis Perkins
Auchan
Coca-Cola
Elsevier
LSG
Montblanc
Philips
Shure Asia
Starbucks
Veolia Water
Aspect Software
BT
Comverse
CSL
EMC² Computer System (FE)
Gartner
Intel
Lenova
Lexmark
Luxoft
Microsoft
Nvidia
Optus
Perkin Elmer
Redbacks Networks International
Sandisk
Sisvel
Tellabs
Vishay Intertechnology Asia
Bing Corporation
GVST Event Management
Luminous
Messe Frankfurt
Reed Exhibitions
UBM
Baker & McKenzie
Clifford Chance
Freshfields
Herbert Smith
Morrison & Foerster
Paul Weiss
Shearman & Sterling
Sullivan & Cromwell
Allianz Global Investors
AXA
BNP Paribas
BOC
Clerical Medical
CITI
DBS Bank
Deutsche Bank
Egon Zehnder International
Euler Hermes
GE Consumer Finance
HSBC
HSBC Private Bank
International Financial Corporation
KPMG
Lloyds TSB
Merrill Lynch
National Bank of Australia
PAG
Prime Revenue
Rabobank
Rothschild
SAIL Advisors
Search Investment
SFC
Squadron Capital Advisors
Swiss Reinsurance Company
The Carlyle Group
UBS
Alcan Cable
ASML
Bayer MaterialScience
BHP Billiton Marketing
Borouge
Celestica
Chevron
Creative Danes
DOW Chemicals
Eastman
Esquel
ExxonMobil
Giesecke & Devrient
Gulf Oil Marine
Home Retail Group
Ingersoll Rand
Johnson Electric
Johnson Controls
Kingfisher Asia
Knorr-Bremse
Lam Research Singapore
Marubeni
Norintra
PPG
Richards Basmajian
Sime Darby
Spotless HK
Stratasys AP
TE Connectivity
Total Oil
Wilkinson
Asia Pacific Brewery
Danone
Fonterra
McDonald's
Pepsi
P & G
SONY
Triumph
Alcatel Lucent
Blackberry
Cisco
Cookson Electronics
DELL
FujiXerox
Global Payment
Internet Global Service
LexisNexis
Litamos Electronics
MEI
Motorola
OCE
Oracle
Red Hat Asia Pacific
Reliance Communications
Satyam
Sybase
Verint Systems
Yahoo
Ci Events
" They did an excellent job to motivate our team. "

Dorothy Yip - Executive SecretaryHSBC Insurance
" Team building activities were fun-filling and simulating. Promotes creative thinking. "

Dave Tan Hun SiongLam research
" Great experience for our leaders and they committed to provide the best "

Suzan Kalim - Senior VP (People and Culture)UBM
" It is a great pleasure to have them provide such professional service for us. We and our customers are greatly appreciated the presentation of the activities, the interaction between each parties is a great experience. The message (Communication and Mutual Respect) were sure delivered to the teams, the activity really made the bonding between each person stronger. We are looking forward to work with them again in the future. "

Thales Transport & Security
" The objective was to ensure that our staff were fully engaged and involved in creating our Values. They took the time to fully understand what it was we were trying to achieve so they could write a programme that would deliver our aim. The programme was facilitated excellently - challenging staff to really explore what values meant to them whilst also ensuring that the day was enjoyable to participate in. We're really pleased with the outputs we've collated and look forward to building our relationship with them in the future. "

Pete Bundy, Senior Regional Manager, Human ResourcesLloyds TSB