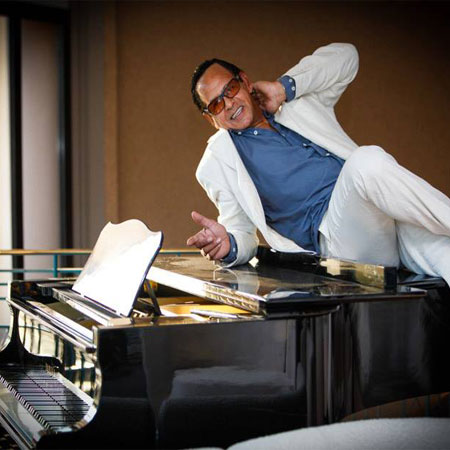 Pianist and Singer Alan
Energetic, interactive performances will delight audiences
Can perform as a soloist or alongside a band & backup singers
Has performed in some of the worlds most prestigious hotels
Can perform in English, French, Spanish, Italian & Russian
Based in California & available for events worldwide
Pianist and Singer Alan PHOTOS
Alan is an extremely experienced and accomplished pianist and singer. During his extraordinary career he has achieved a top ten hit in the USA and has collaborated with the great Stevie Wonder on a number of occasions. He has performed at some of the world's most prestigious hotels and in front of personalities such as Bill Gates, Billy Joel, Mariah Carey, Beyonce and more.
His electric performances are full of energy and passion and can be performed in English, French, Spanish, Italian and Russian. His shows can be tailored to suit the needs of the client: his performances can be given an intimate, interactive element as guests can request songs from a menu of over 4,000. He can also perform a stage show featuring dazzling choreography, stunning back up singers and powerful covers of Ray Charles, Marvin Gaye, Stevie Wonder, Barry White, Otis Redding and more.
Alan's fully customisable shows and energetic performances will bring an extra spark of excitement to your event.
MCCC Hotel de Paris (Monaco)
Carlisle Hotel (New-York)
Toiny Hotel (St Barts)
Lutecia (Paris)
Carlton Hotel (Reservoir Cannes)
Miramar Hotel (Reservoir Cannes)
Radisson Blu Hotel (Hong-Kong)
Le Mandarin Oriental (London)
Stade Louis II (Monaco)
Carlos and Charlies (Los Angeles)
Guanahani Hotel (St Barts)
Georges V Hotel (Paris)
Music Hall (Paris)
Martinez Hotel (Reservoir Cannes)
Mas D'Artigny (Nice)
Indonésie (Bangkok)
Metropole Hotel (Monaco)