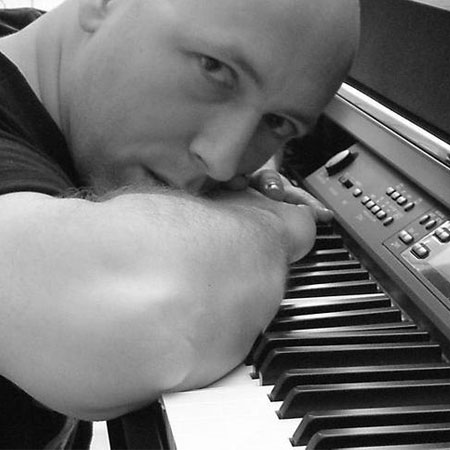 Pianist: Cristiano
Popular Italian pianist based in Milan - Been performing for over 20 yrs
Highly recommended for weddings, parties and corporate events
Can perform background music for classy and elegant functions
Also offers a party set for dancing and a Karaoke service
Repertoire includes Italian music and Latin American Pop covers
Pianist: Cristiano PHOTOS
Christian has been performing music for over 20 years, he specialises in weddings, parties and corporate functions.  His huge repertoire allows him to custom his performance to suit each different occasion. 
Christian can either perform background music which is suitable for classy and elegant functions, or he can also offer a party set for dancing.  He can even offer Karaoke!
Choose from a keyboard and vocals or even a digital grand piano.
Repertoire includes a large selection of Italian music and Latin American Pop covers. 
Christian can also perform a wide range of English and American music from artists including Elton John, The Beatles, Frank Sinatra, Michael Buble, Billy Joel, Whitney Houston, James Brown, Abba.
Evergreen
Dance of the '70s and '80s
Latin American music
Smooth
The repertoire consists primarily of the following musical genres:
Italian
Pop
Revival
Commercial
Rock
Restaurant / Pizzeria Tavern (MI)
Olympia Restaurant (Niviano PC) - Restaurant Bellaria (Vigevano PV)
Restaurant From Kiko (Assam MI) - Restaurant Mangiallegro (MI)
Blu Restaurant Ticino (Cuguggiate MI)
Restaurant Il Capriccio (Desenzano del Garda BS)
Restaurant Abacanto (Ranzanico BG)
The restaurant Giardinetto (Pettenasco NO)
The restaurant Castellaccio (Besnate VA)
Antico Borgo di Certosa (Carthusian Monastery of Pavia Pavia)
Restaurant Torre dei Gelsi (Cisliano MI)
Rest Restaurant (Cesana Brianza LC)
Ristorante Villa Chimera (Casteggio PV)
Restaurant La Madonna (Cogliate MI) - Restaurant Ciardi (MI)
Restaurant Fontanili (Gallarate VA) - Restaurant Combolo (Teglio SO)
Restaurant Ca 'Del Mondo (Casanova Lonati PV)
Ristorante Villa Castiglioni (Induno Olona VA)
Restaurant El Calderin (Paderno Dugnano MI)
Ristorante Villa Torretta (Sesto San Giovanni MI)
Restaurant Saint Lisander (Besnate MI)
Restaurant / Pizzeria Pulcinella (Buccinasco MI)
The restaurant Cantuccio (Orzinuovi BS)
The Hut Restaurant (MI) - Restaurant Fifth Sun (MI)
Aquatic Restaurant (MI) - Restaurant Al Roccolo (Lazzatte MI)
Lido Ristorante Toscano (Imbersago LC)
Ristorante Castello Casiglio (Erba CO)
Plain Inn Restaurant (Busnago MI)
New Orchid Restaurant (Madonna of Dresano MI)
Farm Fund Brugarolo (Sulbiate Superior MI)
The restaurant Rizulin (Briosco MI) - Leopard Cafe (MI)
Restaurant / Catering Farmhouse Medium (Liscate MI)
Ristorante Villa Argenza (Figino Serenza CO)
Farmhouse Restaurant Malingamba (Origgio VA)
Limido Estate Restaurant (Limido PV)
Delights of the restaurant across the Po '(Borgoratto PV)
Farm Casina Rosio (Albairate MI)
Restaurant Brianteo (Burago Molgora MB)
Restaurant / Pizzeria Malastrana (MI)