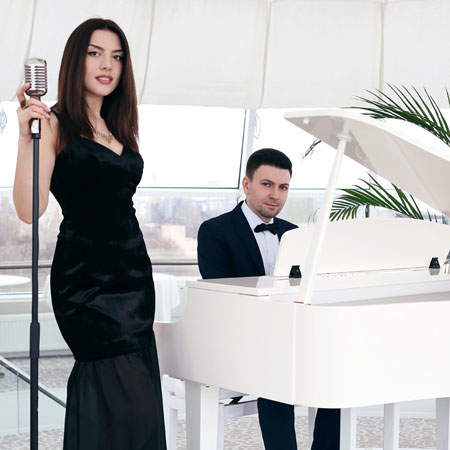 Piano and Vocal Duo Kiev
A live music duo who can perform a variety of different styles from lounge music, jazz, funk and house
Our smooth jazz duo have a wealth of experience performing in venues all across the world
A duo who have held residencies in famous clubs such as Ministerium Dogma Club our Ukrainian pianist has worked with various talented musician
Our female vocalist has performed in different vocal competitions such as The Voice and X Factor
Based in Kiev and available for worldwide bookings
Piano and Vocal Duo Kiev PHOTOS
A wonderful live music duo who can perform a variety of music styles ranging from jazz, lounge music, funk and house. Our female vocalist and Ukrainian pianist are a phenomenal smooth jazz duo, perfect for creating an elegant and sophisticated atmosphere or to bring the mood up and get everyone off of their seats and dancing the night away. 
With a wealth of experience performing all over the world our smooth jazz duo have worked in venues across Europe and Asia, including some of the most renowned restaurants and clubs. In addition to performing in multiple countries our incredible duo have held residencies in famous clubs such as Ministerium Dogma Club in Ukraine, playing their own unique versions of popular music.
Our female vocalist is an extremely talented performer who has appeared on TV singing competitions such as The Voice and X Factor, impressing celebrity judges and audiences from all over. Not only that but our Ukrainian pianist has a large roster of talented and renowned artists whom he has worked with.
A live music duo who can create the perfect mood to go with any event, whether it be playing lounge music, jazz, house or funk  - our vocalist and pianist offer a tranquil atmosphere that listeners and audiences can relax and rewind to as well as having the capability to get audiences and guests excited and dancing the night away.
Our talented smooth jazz duo can speak Russian, Ukrainian, English, German and French, breaking language barriers wherever they perform, sharing their stunning lounge music with audiences worldwide.
To book our incredible female vocalist and Ukrainian pianist as a live music duo or for more information, contact our Entertainment Specialists today. 
Agua Ge Beber - Jobim
Ain't Know Sunshine - Bill Winters
Ain't You Had Enough - Count Basic
At Last - Standart
Autumn Leaves - Standart
Bang Bang - Frank Sinatra
Billie Jean - Michael Jackson
Black Betty - Tom Jones
Cada Vez - Negrocan
Can't Stop Thinking Of You - Déjà vu
Careless Whisperer - Gerorge Michael
Change The World - Eric Clapton
Change You - Sophie Ellis Bextor
Changes - Chris Lake
Closer - Ne Yo
Crazy - Gnarlz Barkley
Crazy In Love - Beyonce
Deep Waters - Incognito
Diamonds - Rihanna
Don't Know Why - Standart
Driving Down Brazil - Donna Summer
Earth Song - Michael Jackson
Every Breath You Take - Sting
Fever - Jazz Standart
Fly Me To The Moon - Jazz Standart
Freed From Desire - Gala
Get Lucky - Karen Souza
Gimme - ABBA
Girl From Ipanema - Jobim
Give It Back - Gaelle
Golden - Jill Scott
Groovejet - Sophie Ellis Bextor
Halo - Beyonce
Happy - Pharrell
Heal The World - Michael Jackson
Hit My Heart - Benny Benassi
Hit the Road Jack - Ray Charles
Horny - Mousse T
Hot Stuff - Donna Summer
How Many Loves - Naomy
I Just Wanna Stop - Gino Vanelli
I Like - Keri Hilson
I Love You Baby - Frank Sinatra
I Will Be Here - Tiesto
I Will Survive - Gloria Gaynor
I'm With You - Carina Cooper
Intoxicated - Amanda Wilson
It's in Your Eyes - Kylie Minogue
Jazz 'n' Blues - Amy Winehouse
Addicted To You - Avicci
Don't Know Why - Norah Jones
I'm Outta Love - Anastacia
All The Man I Need - Whitney Houston
It's Not Right But It's Ok - Whitney Houston
Step By Step - Whitney Houston
Run To You - Whitney Houston
How Come You Don't Call Me - Prince
You're My Everything - Anita Backer
A Song For You - Ray Charles
Unbreak My Heart — Toni Braxton
You Had Me - Joss Stone
The Greatest Love Of All - Whitney Houston
Golden Eye - Tina Turner
Private Dancer - Tina Turner
You Are So Beautiful - Joe Cocker
Stop - Sam Brown
Without You -Mariah Carey
Without You - Hero
Reflection - Mariah Carey
Bleeding Love - Leona Lewis
I'm Your Baby Tonight – Whitney Houston
A Natural Woman - Aretha Franklin
Thinking About You - Norah Jones
Let It Be – The Beatles
Turn Me On - Norah Jones
What Am I To You - Norah Jones
Sunrise - Norah Jones
Three Sweet Words – Norah Jones
The Nearness Of You – Norah Jones
In The Morning – Norah Jones
Come Together – The Beatles
Oh  Darling – The Beatles
I Got Trouble - Christina Agyuilera
They Won't Go Where I Go - Steve Wonder
Rehab - Amy Winehouse
Careless Whisper - George Michael
Feeling Good - Nina Simone
Love Is A Loosing Game - Amy Winehouse
Whatever Happens - Michael Jackson
Black or White - Michael Jackson
I Just Can't Stop Loving You - Michael Jackson
Remember the Time - Michael Jackson
Tell Me Why - Annie Lennox
...and Many More
The Sheets - Chaka Khan