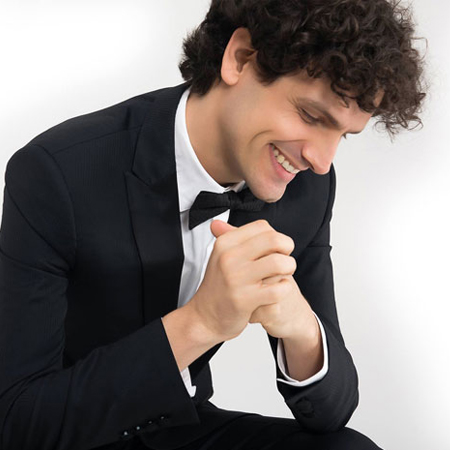 Piano Maestro
Incredible virtuoso pianist will captivate audiences with his unbelievable talents
Legendary concert pianist delivers incomparable shows full of stunning technique and dynamic showmanship
Brilliant musician performs solo or with a stunning classical orchestra
Beautiful classical concerts or dynamic classical crossover sets offer something for everyone
Acclaimed Brazilian pianist available for shows worldwide
Book our incredible virtuoso pianist for a thrilling performance to dazzle audiences at your event. This maestro pianist is one of the most dynamic and exciting classical musicians in the world and his unbelievable talent and show stopping performances are awesome to behold. Our legendary concert pianist rose to fame on the global scene at just 16 years old and since then has gone on to perform with some of the biggest orchestras and conductors in the world, firmly establishing himself as one of the hottest talents in classical music today. His thrilling and captivating shows are a magnificent display of classical and classical crossover pieces, delivered with style and dazzling musical talent, performed either as a soloist or with a stunning classical orchestra. 
Our concert pianist is a true prodigy and one of the rising stars of the classical world, renowned for his impeccable technique and fiery, charismatic performances. Our pianist has studied music at the highest level in prestigious schools like the New England Conservatory of Music in Boston and the Tchaikovsky Conservatory in Moscow. Our virtuoso pianist's show stopping performances are a joy to experience and his incomparable mix of talent, style and passion make him a one of a kind performer.
As a solo pianist our musician can captivate any audience with either purely classical performances or dynamic classical crossover shows mixing the classical with the contemporary. With a live classical orchestra this pianist delivers a magnificent show, acting as both lead pianist and conductor in a spellbinding display of talent and showmanship.
Our concert pianist and his classical orchestra have delivered incredible shows all over the world and this passionate young performer continues to inspire a new generation of musicians with his uplifting and unforgettable performances.
Scarlett Entertainment offers you a fantastic selection of pianist and classical musicians for events worldwide. 
To book our Maestro Pianist or another great act, contact our expert bookings team.