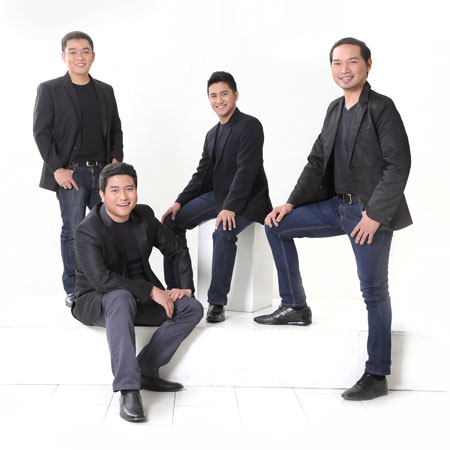 Pop Opera Band Philippines
Outstanding classical vocal group will wow your guests with their powerful performance
Professional male vocalists provide unforgettable live music entertainment
4 piece ensemble perform operatic pop favourites in classical crossover style
Ideal for weddings, gala dinners, corporate functions, parties, ceremonies, etc.
Opera singers available to hire for events in the Philippines & worldwide
Treat audiences at your event to exceptional live music entertainment with our incredible classical vocal group, a 4 piece ensemble comprised of professional opera singers who will delight and impress all present with their powerful and distinctive musical performance. Talented male vocalists with a flair for classical crossover, these brilliant singers are sure to make your special occasion one to remember.
Highly experienced and vocally gifted, our opera singers will bring sophistication and class in abundance to your event, creating the perfect atmosphere for guests to enjoy. Passionate about music in every way, these male vocalists combine their different musical disciplines and unique styles in order to produce something truly outstanding, delivering an unforgettable experience with mass appeal every time they take to the stage.
Playing on their diverse backgrounds and utilising their lyrical excellence, our fantastic classical vocal group offer up an interesting and emotive event soundtrack through their operatic renditions of popular songs. Performing in a classical crossover style, these skilled opera singers demonstrate their impressive vocal prowess and musical creativity as they supply beautiful classical reimaginings of pop chart toppers both new and old alongside favourite opera pieces.
Stylish and refined, our amazing musical act will expertly set the tone at your special occasion, providing live music entertainment that will effortlessly enhance the enjoyment factor. Ideal for weddings, product launches, gala dinners, private parties, awards ceremonies, grand openings and more, our classical vocal group are available to book for events in the Philippines and throughout South East Asia.
Popular with both private and corporate events, classical crossover artists are a great entertainment option. As global specialists, here at Scarlett Entertainment we can provide such acts to perform at occasions all over the world, as well as countless other musical ensembles and plenty more besides. For more information on the entertainment we can supply for your event, contact our co-ordinators today.