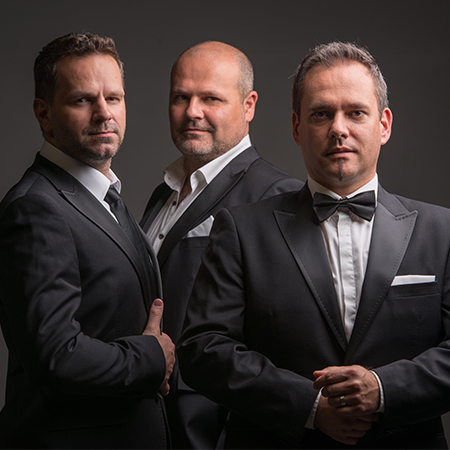 Pop Opera Group
Incredible vocal performance will leave audiences breathless
Unite popular music and opera singing into seamless compositions
Awarded a Golden Record for their second album
Perfect for corporate events, stage productions and more
Based in Slovakia and available for events worldwide
This pop opera trio are no strangers to commanding stages large and small. They have performed in large-scale venues in front of audiences numbering in the thousands as well as in more intimate venues where their audience is mere feet away.
Having each respectively graduated from the Academy of Performing Arts in Bratislava, the Private Conservatory of Dezider Kardos in Topolcany and the Pedagogical Faculty of Comenius University in Bratislava, they are all consummate professionals and their performances are always captivating, moving and above all impressive.
Uniting popular music and opera singing, their repertoire features a wide range of popular songs reinterpreted in the style of Belcanto, including international, Slovak and Czech songs. They have produced three internationally success albums, the second of which received a Golden Records Award and performed at events for high-profile corporate clients such as Mercedes-Benz.
Their powerful vocals and charismatic stage presence is sure to engage and delight audiences at your event.
To find out more about the Pop Opera Group, get in touch with our team of entertainment experts.