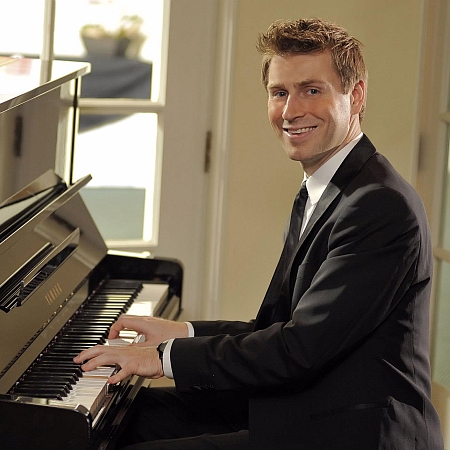 Pop Pianist and Vocalist
Passionate & moving performances will captive & impress guests
Creates a classy & sophisticated ambiance at any event
Repertoire inc. original compositions & unique arrangements of pop hits
Previous clients inc. the renowned Crustacean Restaurant, Beverly Hills
Based in Los Angeles & available to perform at events worldwide
Pop Pianist and Vocalist PHOTOS
A piano virtuoso and extremely talented vocalist, through handwork and determination this artist has gained recognition as an internationally acclaimed pop pianist and vocalist performing at some of the USA's most prestigious venues such as Beverley Hill's Crustacean Restaurant, and events including the U.S. Open Tennis Tournament in New York.
In addition to his performances at high-end events and venues, he is a highly sought after producer whose credits include the music for the Fox television series "Blueprint for Green", the soundtrack for the PBS documentary "Footsteps – a Journey in Faith", the benefit single for the 35W Bridge Collapse and American Red Cross Final Ride Home, and the debut solo album for Broadway performer Connie Kunkle.
His repertoire features a range of both original compositions and unique arrangements of pop hits from the last seven decades, including well-known songs from film and movie soundtracks. He can also accommodate clients' requests, creating piano and vocal compositions of special songs in order to give your event that extra personal touch.
His passionate performances ooze class and sophistication and will not fail to impress guests at any event. An experienced performer and consummate professional, he has WOWed audiences around the world with his beautiful performances. Ideal as subtle background music, or as a full stage performance, he will be the talk of your event.
Against All Odds - Phil Collins
Ain't No Sunshine - Bill Withers
All I Ask of You - Andrew Llyod Weber "Phantom of the Opera"
American Pie - Don McClean
Angel - Sara McLachlan
Anyone But You - Motion Picture "Juno"
Apologize - One Republic
Bad Day – Daniel Powter
Bad Moon Rising – CCR
Beautiful – James Blunt
Bella's Lullaby - Motion Picture "Twilight"
Blue Eyes - Elton John
Brown Eyed Girl - Van Morrison
Canon in D - Pachelbel
"Cheers" Theme - Gary Portnoy
Clocks - Coldplay
Closing Time – Semisonic
Collide – Howie Day
Daughters - John Mayer
Disney Themes - Miscellaneous
Do it To Me - Lionel Richie
Don't Cry for Me Argentina - Andrew Lloyd Weber "Evita"
Don't Stop Believin' – Journey
Easy – Lionel Richie
Endless Love – Lionel Richie
Faithfully - Journey
Falling Slowly - Motion Picture "Once"
Feather Theme - Motion Picture "Forrest Gump"
Fields of Gold - Sting
Fire and Rain - James Taylor
For All We Know – Carpenters
Forgiveness – Sara McLachlan
Friends in Low Places - Garth Brooks
Glasgow Love Theme - Motion Picture "Love Actually"
God Bless the Broken Road - Rascall Flatts
Good Morning Beautiful – Steve Holy
Goodbye My Lover - James Blunt
Goodnight Moon - John Tesh
Grenade – Bruno Mars
Happy Birthday to You - Traditional
Have I Told You Lately - Rod Stewart
Heart and Soul - Traditional
Hill Street Blues Theme - Mike Post
Hit the Road Jack - Ray Charles
Home - Michael Buble
How Sweet it is to Be Loved - James Taylor
I Believe I Can Fly - R. Kelly
I Can't Help Falling in Love - Elvis
If - Bread
I Gotta Feeling - Black Eyed Peas
I Kissed a Girl - Katy Perry
Imagine - John Lennon
In the Mirror - Yanni
In the Mood - Glen Miller Band
Iris - Goo Goo Dolls
It's Still Rock and Roll to Me - Billy Joel
I Will Be Here - Steven Curtis Chapman
Jessie - Joshua Kadison
Just the Way it is - Bruce Hornsby
Just the Way You Are - Billy Joel
Let's Get it On - Marvin Gaye
Love in This Club – Usher
Love Song – Sara Bareilles
Lullabye (Goodnight My Angel) - Billy Joel
Make You Feel My Love – Adele
Making Memories of Us - Keith Urban
Mandy - Barry Manilow
Margaritaville - Jimmy Buffet
Marry Me – Train
Me and You – Kenny Chesney
Memory - Andrew Llyod Weber "Cats"
Moon River - Andy Williams
My Heart Will Go On - Motion Picture "Titanic"
Never Alone – Lady Antebellum
Never Say Never – The Fray
New York New York - Frank Sinatra
Piano Man - Billy Joel
100 Years - Five for Fighting
Right Here Waiting - Richard Marx
River – Joni Mitchell
River Flows in You - Yiruma
Scientist - Coldplay
Send in the Clowns - Stephen Sondheim "A Little Night Music"
She's Got a Way - Billy Joel
Someone Like You - Adele
Someone Saved My Life Tonight - Elton John
Song for You - Leon Russel/Michael Buble
Stuck on You - Lionel Richie
Sweet Caroline - Neil Diamond
Teenage Dream – Katy Perry
Terms of Endearment - Motion Picture "Terms of Endearment"
Tequila - The Champs
The Notebook Theme - Motion Picture "The Notebook"
Think of Me - Andrew Llyod Weber / "Phantom of the Opera"
Tiny Dancer - Elton John
True Companion - Marc Cohn
Unchained Melody - Righteous Brothers
Walking in Memphis - Marc Cohn
Walking in the Air - Motion Picture "The Snowman"
Wanted – Hunter Hayes
Way Back Into Love - Motion Picture "Music and Lyrics"
Wedding Song - Kenny G
We've Only Just Begun - Carpenters
What a Wonderful World - Louis Armstrong
Whisper of a Thrill - Motion Picture "Meet Joe Black"
You Are Karen - Motion Picture "Out of Africa"
You Found Me – The Fray
Your Song - Elton John
Pink Panther Theme - Henry Mancini
U.S. Open Tennis Tournament New York NY
Waldorf Astoria Hotel New York NY
Royal Imperial Palace Vienna Austria
Treasure Island Casino MN
Rudy Giulani
Prince Khalid Bin Saud
Senator Norm Coleman
Crustacean Restaurant Beverly Hills CA
Atlanta Tennis Championship Atlanta GA
Historic Pantages Theatre Minneapolis MN
Mall of America Bloomington MN
Hoosier Park Casino Indianapolis IN
Steve Forbes
John Ashcroft
Senator David Durenberger
Mandalay Bay Las Vegas NV