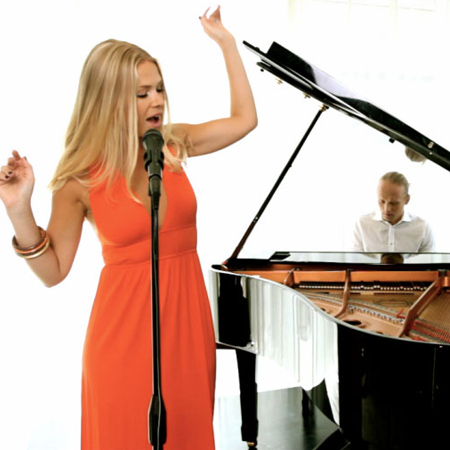 Professional Duo Dubai
Dubai-based duo who have worked in the music industry for 15 years
They can sing in English, Swedish, Finnish, French, Spanish & Portuguese
Sing a eclectic mix of pop, jazz, stylish lounge, soul & Latin
Have successfully performed at numerous high end events in the UAE
Can also perform as a trio, with a professional saxophonist
Professional Duo Dubai PHOTOS
Dubai-based professional duo, Johanna and Mikko are experienced and educated professionals from Helsinki, Finland and have worked in the music industry for more than 15 years.
For the past 4 years they have been based in Dubai performing as a Duo – a fresh, sophisticated and highly experienced duo. During this time they have successfully performed at numerous high end events in the UAE as well as been booked as a residence act in different 5-star hotels.
They perform an extensive repertoire of well known songs; their expertise includes an eclectic mix of pop & jazz, stylish lounge, soulful easy listening and also current chart hits mixed with up-tempo Latin tunes for the more festive crowd. In other words – they cater to pretty much any kind of event!
The professional duo perform both with and without backing tracks (high quality tracks that they themselves produce in a studio). They speak fluent English, Swedish and Finnish and perform also in French, Spanish and Portuguese.
Johanna and Mikko are freelancers and are constantly looking for new inspiring projects. If required they can also perform as a trio, with a professional saxophonist.
Available for corporate events, gala dinners, weddings, product launches, private functions… You name it!
Mas que nada (Sergio Mendes)
I will survive (Gloria Gaynor) latin version
La vie en rose (Edith Piaf)
Dindi (Jobim)
Girl from Ipanema
Corcovado (Jobim)
Agua de beber (Jobim)
Wave (Jobim)
Besame mucho
Es por ti (Juanes)
Nature boy
Quando quando quando
Sway
Aime moi (Henri Salvador)
La isla bonita (Madonna)
Sing it back (Moloko) latin version
La bomba (Ricky Martin)
Use somebody (Kings of Leon) latin version
Green light (John Legend & Andre 3000)
You are the sunshine of my life (Stevie Wonder)
If the stars were mine (Melody Gardot)
Les étoiles (Melody Gardot)
Daybreak (Lisa Ekdahl)
Botao com ancora
Selvagens lupineias
CLASSICS & SOUL HITS
Ain't no sunshine (Bill Withers)
Walking in Memphis (Marc Cohn/Cher)
Dock of the bay (Otis Redding)
Son of a preacher man
The way you make me feel (Michael Jackson)
Billie Jean (Michael Jackson)
Human nature (Michael Jackson)
Rock with you (Michael Jackson)
This masquerade (George Benson)
Kiss (Prince)
I wish (Stevie Wonder)
The sweetest taboo (Sade)
Smooth operator (Sade)
Holding back the years (Simply Red)
There's nothing like this (Omar)
Long train running (The Doobie Brothers)
Dance me to the end of love (Leonard Cohen)
Hallelujah (Leonard Cohen)
Don't stop believing (Journey/Glee)
Living on a prayer (Bon Jovi)
Hotel California (Eagles)
Take it easy (Eagles)
Desperado (Eagles)
I'm on fire (Bruce Springsteen)
I wanna dance with somebody (Whitney Houston)
Let's stay together (Al Green/Tina Turner)
The way it is (Bruce Hornsby/Tupac)
Wicked Game (Chris Isaak)
Killing me softly (Roberta Flack/The Fugees)
Don't dream it's over (Crowded House)
Big yellow taxi (Joni Mitchell/Counting Crows)
Runaway (The Corrs)
Your song (Elton John)
Sacrifice (Elton John)
Every breath you take (The Police)
Message in a bottle (The Police)
Fields of gold (Sting)
Easy & Hello (Lionel Richie)
Pride 'In the name of love' (U2)
One (U2/Mary J. Blige)
Talking about a revolution (Tracy Chapman)
Fast car (Tracy Chapman)
New York state of mind (Billy Joel)
You're gonna make me lonesome when you go (Bob Dylan)
Change the world (Eric Clapton)
Free fallin' (Tom Petty/John Mayer)
Learning to fly (Tom Petty)
Can't buy me love (Beatles)
Imagine (John Lennon)
Here comes the sun (John Lennon/Colbie Caillat)
Another day in paradise (Phil Collins)
It ain't over 'til it's over (Lenny Kravitz)
Simply the best (Tina Turner)
TIme after time (Cindy Lauper)
Is this love (Bob Marley)
Turn your lights down low (Bob Marley)
No woman no cry (Bob Marley)
Redemption song (Bob Marley)
Baby I love your way
Have I told you lately
Sailing
Stand by me
I only wanna be with you
I was made for loving you (Kiss)
Sweet child of mine (Guns n' Roses)
Wonderwall (Oasis)
Enjoy the silence (Depeche Mode)
Jolene (Dolly Parton)
The power of love (Jennifer Page/Celine Dion)
Harvest moon (Neil Young)
BOSSA & LATIN
My baby just cares for me (Nina Simone)
There will never be another you
It's only a paper moon
My romance
They can't take that away from me (Ella Fitzgerald)
Come fly with me (Frank Sinatra)
The summer wind
All that I need is love (Melody Gardot)
All of me
Summertime
Lullaby of bird land
Fly me to the moon
Autumn leaves
The nearness of you
How high the moon
Misty
Dream a little dream of me
Don't know why (Norah Jones)
Come away with me (Norah Jones)
Sunrise (Norah Jones)
Turn me on (Norah Jones)
Something stupid (Frank Sinatra/Robbie Williams&Nicole Kidman)
Strangers in the night
Moon river
What a wonderful world (Louie Armstrong)
Georgia on my mind
NEW POP & HITS
When I was your man (Bruno Mars)
Black & gold (Sam Sparro)
Get lucky (Daft Punk ft.Pharrell Williams)
Don't you worry child (Swedish House Mafia)
Empire state of mind (Alicia Keys)
Skinny love (Bon Iver)
Mirrors (Justin Timberlake)
I follow rivers (Lykke Li)
Someone like you (Adele)
Rolling in the deep (Adele)
Superbass (Nicki Minaj)
Forget you (Cee-Lo Green)
Somebody that I used to know (Gotye)
Stay (Rihanna)
Man down (Rihanna)
Don't stop the music (Rihanna)
Just the way you are (Bruno Mars)
Sunday morning (Maroon 5)
Moves like Jagger (Maroon 5 & Christina Aguilera)
Pumped up kicks (Foster the People)
Waiting on the world to change (John Mayer)
Say (John Mayer)
Crazy (Gnarls Barkley)
Halo (Beyoncé)
Best thing I ever had (Beyoncé)
Ordinary people (John Legend)
Save room (John Legend)
On & on (Erykah Badu)
Valerie (Amy Winehouse)
You know I'm no good (Amy Winehouse)
Will you still love me tomorrow (Amy Winehouse)
Run (Snow Patrol/Leona Lewis)
Chasing cars (Snow Patrol)
Titanium (Sia)
Fix you (Coldplay)
VIva la vida (Coldplay)
The scientist (Coldplay)
A-Team (Ed Sheeran)
Breakeven (The Script)
This years love & Sail away (David Gray)
Cannonball (Damien Rice)
I'm yours (Jason Mraz)
Banana pancakes (Jack Johnson)
Born this way (Lady Gaga)
Love story (Taylor Swift)
High & dry (Radiohead/Jamie Cullum)
Angels (Robbie Williams)
Another day (Jamie Lidell)
Destiny (Zero 7)
Video games (Lana Del Rey)
Teardrop (Massive Attack)
Wish I didn't miss you (Angie Stone)
When you say nothing at all (Ronan Keating)
Everything (Michael Bublé)
Home (Michael Bublé)
JAZZ & BLUES